USBA kicks off 2017 with a BANG!
POV Pool Headquarters – Los Angeles, CA
October 8th, 2016
Story By: Geraldine Thibodeau
Edited by: Daniel Busch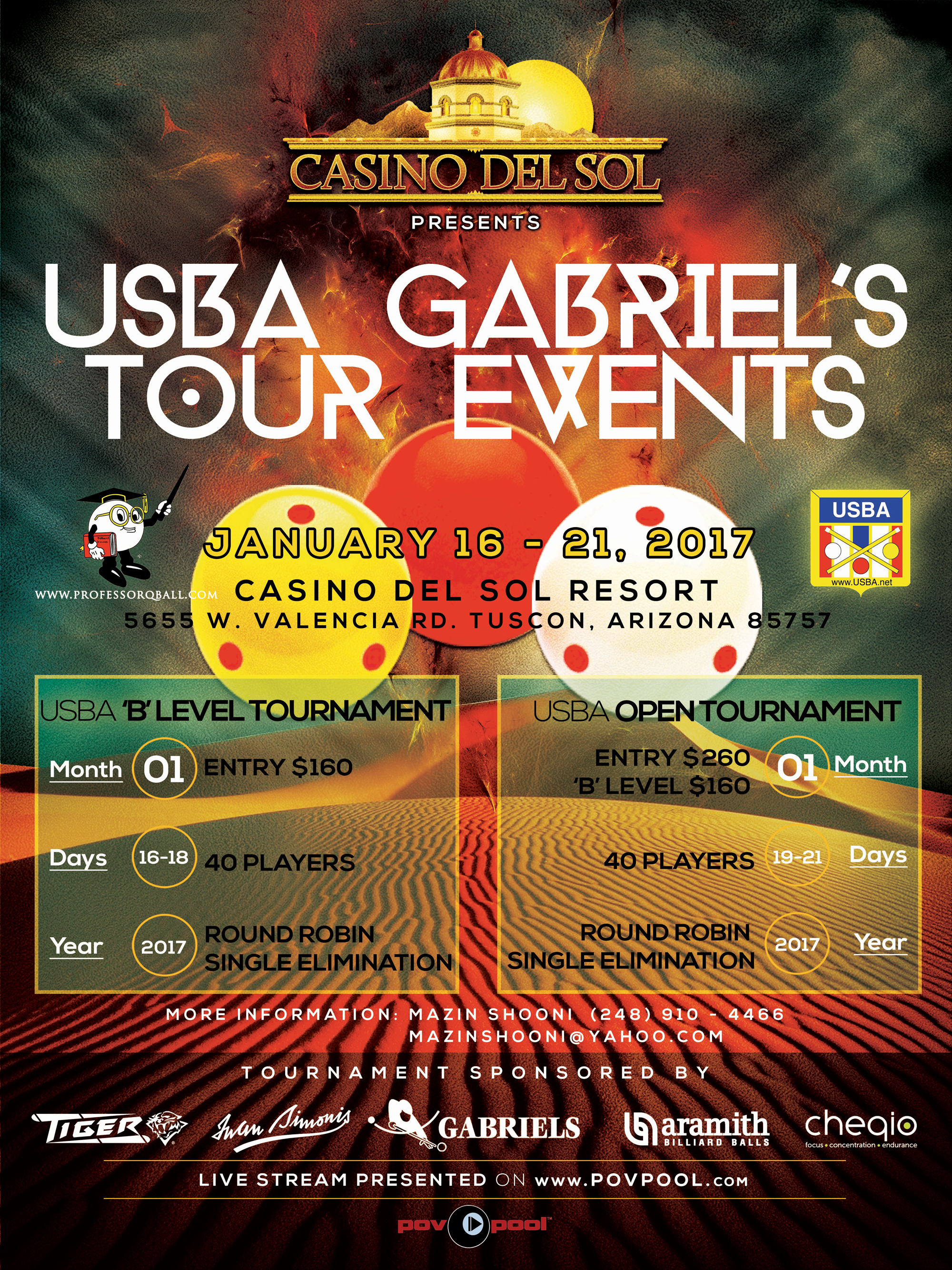 BOTH EVENTS HAVE BEEN FILLED!

 
3 Cushion Billiards competition set for Casino Del Sol 
Casino Del Sol Resort
5655 West Valencia Road
Tucson, AZ 85787
January 16th-21st, 2017
In January of 2017, The United States Billiard Association (USBA) will hold a prestigious 3-cushion, double-header event at Tucson, Arizona's premier resort and casino/venue, Casino Del Sol. The 6-day event from January 16th-21st will consist of two competitions, each open to 40 players: a 'B' level and an (All level) 'Open' tournament. Entries for both events are currently being reserved via email at [email protected] or by phone with USBA President, Mazin Shooni at: (248) 910-4466.
In the 'B'-level event, the entrants will compete amongst themselves without having to matchup against some of the country's top level pros such as, Pedro Piedrabuena, Hugo Patino and others who will attend the 'Open'. If they would like to play in both events, 'B'-level (and under) players will have the chance to enter the 'Open' event at a reduced rate, whereas players playing the 'Open' only event will pay full price. Added monies are scheduled and in the process of being determined for both events.
Inspired by The Crystal Kelly Cup event!
To Mazin and others board members at the USBA, the upcoming Casino Del Sol event draws inspiration from the 'Crystal Kelly Cup', a well funded and prestigious tournament which, held its last event at Promenade des Anglais in Nice in 2011.  The Crystal Kelly Cup has always been regarded as a prestigious yet elegant and intimate setting; its venues, its players, its equipment regarded at the highest standard in billiard competition in modern history and attended by the best of our time, such as Dick Jaspers, Thorbjorn Blomdahl, Sir Raymond Ceulemans, Frederic Caudron and other elite players. The Casino Del Sol and its sponsors have spared no expense to bring the same standard of quality  to the upcoming Gabriel's event in January.
The USBA Thanks its Sponsors!
It is not without the help of its sponsors that the United States Billiard Association is able to provide its members with events such as these. With continued success The USBA strives to add more events to its roster. so that players can experience billiard competition at its highest level and quality in the Nation. Their most gracious. 'headline' sponsor, Gabriel's Billiards has made it possible to provide this event with 5 x 'Imperator V' heated billiard tables, graced with factory delivered, Simonis '300' tournament cloth from Simonis and also using premium, Aramith tournament billiard balls. USBA also thanks the Casino Del Sol for showing great interest and making direct investments of space and accommodations for cue-sports events such as this. The USBA could also not be able to provide prize funds and additional tournament services without direct financial and product support from, Tiger Products and the Cheqio Brand. And finally, the USBA also shows its gratitude for the support of Paul Frankel and Professor Q Ball's, National and 3-Cushion News for promotional, editorial and logistical contributions.
Broadcast Coverage and Live Streaming 
As a service to the billiard community and to further promote 3-cushion competition, the USBA has also contracted live-streaming and broadcast services of Point Of View Pool Media (www.POVPOOL.com) where, they will provide free, live-coverage from the Casino Del Sol to the masses on POV Pool's YouTube Channel and also be providing a 'Real Time Feed Page' on www.POVPOOL.com for audiences to track results and updates.

POV Pool is sponsored by: Tiger Products, Kamui Tips, FanDuel and IV Organic
USBA "B" Level Tournament: January 16th – 18th, 2017
The "B" event is open to all players with an average of less than .700
Entry $160 – 40 players
Dress Code: Black Slacks, vests, bow tie and white shirt
8 groups of 5 players – 80 matches
Total of 16 Rounds on 5 tables (This will take 2 days, 8 rounds per day)
Finals will be Single Elimination
16 Players – 5 rounds total
USBA Open Tournament: January 19th – 21st
Entry $260* – 40 players
Dress Code: Black Slacks, vests, bow tie and white shirt
8 groups of 5 players – 80 matches
Total 20 rounds on 5 tables (This will take 2 days, 10 rounds per day)
Finals will be Single Elimination
16 players – 5 rounds total
*Special Note: "B" Players can play in both tournaments for $160 each tournament
Other Notes: 
Players in the tournament are required to stay at Casino Del Sol Resort
All registered players will receive a Free Buffet and Discounted Room Price of $99 for a double room
Please use offer code: USBATCT to receive the group rate
Casino Del Sol Reservations 1-855-SOL-PLAY (765-7829)
If you would like more information regarding this event or other USBA events, contact:
Mazin Shooni at 248.910.4466 or email him at [email protected]
This is event is sponsored by:



For up-to-the-minute coverage during the event and all your 3-cushion news, go to