JUNE 24TH, 2019
POV POOL HEADQUARTERS, LOS ANGELES, CA
THE SILVER CUE 3.C OPEN
BY: GERALDINE THIBODEAU
SILVER CUE BILLIARDS, LOCATED IN THE HEART OF LOS ANGELES, HUNTINGTON PARK, WILL BE HOSTING ANOTHER GUARANTEED $2,000 ADDED 3-CUSHION TOURNAMENT! BY NOT LIMITING THE NUMBER OF PLAYERS IN THE TOURNAMENT, SILVER CUE 3.C OPEN IS EXPECTING A LARGE INTERNATIONAL TURNOUT.
JULY 19TH – JULY 21ST, 2019
SILVER CUE BILLIARDS
7412 Pacific Blvd. Huntington Park, CA 90255
(323) 587-8367
HOUSE PRO AND MANAGER, VICKE PINEDA, AND ONE OF THE BEST TOURNAMENT DIRECTORS IN THE U.S., RICKY CARRANCO HAVE TEAMED UP TO BRING SOME OF THE BEST OF 3-CUSHION BILLIARDS TO THE SILVER CUE. PROFESSIONAL PLAYERS LIKE LUIS AVEIGA OF ECUADOR AND LUISMIGUEL AVILA FROM MEXICO ARE JUST A COUPLE PLAYERS EXPECTED TO BE AT THIS EVENT.
THIS TIERED ENTRY AND POINT HANDICAP TOURNAMENT WILL ALLOW FOR THE AMATEUR PLAYER THE COMPETITIVE EDGE THEY ARE LOOKING FOR IN COMPETITION AGAINST HIGHER SKILLED AND PROFESSIONAL PLAYERS. HANDICAPS ARE AS FOLLOWS:
INTERNATIONAL MASTERS = 33 POINTS & $350 ENTRY FEE
MASTERS (A PLAYERS) = 30 POINTS & $300 ENTRY FEE
B+ PLAYERS = 27 POINTS & $250 ENTRY FEE
B PLAYERS = 25 POINTS & $200 ENTRY FEE
C PLAYERS = 22 POINTS & $200 ENTRY FEE
OVER THE COURSE OF 3 DAYS, THIS TOURNAMENT WILL ALLOW MANY OPPORTUNITIES FOR AMATEUR PLAYERS TO COMPETE WITH CHAMPIONS ACROSS THE U.S. AND WORLD! IN A ROUND ROBIN FORMAT WITH PLAYERS RACING TO DIFFERENT POINTS, DEPENDING UPON THEIR SKILL LEVEL, WILL MAKE FOR LONG DAYS OF MANY MATCHES FOR THE PLAYERS. THE TOURNAMENT FORMAT IS AS FOLLOWS:
ROUND ROBIN TO A FINAL SINGLE ELIMINATION BRACKET
FOR MORE INFORMATION CONTACT:
VICKE PINEDA (323) 245-3840
RICKY CARRANCO (323) 490-8075
SILVER CUE BILLIARDS (323) 587-8367
---
P.O.V. POOL MEDIA WILL PROVIDE COVERAGE OF ALL THREE DAYS OF ACTION WITH SPECIAL GUEST COMMENTATORS THROUGHOUT THE TOURNAMENT. Some of the best 3-cushion billiard commentators will share their knowledge with the viewers during some of the world's best players. don't miss any of the action, never miss a shot…POV POOL!
---
SPONSORS:
Final Day Schedule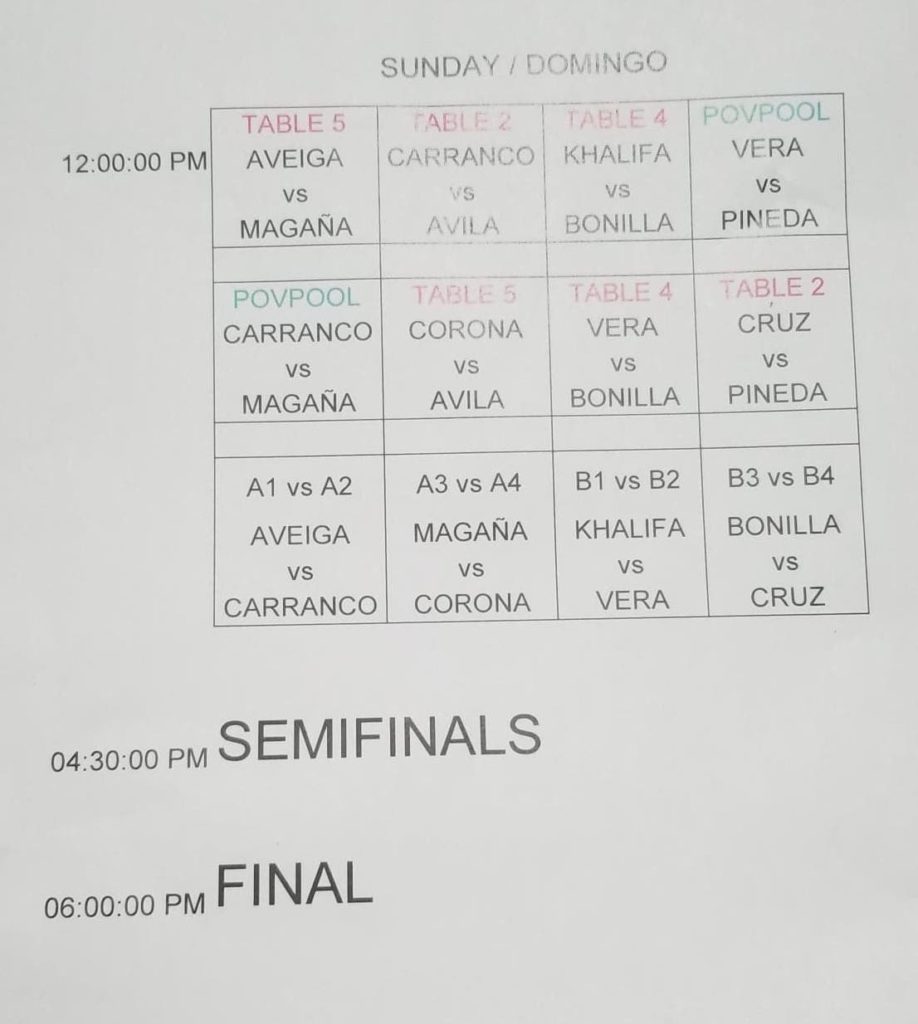 Final Round Results
Results from Preliminary Rounds