Pool Tournaments: 'POV 7' – Celebrating the Big Bang!
November 3rd, 2018
POV Pool Headquarters – Los Angeles, CA 
By: Daniel Busch and Geraldine
POV 7: Celebrating the Big Bang
December 14th – 16th
California Billiards, Fremont CA
POV Pool is celebrating the journey! 
Live Coverage and Promotions since 2011

200 + Live-Streamed events

5,500 Facebook Subs

32,000 + YouTube Subs
Celebrating 7 years of sweating the action on POV Pool warrants an anniversary tournament, right?
Truth is though, if you're a die-hard pool-player, almost anything warrants another great pool tournament! And, if you're the viewer, another awesome event to watch should be on the top of your list!…so, POV Pool and Friends bring you 'POV7', taking place at California Billiards on December 14th-16th, 2018.
Entry form HERE.
Visit Jam Up Apparel to get 10% off your FIRST order!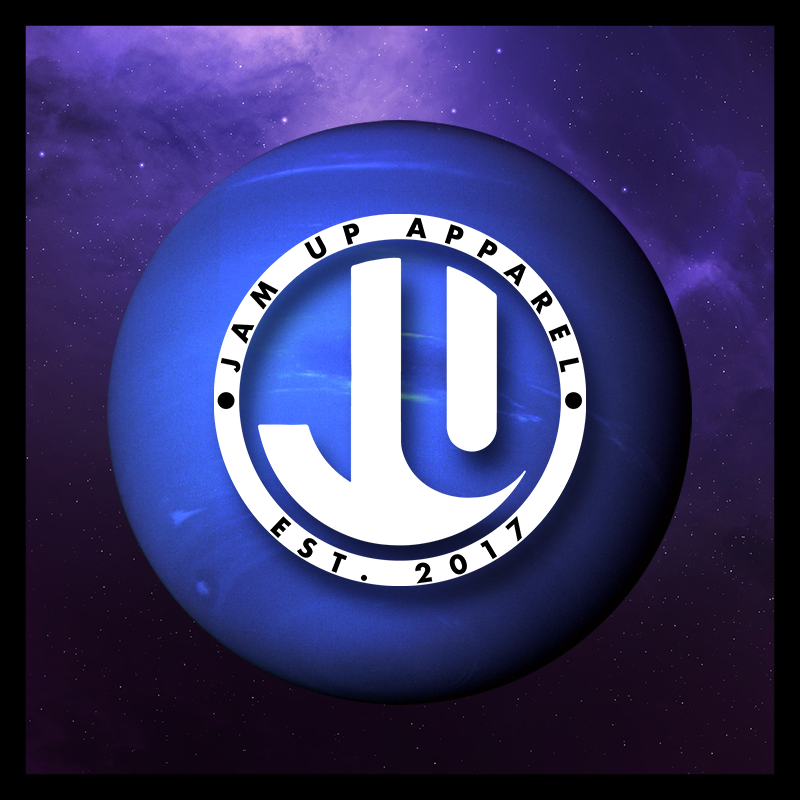 Let's start with an appetizer mini 9-ball tournament with $400 guaranteed added! This single elimination, race to 5 tournament is open to 48 players. The entry fee is $25 and this mini tournament fills up EVERY YEAR, so don't be left out in cold and get your starter salad for the weekend! Tournament begins at 7pm sharp. (Last year we took 50 players).
$400 Added 9-Ball
$2,500 Added One-Pocket!
Feast your EYES on the main course…$2,500 Guaranteed Added 1-Pocket Tournament! This two-day, double elimination tournament will be a race to 3 on both sides. The entrée comes at you for $75 a head and open to 64 players beginning at 10am in the morning on December 15th, so don't be late.
Tiger Products Comes Through Again!
Thanking Tiger Products again, with their support of 'POV7', spectators, fans and players can be eligible for this beautiful, Bacote and Maple, 'TH-1' Traveler's Cue! The lucky winner of this cue will be drawn at California Billiards before the final match of the $2,500 added One-Pocket tournament with their choice of Tiger, Ultra, LD or Pro-X Shafts.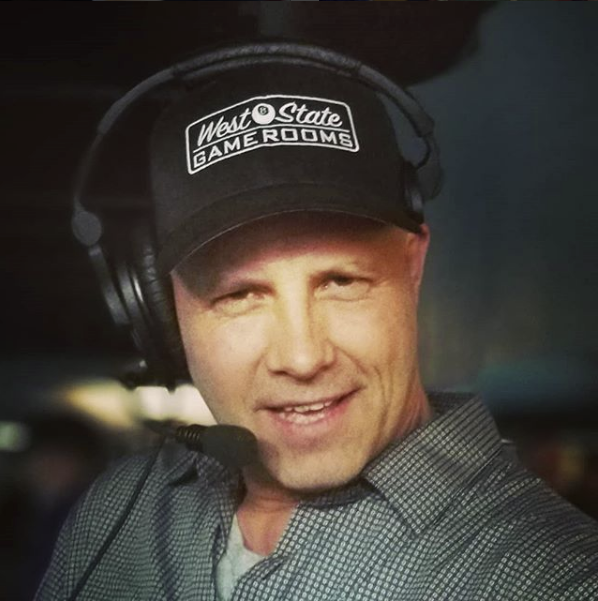 Our 'POV 7' Event Sponsors!
Thank you to California Billiards for hosting this tournament that is paid in full! NO GREEN FEES / ALL MONIES PAID OUT! Event such as these are virtually impossible to pull off without support from these special brands so, a big 'Thank You' to all of those below who, have stepped up to support 'POV7'! Players and attendees should NOT miss out on FREE giveaways, EXCLUSIVE merchandise for sale and many other goodies! Come out support the brands who support you!
Click a planet today!
Download your entry form and get your money in…Call California Billiards at 510.668.1670 to pay by credit card.

Holiday Inn Express in Fremont is offering a special CA Billiards Rate starting at $94/night. This rate is subject to availability. There is a shuttle service that runs from the hotel to CA Billiards, so book your room today!

One Pocket Finishers: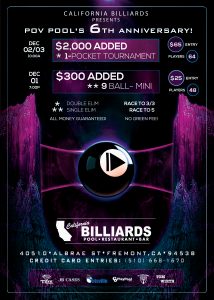 1st: $1,600 ———- John Schmidt
2nd: $1,000 ———- Amar Kang
3rd: $700 ———- Steve Housh
4th: $400 ———- Reid Stensrud
5th/6th: $250 ——— Bryce Avila/Joey Barnes
7th/8th: $150 ——— Rylan Hartnett/Jerry Matchin
9th/12th: $75 ——— John Hernandez, Eric Krauss, Hugo, Jeff Gregory
9-Ball Finishers:
1st: Amar Kang
2nd: Divij Baboo
3rd: Ed Ramos/Nelson Silva