Celebrating 30 Years of 'Hard Times Billiards, Monthly Tournaments', this December!
November 13th, 2018
POV POOL Headquarters – Los Angeles, CA
by: Daniel Busch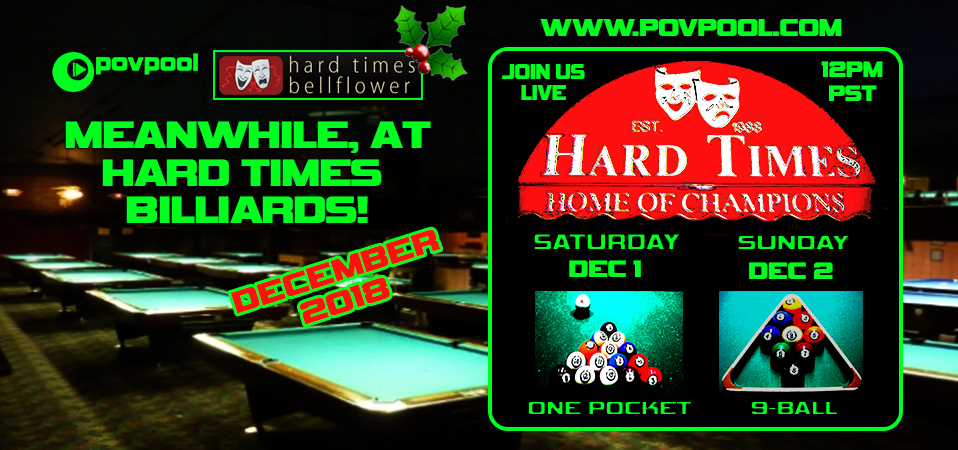 Hard Times Billiards: 30 Years!
Returning to Bellflower, California for the 7th consecutive year, POV POOL will be on location to provide 'live-action' coverage of December's, 'Hard Times Billiards Monthly, One-Pocket and 9-Ball Tournaments'. Coincidentally, it turns out to be a total of 30 years of operation since Hard Times Billiards opened in 1988. That said, we have decided to celebrate its 30th just prior to the Holiday Season and when it's coolest (If you know what I mean). And for this December weekend, Hard Times' owner, Eddie Arreguin has arranged to provide a few giveaways at the venue (for those who are eligible); a Mezz EC7 cue, cue case, Hard Times Billiards t-shirts and items by TAOM Tips.
Live Streaming from 'POV POOL' on:
Saturday at 12:30 pm / PST: http://www.youtube.com/watch?v=nz7F9jd85dw
Sunday at 12:30 pm / PST: http://www.youtube.com/watch?v=9Tphsay6-vw
December 1 / One Pocket / $20 Entry *** December 2 / 9 Ball / $30 Entry
So, come on down and sign up to play in what I call, the U.S.'s longest running monthly pool event, with Dave Hemmah, Shirell Ivey or Tony Torres taking your entries and calling out matches (Don't give our TD's a 'hard time', please); if you're really lucky, you just might win a Mezz Cue or a Hard Times t-shirt.
Your chance to win a few giveaways on December 2nd!
From now until a winner is drawn on December 2nd, just before the 9 ball finals, you can become eligible to win this limited edition EC7, Mezz Cue with a retail value of $700. This model which, was discontinued almost 2 years ago is sure to be a favorite player's cue and collectible item in years to come. Also being given away are a few other prizes from the Hard Times wall of t-shirts and apparel, some TAOM break/jump Tips and a Cue Case, also being hand selected from Eddie's shelves.

Remembering Hard Times Billiards, Bellflower
It is important to note that, this December's, Hard Times 1st weekend (specifically the Sunday, 9-Ball), should mark a notch in cue sports history as being the longest running, monthly pool tournament at any one single venue. Shortly after opening it's doors in 1988 and originally dubbed, the Hard Times, 1st Sunday 9-Ball Tournament, Son and Father, owner/operators (in that order), Mike and Chuck Markulis posted the event to the monthly calendar. With the tournament direction of well known pool promotor and now, author 'Toupee' Jay Helfert, the 1st Sunday, Hard Times 9-Ball became a staple for local and traveling pool players seeking to develop their talents. Back in those day, Chuck Markulis and Jay Helfert held court with a regular attendance of up to 90 players each month, consistently adding various monies from the house.
Fun Fact: On opening day, it was recalled by Ken Thomason that, when Chuck opened the doors he welcomed everyone in and told them that table time was free for the day!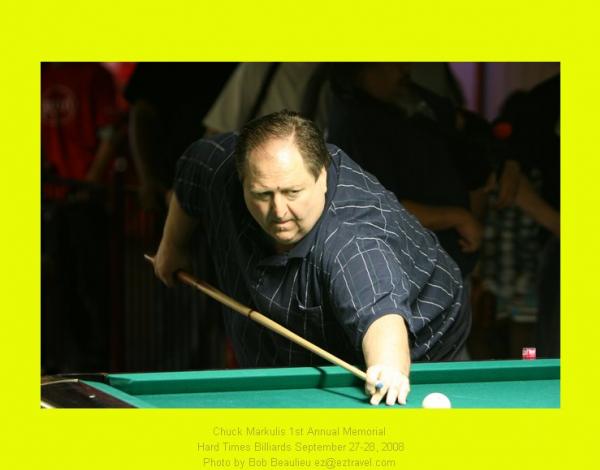 Then in the early 2000's came 'The Wave'! Dave 'The Wave' Hemmah that is; who was hired by Ken Thomason as the Hard Times' 'House-Pro' and who, also took over as tournament director, was instrumental as an instructor and as a mentor to many in the pool community. Hard Times' 2nd owner Ken Thomason purchased Hard Times Billiards in the mid 90's with a similar vision support pool players with the best playing conditions at all times and to provide a safe and friendly atmosphere for family patrons and casual players. It was shortly after this time that Ken added a 1st Saturday, One Pocket Tournament to the rotation and, The Hard Times 1st Weekend Tournaments quickly grew roots in Southern California, by earning recognition as a regular stomping ground for scores of pool heroes such as, Efren Reyes, Jose Parica, Lou Butera, Keith Mcreedy, Tang Hoa, Ernesto Dominguez, Larry Bohn, Morro Paez, Bernardo Chavez,  Ron Rosas, John Morton, Francisco Galindo and honestly, the list is goes on and on and on…Ritchie Florence, Kim Davenport, Raphael Martinez, Rodney Morris, Hawaiian Brian, Jay Swanson, Jeannette Lee, Francisco Bustamante, Dennis Hatch, and on even further, it is no wonder that Hard Times Billiards has long been dubbed, 'The Home Of Champions'.
It is certain today that, if you were to ask any veteran pool player about the Hard Times monthlies during pool's 'heyday', you just might get cornered for an hour or two with endless tales. Today's names are equally formidable with, Hard Times Billiards which still hosts its monthlies and holds regular annual events, hosting past champions, Shane VanBoening, Dennis Orcollo, Carlo Biado, Alex Pagulayan, Ko Pin Yi, Ralf Souquet and again, many, many others. Chances are, if you have a favorite pro player from past or present, maybe you should visit Hard Times Billiards test us out by asking, 'Catfish' if they've been through Hard Times Billiards. You may just learn something about your pool heroes that you've never read in a book or magazine.
After 3 decades and 3 owners, Hard Times Billiards, is still trudging. 
Join us at Hard Times Billiards this December…
Live Streaming from 'POV POOL' on:
Saturday at 12:30 pm / PST: http://www.youtube.com/watch?v=nz7F9jd85dw
Sunday at 12:30 pm / PST: http://www.youtube.com/watch?v=9Tphsay6-vw