Remembering Cole at Family
June 27th-28th, 2015
Family Billiards – San Francisco, CA
The 3rd Annual Cole Dickson Memorial
9-Ball Open…
Fog City's Biggest Tournament
What factors contribute to why a pool hall would want to hold a memorial tournament after a player passes away?  Why after three years, does Delbert Wong, the owner of Family Billiards in San Francisco, still honor the memory of Cole Dickson?  The stories of
Cole Dickson are many, but all good.  From a young age, Dickson traveled the country playing against the best…and winning!  He was known as a stand-up individual who played with heart.  He wasn't afraid to put his money where his mouth was.  He was a rare commodity in the pool world.  Unfortunately, his pool playing days ended short.  For these reasons, Delbert Wong, and the Dickson daughters, Christine and Susan honor his memory with an annual memorial tournament.
Delbert has graciously, for the past three years added money to bring people together to play the
sport Dickson loved.  This year, Delbert is contributing $2,500 added to the total purse of the tournament.  This open 9-ball tournament brings the top players, not only in Northern California, but the country, as well.  In years past, champions like Ramon Mistica, Rodney Morris, Oscar and Ernesto Dominguez and Santos Sambajon have come to play in this class-act event.
This year entry fees are $85 if paid before June 24th and $100 if paid on the day of the event, June 27th.  There is a $10 green fee that helps to pay for table time and the tournament director.  Although the tournament is slated at race to 8 on the winners' side and race to 6 on the one-loss side, the tournament director will use his/her discretion whether to shorten or extend the race prior to the tournament beginning, depending upon the amount of players.
So, cross the Golden Gate, Bay, Dumbarton or San Mateo bridges and show up early on Saturday because practice begins at 10:30…get a nice hour and half warm-up prior to the tournament beginning at noon.
If you're out of the area, expect the exceptional coverage LIVE & FREE by POV POOL!  Also, this year POV Pool will be providing a live digital bracket (brought to you by CompuSport), tournament photos, updates pay-outs and much more on our Real Time News Feed!
Get on BART and Get to Family Billiards!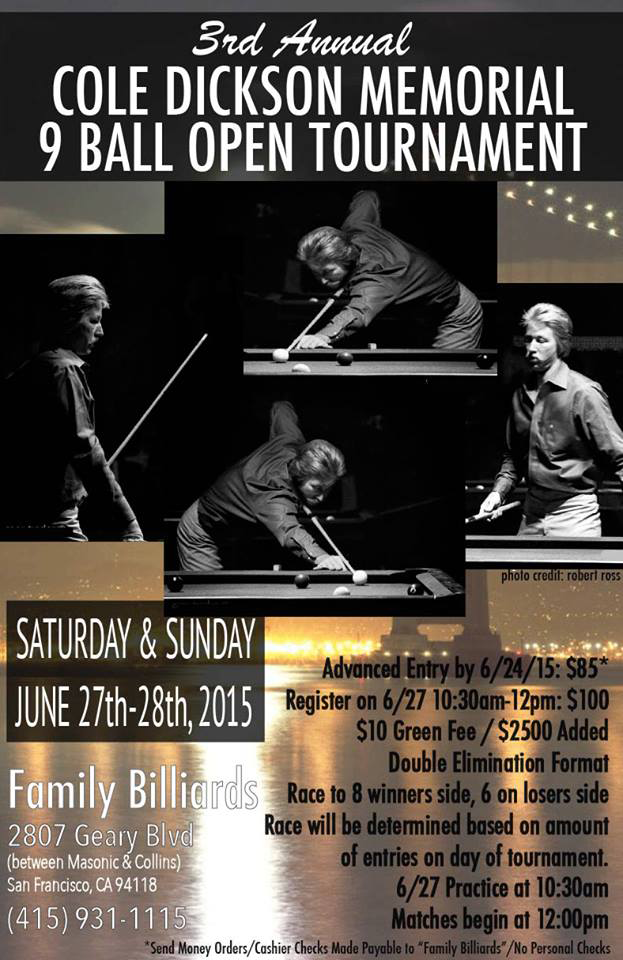 $2,500 Added 
Advanced Entry Fee (Register by 6/24) $85
Register on 06/27 Entry Fee $100
$10 Green Fee
Race to 8 on the Winners' side/ 6 on Losers' side
Race will be determined based on amount of entries on day of tournament
Practice begins at 10:30am
Matches begin at 12:00pm
'Thanks' to the Sponsors!

   

Your Questions and Inquiries: 
Tournament Info & Sign Ups: Family Billiards – (415) 931-1115

Advertising Space on Live Stream: Daniel Busch – (310) 923-6639

Anything else: [email protected]
Keep Loving Pool!