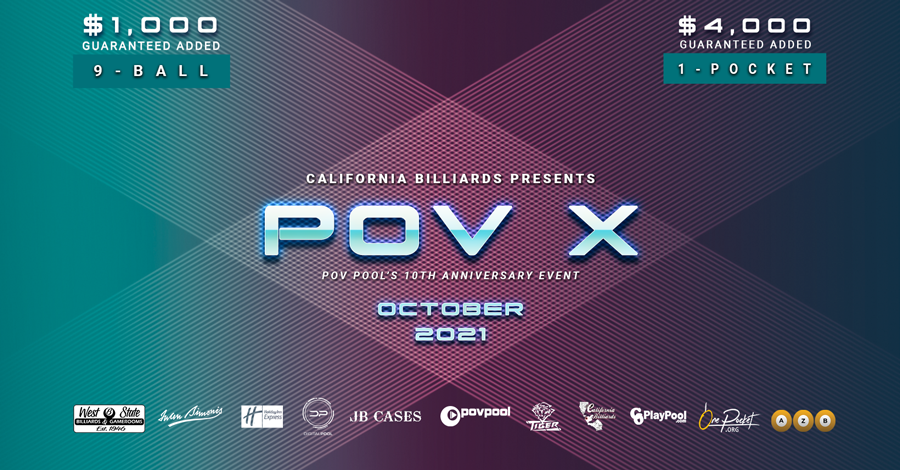 After 10 years, Point of View Pool Media is returning from a year long hiatus due to a global pandemic. With 10 years, thousands of pool and billiard video hours published, we continue to promote pool, players, pool rooms and companies that have loved, played and supported the sport.
"Never Miss a Shot"
This year we celebrate our 10 year anniversary as a company. POV Pool, in correlation with California Billiards is holding our annual, anniversary tournament. The festivities will begin on Friday, October 8th at 1pm with a high-roller 9-ball tournament. This one day event will only have 16 spots available. At $350 entry, those who especially want to play, will fork over the cash! California Billiards is guaranteed to add $1,000 to the prize fund. With a full field, this one day event could yield a purse up to $6,600! Race to 8 on both sides of the bracket.
"Upgrade Your Sweat"
The main event of the weekend is a $4,000 Guaranteed Added 1-Pocket tournament. Beginning at 11am on Saturday, October 9th. 64 player maximum number of entrants allowed in this tournament, at $85/each player (bringing the pot potential to $9,440). The 1-pocket tournaments at California Billiards have notoriously filled up quickly, so if you're interested in playing, get your entry form and fee submitted to California Billiards ASAP!
POV Pool will be live streaming all weekend on POVPOOL's YouTube page.
---
Keep Loving Pool!
---