"POV 2" Tickets and Guide!

You can purchase your PPV Tickets for "POV 2" here or you can still visit www.povpool.com/action/
Instructions for access at the bottom of this page!

 
This show will include:
 – Pre-Game and Post-Game interviews by Jay Helfert and Beau Runningen  – 4 Cameras with closeups!  – Real time scoring  – Pool-Trax – Real-Time Statistics  – Live Commentary  – Program LOOP until 3 am  – Actual matches should take between 3 and 4 hours each  – Chatroom provided through POV Pool's
USTREAM Channel!
Event Customer Service:
Chat: 'SHARKEN' will be the main MOD in the Ustream Chatroom to help. 
Phone: (310) 923-6639 / Ask for Geraldine or Ian. 
Ordering Tickets
Click to The Banner of your choice and Order Tickets Now!
Monday Only 
Tuesday Only!

Monday & Tuesday! 

KAMUI VIP PASS! 
PPV Access Instructions!
Note: You Do Not Need a PAY PAL Account to order! Credit Cards are accepted without a PayPal Account.  
1. Choose the event you wish to view by clicking the appropriate banner above.
2. NEW USERS must create an account. You can set your own 'USERNAME and PASSWORD' there. (See picture)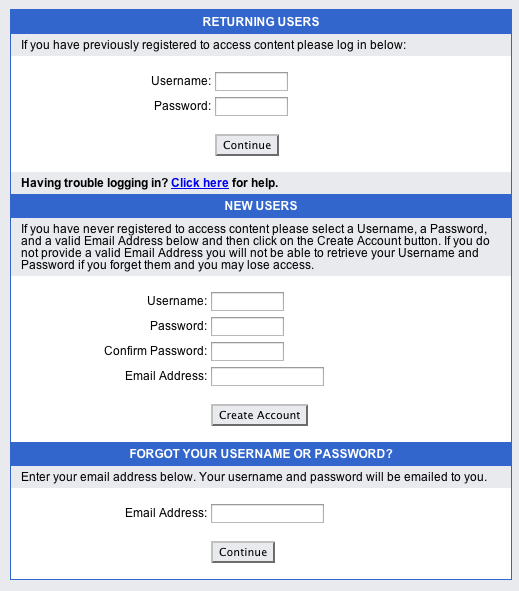 3. Once you have created your new account or entered your existing login and password, you will then be shown the item you chose. If you've chosen the wrong item, you can click 'remove' to remove that item and start over. If you have the correct item listed, click the 'Purchase' Button. Note: You should already have a username and password now, which you should always use in the future. You can also check your purchase history and you can refresh the page or log out of your account from here.
4. Click 'Purchase'. You will now be asked how you would like to pay for this event. Payments are processed through PayPal but you do not need a PayPal account. Click the 'PayPal' button.
5. After Clicking the 'PayPal' button – you will now be asked for your Pay Pal or Credit Card info. If you do not wish to pay via Pay Pal, click on 'PAY WITH DEBIT or CREDIT CARD or BILL ME LATER' – This is at the bottom of this screen.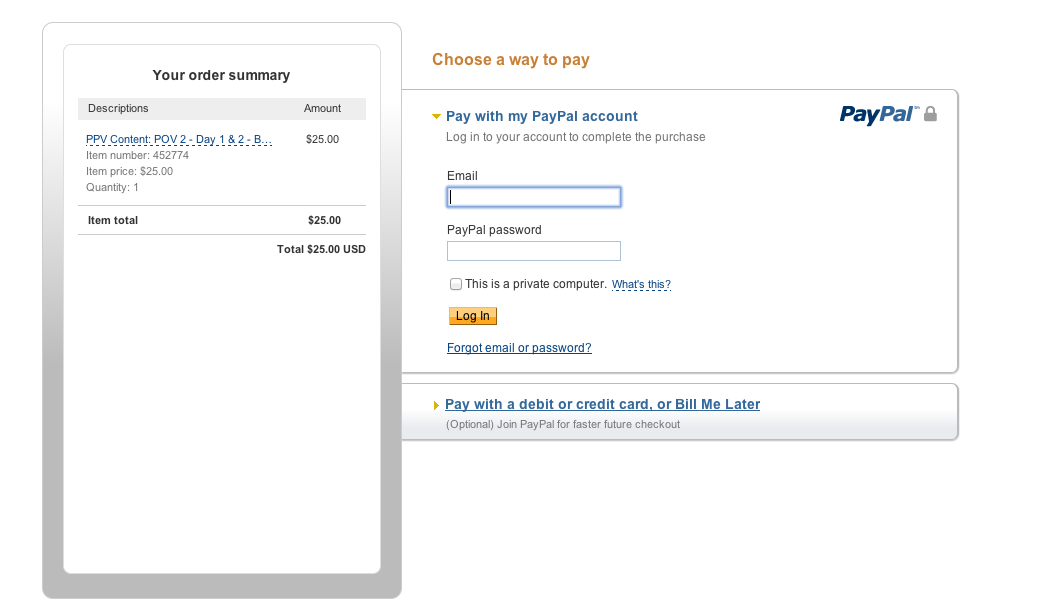 6. Now you should 'Confirm' your payment method. Once you are confirmed you will be re-directed to the correct final screen with a button to 'ACCESS CONTENT'. Click 'ACCESS CONTENT' and enjoy the show!