Efren On The Move To Hard Times, Sunday!
February 2nd, 2014
Hard Times Billiards – Bellflower, CA
Efren Expected This Afternoon! 

A close source to Efren Reyes has confirmed today that he is expected to arrive at LAX Airport this morning and will be making his rounds at Hard Times Billiards, sometime early in the afternoon. As luck would have it, POV Pool was already scheduled to live stream the 1st Sunday 9-Ball tournament, which means that we will most certainly get a glimpse of Efren and possibly more, since this particular tournament is always known for such high caliber attendance and competition. If nothing else, maybe some great 'charity' action or a practice session for Efren, but may I remind readers that when he was here 3 weeks ago, we were treated to over 7 hours of some of the best pool this room has seen since July 2013's, Hard Times 10-Ball Tournament.
Anything's possible when 'Bata' is in town, which means that POV Pool's eyes are on 'you know who'! Live streaming starts at 12PM PST on this website. If you work on Sunday, call the boss and make an excuse. Leave the laundry in the hamper and let the dishes wait! What's that event with the brown oval ball? Oh, the Super Bowl?
Efren's in town!
Live streaming will be free until 2:30 pm PST and will convert to a Pay-Per-View stream thereafter.  Purchase your PPV Tickets now at https://povpool.com/action/ for only $8.
[button size="large" type="success" value="WATCH AFTER 2:30PM" href="http://interface.audiovideoweb.com/ppvlnk/purchase/add/grp/139025676020396?id=01202014163308″]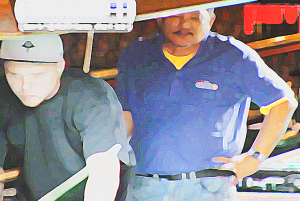 [embedit snippet="ustream-video"]