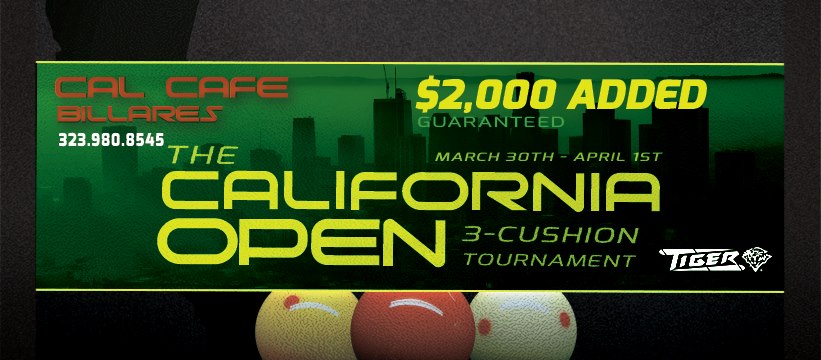 Cal Cafe & Billares Presents "The California Open"
FEBRUARY 28TH, 2018
POV POOL HEADQUARTERS, LOS ANGELES, CA
THE CALIFORNIA OPEN
BY: GERALDINE THIBODEAU
Watch this event!
Cal Cafe and Billares, located in the heart of Los Angeles will be hosting its first large sized 3-Cushion tournament with $2,000 guaranteed added money! By not limiting the number of players in the tournament, Cal Cafe is expecting a large international turnout.
March 30th – April 1st, 2018
5128 Whittier Boulevard, Los Angeles CA 90022
(323) 980-8545
House Pro, Vicke Pineda, and General Manager, Mayra Vargas, of Cal Cafe have coordinated a 3-cushion tournament to bring in players from across the globe. Teaming up with one of the best 3-cushion tournament directors in the U.S., Ricky Carranco, this is expected to be a well organized and anticipated event.

Limited to 42 players, this tiered entry and point handicap tournament will allow for the amateur player the competitive edge they are looking for in competition. Handicaps are as follows:
Average .900 & above = 30 points & $300 entry
Average .899 & below = 27 points & $250 entry
Average .699 & below = 25 points & $200 entry

Over the course of 3 days, this tournament will allow for many opportunities for the lower skilled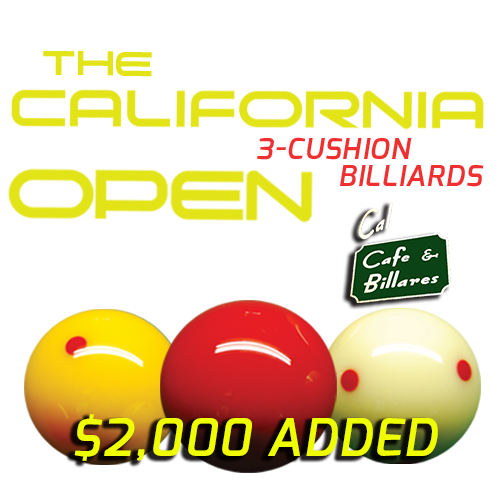 player to compete with champions across the U.S. and World! In a round robin format with players racing to different points, depending upon their average make for long days of many matches for the players. There will also be an auction after the qualification round, where two players can bid for a wild card spot. Lastly, there will be a raffle, in which a player could win a spot to have another chance to compete in the tournament. The tournament format is as follows:
Tournament Format (Based on 42 Players)
6 groups of 7 players Round Robin
Top 3 players from each group will advance, 2 additional players whobid for a spot will advance and 1 player wild card from a raffle will advance.
————————–——————–
Semi-Final Format with 24
8 groups of 3 Players Round Robin 
Top 2 players from each group will advance to the Final Round
————————–——————–
Final 16 will play in a single elimination bracket
For more information and to sign up for the tournament contact:
Cal Cafe & Billares (323) 980-8545
Vicke Pineda (323) 245-3840
Ricky Carranco (323) 490-8075
PLAYER'S LIST
Pedro Piedrabuena
Francisco Palafox
Ricardo Carranco
Gilbert Najm
Vicke Pineda
Jose Lizarraga
Carlos Cruz
Hien Nguyen
Thong Nguyen
Andy Nguyen
Vu
Phat
Gabriel Rojas
Hector Ocampo
Eddie Cervantes
Mike Kim
Allan Jensen
Raye Raskin
Jesus Corona
Carlos Ramirez
Jose Rodriguez
Trinh Do
Alberto Avila
Andy Nguyen
Stan
Jason Kim
Spencer Winston
Salvador Cardejas
Luis Carranza
Hiep
Ricky Aleman
Isaiah Andrade
Ignacio Barajas
Ismael
Allen Castillo
Cremas Perez
I Fear Cardenas
Cantor Carrillo
Proudly Sponsored by Tiger Billiard Products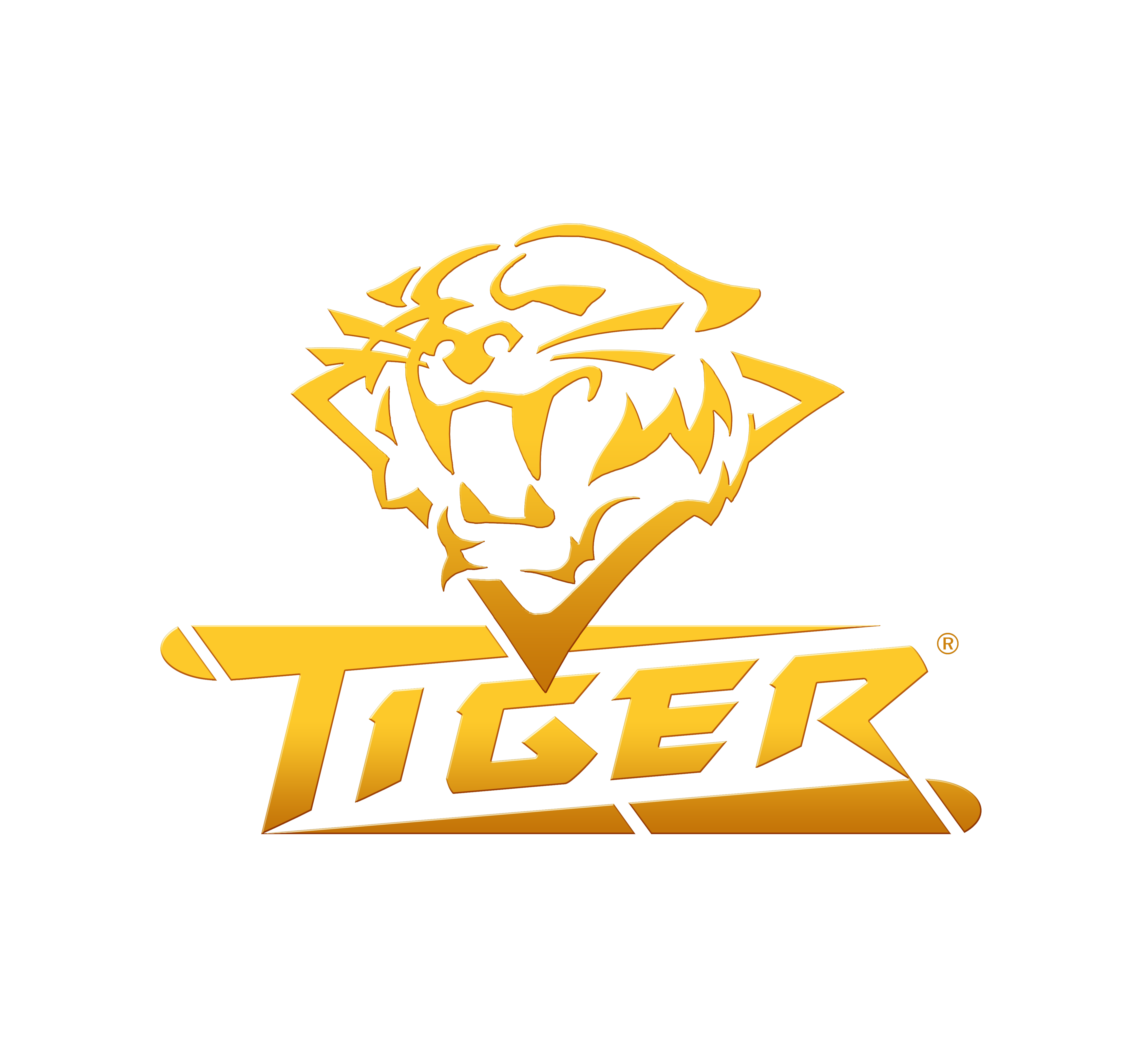 If you can't make it in person, POV Pool will be providing coverage of the action on www.POVPOOL.com/watch/