Mike Dechaine Joins the 'OB Pro' Team of Players!
April 9th, 2014
OB Cues Headquarters – Plano, Texas
Mike Dechaine Embraces OB! 
We are pleased to announce that Mike 'Fireball' Dechaine has joined the OB Pro Team of players. Mike was born in Waterville, Maine and now resides in Providence, Rhode Island where he plays out of Snookers Sports Bar & Grill (who also sponsor him) . At the young age of 26, Mike has already been playing Pro for the last 7 years and has won several large events which include the Ultimate 10 Ball Championship in 2011 and the Turning Stone Casino Classic XIX in 2012. Mike has also proudly represented the USA twice in the prestigious Mosconi Cup both in 2011 and 2012. In the last 2 years Mike has proven to be one of the most consistent American players competing today with a string of high finishes in almost every event he competes in.

Mike had this to say about the move to OB "Switching to OB has been one of the best decisions in my professional career. OB focuses on two of the main ingredients when perfecting their low deflection shafts, consistency and quality. I am looking forward to this successful relationship." Shane Sinnott (Director of Sales & Marketing for OB) said this about their newest team member "Mike is a very exciting player to watch and has a very large following of fans, especially in the North East. He has what many people consider to be one of the hardest breaks in Pool today and it will be exciting for us and for his fans to see how this next chapter in his pool career unfolds now that he is using OB products as the tools of his trade"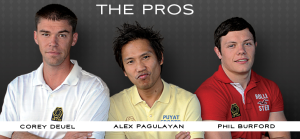 OB is headquartered in Plano, Texas and is a leading manufacturer of high performance Pool Cues and Pool Cue Shafts made 100% in the USA since 2005. For more information on OB Cues or OB shafts or to become an authorized dealer, please visit www.obcues.com or like OB on Facebook at www.facebook.com/obcues