POV Pool Begins a New 'Action Match Series'!
Friday, Dec 20th / 11:00 AM PST
Hard Times Billiards – Bellflower, CA
http://www.ustream.tv/channel/povpool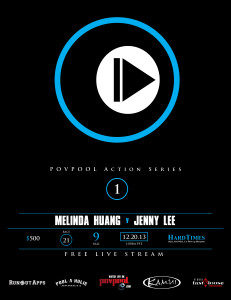 11:00 AM / PST – Point Of View Pool's – New, "Call In Show!"
Everyone's talking about pool in these forums. Now's the chance for your voice to be heard. Your opinions, your concerns and your blessings. Please join POV Pool's 'Call In' segment, by emailing me at [email protected] with your phone number and the subject you'd like to discuss and I will call you 'Live, On The Air'. Holiday Greetings and Blessings will also be heard from many others in the pool community.
12:00PM / PST – POV Pool News & Pre-Game Show!
Join Daniel Busch with a very special guest to discuss news and events in the billiard community, and also watch our players warm up for their action match.
1:00PM / PST – Action Begins!
Jenny Lee – Know to many as 'The Assasin' is no slouch to the game! Feared by many, both male and female, Jenny will be matching up with none other than 'OMGWTF's – Melinda Huang, who recently came in 2nd at the APA National Championships and has taken down a host of other strong female talents!
– Race to 21
– 9-Ball
– Live from Hard Times Billiards!
Please share and enjoy the show!
http://www.ustream.tv/channel/povpool
Don't forget to tune in to ABR – The American Billiard Radio Show at www.americanbilliardradio.com New episodes every Thursday Night! Stay on the pulse of the pool scene!