Saturday, December 7th, 2013 – 11:00 AM PST 
Santa's
Lair!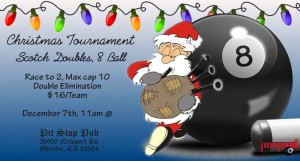 Streaming LIVE n FREE today, direct from Santa's, hideout in Menifee, CA – Please join Point Of View Pool on YOUTUBE as we cover the action  with Ian Brock and the Riverside TAP 
Stream Starts at 11:00 AM PST 
That's on YouTube, Folks! Chat will still be available on Ustream and also on YouTube!