2016's West Coast Action Unveiled!
February 12th, 2016
POVPOOL Headquarters – Los Angeles, CA
POV Pool is Officially Sponsored By:
The Tournament Trail is Heating Up in the Wild, Wild West! 
This is an official call out to ALL of the best players in the world and to anyone else that wishes to compete! There are an incredible number of quality pool tournaments scheduled on the West Coast of the United States this year. Listed in chronological order below, the rooms and venues involved should all be applauded for stepping up to bat and coordinating together to keep everything well-timed and cohesive. Record prize funds and added monies are being discussed and will be officially announced as soon as they are finalized. POV Pool will NOT be providing live coverage of everything you see listed below, but regardless, these events are just too hot to miss for the aspiring pool player and for the seasoned professional. Once again, a huge THANKS to room owners – Delbert Wong, Hector Ocampo, Karen Markulis, Chris Swart, Clyde Norris, Geno Hill, Mike Murphy (Jointed Cue), Gary Onomura and Eddie Arreguin who mainly responsible for hosting these events. Support your local pool rooms and buy your friend a drink or two!
Events listed in chronological order: 
Dealer's Choice – Las Vegas, NV / Stop #1 – The Tiger 'Sin City' Tour!
February 20th-21st / Las Vegas promotors, Tim Kovacs and Kristy Lipps have teamed together to form 10 separate events at various venues and on various sized tables and formats in the area, to be dubbed "The Tiger Sin City Tour" – This 1st stop will be streamed live on POVPOOL and will take place at Dealer's Choice on Spring Mountain Road, featuring four, Diamond bar-sized tables. Additional dates are also scheduled for this year so be sure to get your entries in.
February 20th-21st / Clyde Norris, owner of La Mesa's, On Cue Billiards will be hosting CSI's, 20th Annual, Jay Swanson Memorial 9-Ball event, awarding Mosconi Cup points to top competitors in the field. This year's event has been scaled down from 192 to 128 players with an already full field. On Cue Billiards venue in the San Diego area is the perfect venue for this year's 20th event which was, the late Jay Swanson's stomping ground before passing in the late 1990's of a heart attack. According to the gospel of Mark Griffin, this event is streamed for free by CSI's own staff. No Link as of yet.
February 27th-28th / It'll be the end of the 2nd season Mezz Tour. Congrats in advance to either Vilmos, Oscar, Ernesto, Rodney, Mika or Beau for 1st and 2nd place on the Top Gun Event. Nothing personal, but I am routing on all of my underdog friends (you know who you are) to rattle everyone's cage. As for the 'Lo Gun' portion… 'Come One – Come All' (Well. sort of…), eligible to play as long as you're paid up on the additional $25 for their tour registration – the $2,000 added 'Lo Gun' tournament will be held concurrently for those who didn't make the cut for the 'Top Gun'. Chris Swart of California Billiards is putting up a total of $4 grand of the prize fund towards both tournaments on the same weekend. It'll basically be a huge event at the largest, newest and 'bestest' pool venue on the west coast. A huge thanks goes directly to Chris Swart for stepping up with the cash and for building venues like California Billiards that, basically make events like 'theirs' pretty damn amazing!
Easy Street Billiards / Straight Pool (14.1) Tournament – CSI "Qualifier Event" 
Mosconi Points – NO
Entry Fee $100
Call Danny Barouty at (831) 333-0825 for details
March 5th / Well, I just love Straight Pool, so I thought I'd throw this one in the schedule. I wish I was going to this, but I'm just too darn busy doing these write-ups. If someone wishes to sponsor me to play, I'll gladly accept your donation and promise I'll leave the keyboard for long enough to practice in time. Email me at [email protected]. Anyway, if you like Straight Pool and you wish to qualify for CSI's US Open Straight Pool Championships in Connecticut this year, get to Monterey, CA's 'Easy Street Billiards'. 
Mosconi Points – NO
Call Mike Murphy at (916) 456-3243
March 12th-13th / $3,000 for 1st place and so on… Only $75 to get in on this one. Race to 6 on both sides. Take a crack at NorCal for this old-school reunion of crisp, cool, California players, The 47th Annual Terry Stonier Memorial Tournament should be a must, especially if you don't mind the chance to have the great, Robert Ross photography take a shot of you while you're down on the 9. For more information, please give the room owner, Mike Murphy a ring at (916) 456-3243 and I'm sure they'll straighten you out.
March 17th-20th / At the Rum Runner Lounge, there's a hell of a lot more going on besides the best $5 burger in Las Vegas! Geno Hill, Jim Blakeman and the rest of the Rum Runner gang, sure know how to run an efficient tournament. For 25 years running the Andy Mercer Memorial has seen some of the world's best players mix it up with the best Vegas locals, playing 9-ball, races to 6 on diamond bar tables. Past winner's like Shane VanBoening, Scott Frost, Brian Parks, Ernesto Dominguez, Morro Paez, Jeff Heath, Warren Kiamco are normally expected. What's not expected is some of the chilling upsets that take place under the Rum Runner roof. Full Bar/Smoking Permitted/Poker Machines galore/Flat Screen Sports and THE BEST DAMN, $5 BURGER YOU'RE EVER GONNA GET in VEGAS! This is a really huge event for its size and the action is enough to give you withdrawals after you're done. Call for entry information: (702) 736-6366.  Streamed live on POVPOOL's Ustream Channel
March 16th-21st / When it comes to premier venues for cue-sports, Hector Ocampo has definitely worked hard and earned the honor of becoming the 'host' venue for this year's, USBA 3-Cushion Billiards Nationals Tournament. By working with billiard promoter, Ricky Carranco, Hector Ocampo has pulled the trigger on numerous 'Summer Tournaments' to import some of the best 3-cushion billiard players in the world. Complete bleacher sections, food and drink, raffles and prizes to spectators always make Hector's events great. Mazin Shooni, the current President of the USBA, couldn't have made a better choice by bringing the prestigious, National Championships event to the west. Streamed live on POVPOOL's YouTube Channel!
Mosconi Points – YES 
May 13th-15th / We believe that this year's Markulis Tournament will be 9 or 10 ball only but the word on the street is, an astounding $10,000 added money is being proposed for this event. This also means that there is also an of opportunity for sponsorship. If anyone out there is interested in seeking some promotion, we highly recommend you target this tournament which, has it's own live-streaming and will grab thousands of viewers for your business. Competing for Mosconi Points and huge added monies, we expect players to arrive from planets like Mars, Pluto and maybe even someone from another dimension.
$10,000 added
$95 entry
No green fees
128 player limit.
9 Ball, Double Elimination
Race to 8/7, Finals a single race to 11.
Winner Breaks
Magic rack with the 9 on the spot.
Mosconi Cup 'Team USA' Points Event
Will run 8 person, $12 entry satellite tournaments for a cheaper way for locals to enter. Will have different satellites for different skill levels. Contact me for more information.
More details coming soon. Visit and 'like' Hard Times Billiards on Facebook!
 The 
2016 
West Coast Swing!
The Official West Coast Swing Press Release is HERE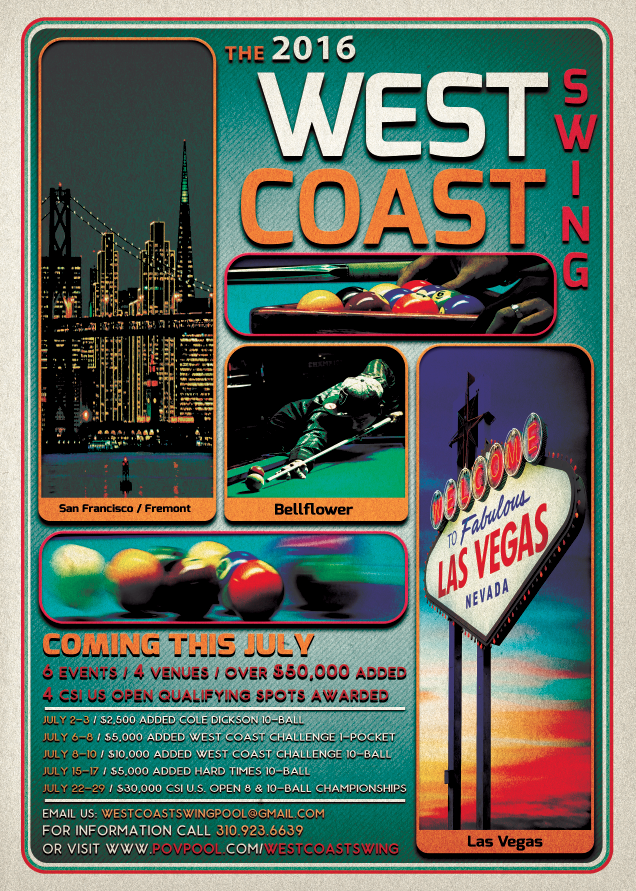 The 'West Coast Swing' has returned to California this year and will occur during the month of July. It's a golden opportunity for the best players on earth to leapfrog from venue to venue for a whole month and compete for over $50,000 in added monies right before the 'Swing' to the Rio in Las Vegas, for the CSI US Open Event and The BCA Nationals on July 20th-30th. 'The West Coast Swing' will start in San Francisco on July 2nd and 3rd, work its way down to Fremont on July 6th-10th and then to Bellflower on July 15th-17th before its final we 'Swing' to Las Vegas. Although no Mosconi points are to be awarded for these 3 events, we are pulling strings to make that possible in 2017. Check out the 2016 'West Coast Swing' events below:
LIVE ON POVPOOL – West Coast Swing Event!

Mosconi Points – NO
Open to 128 Players / $75 entry 
Call for details and entry information (415) 931-1115
July 2nd-3rd – / Delbert Wong's, Family Billiards venue on Geary Ave in San Francisco was a regular destination spot for one of the most feared and respected players of our time, Cole Dickson. Since Cole's passing in 2013, Delbert has dropped everything to make sure that this tournament is a 'go'. Hats off to Delbert, to the Dickson Family and best of luck to all the players! Past winners of the Cole Dickson Memorial Tournament include Amar Kang, Rodney Morris and Oscar Dominguez.
LIVE ON POVPOOL – 

West Coast Swing Event!

Mosconi Points – (10 Ball YES)
$10,000 Added 10-Ball and $5,000 Added One-Pocket
Call for entry details and other tournament information: (510) 668-1670
July 6th-8th One-Pocket / July 8th-10th Ten Ball / California Billiards! Oh, you haven't heard of California Billiards? Formerly known as The California Billiard Club; in 2014, owner Chris Swart had to temporarily shut down and move this venue from Mountain View, California. It took 2 long years to build…but at long last, Chris's 'Opus' to pool has come back with the venue of all venues; an oasis which is now known as California Billiards. This 15,000 square foot room will host this year's 'West Coast Challenge' event. Two tournaments on 9 foot tables, spanning a 5 day period in July. It will be the epicenter of some of this year's most exciting 9 foot action you can find. And, here's another little secret that I will let you in on; there's some background discussion about a huge action match that could take place just before the tournament, that will blow your minds – Oh, and yes, POVPOOL will stream this special match too, if permitted by the players.
LIVE ON POVPOOL – 

West Coast Swing Event!

Mosconi Points – NO
July 15th-17th / Who HASN'T played this tournament? Traditionally held right before the BCA Nationals and CSI events in Las Vegas, The $5,000 Added, Hard Times 10-Ball has hosted the best names worldwide – SVB, Dennis Orcullo, Wang Can, Brandon Shuff, Rafael Martinez, Johnny Archer, the 'Ko Brothers', Carlo Biado, Alex Pagulayun, Mike Massey, Jesse Engel, Hunter Lombardo, Raj Hundal, Thorsten Hohmann, Ralf Souquet, Warren Kiamco and many, many others… Hard Times Billiard IS 'The Home Of Champions' – need we say more?
July 22nd-29th @ The Rio All-Suite Hotel and Casino – Las Vegas, NV / 

(866) 746-7671
$30,000 Added – U.S. Open 8-Ball and 10-Ball Championships
The US Open 10-Ball and US Open 8-Ball Championships will be USA Mosconi Cup Team points events! Players finishing in the top 32 will earn points on a sliding scale. The top three American players with the most points at the end of the year will be selected for the USA Mosconi Cup Team! To learn more, visit theMatchroom Pool website.
CHECK BACK IN ON THIS POST FOR ADDED TOURNAMENTS AND DATES!