The 2016 West Coast Swing of Pool!
March 15th, 2016
POV Pool Headquarters, Los Angeles, CA
POVPool is Sponsored by:
Six, back to back tournaments in July to awaken the 'road player' deep within…
"The West Coast Swing!" 
Entry information:

[email protected]

Family Billiards (415) 931-1115
California Billiards (510) 668-1670
Hard Times Bellflower (562) 867-7733
CueSports International (702) 719-7665
Point Of View Pool (310) 923-6639
This coming July, a few great halls on the west coast of the U.S. will host a string of tournaments that should make the bucket list of every pool player, far and wide. Whether you like the idea of a 30-day pool-playing holiday or you simply wish to have a 'close encounter' with your favorite pro, California and Nevada will be a hub for players this July. In addition, we are excited to announce that each 10-ball event listed below will award qualifying spots to the CSI U.S. Open events in Las Vegas (4 spots total). So, let's give a huge hand to those bringing these events, Delbert Wong's Family Billiards in San Francisco, Chris Swart's California Billiards in Fremont, Eddie Arreguin's Hard Times Billiards in Bellflower and Mark Griffin's CSI U.S. Open Championships events, proudly return to Us:
"The 2016 West Coast Swing!"
6 Action Packed Tournaments in One Month with Combined Added Monies or Over $50,000! 
For entry information or other questions – email  [email protected] or call 310-923-6639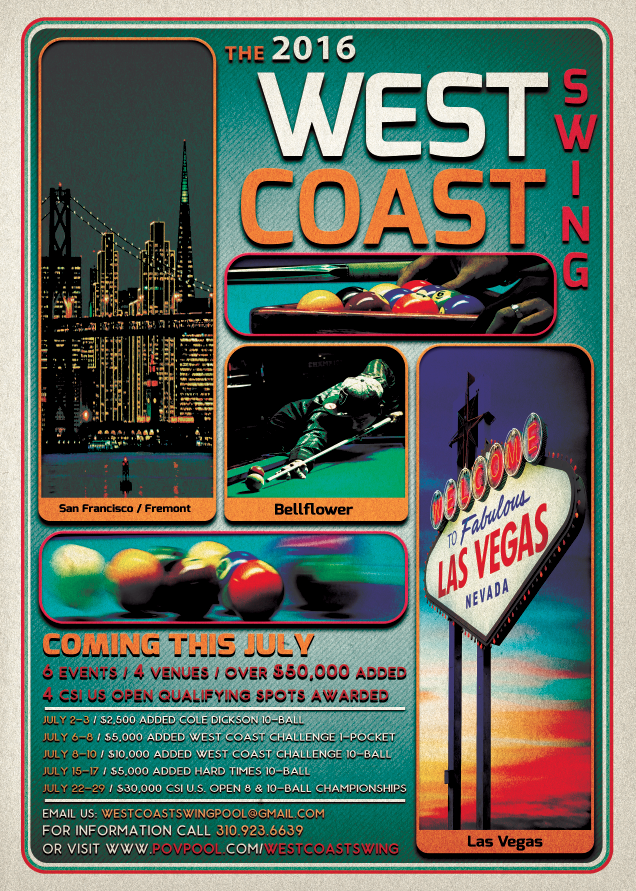 West Coast Swing Overview: Beginning on July 2nd in San Francisco at Family Billiards for the 4th Annual Cole Dickson 10-Ball Tournament; work your way South to Fremont's California Billiards for The West Coast Challenge events, then to Hard Times Bellflower's 7th Annual 10-Ball Tournament and finally players will 'SWING' northeast to Las Vegas on July 20th for the CSI U.S. Open 8 and 10-Ball events at the Rio All-Suites Casino/Hotel. All events below are listed chronilogical order with some suggested hotel destinations. 
---
Tournament #1: July 2nd-3rd @ Family Billiards – San Francisco, CA / (415) 931-1115
$2,500 Added – The 4th Annual Cole Dickson 10-Ball Tournament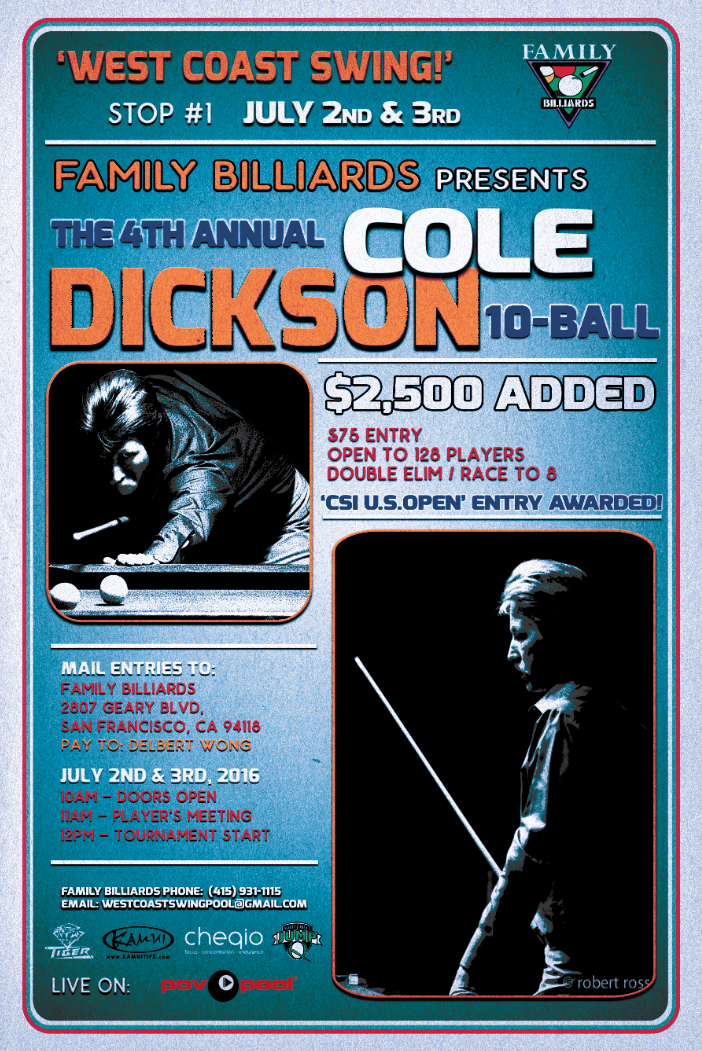 Family Billiards owner, Delbert Wong  does it again for his longtime friend Cole Dickson who left us 4 years ago to the month. This hall opened its doors in 1966 and is the oldest, continuous running pool room in San Francisco.  Currently, located at 2807 Geary Boulevard, in the Richmond District, between Wood and Collins. Previous winner's of this tournament are: Vilmos Foldes (2015), Rodney Morris (2014) and Amar Kang (2013). Family Billiards has the distinction of touring professionals, who regularly stop by throughout the year to compete. All of their 18 regulation Brunswick Gold Crown tables are regularly maintained to ensure first-rate playing conditions.  We recover the tables with tournament-grade Simonis 860 tournament blue cloth, and provide players with Belgian, Super Aramith Balls.
---
Tournament 

#2: July 6th-8th @ California Billiards – Fremont, CA / 

(510) 668-1670
$5,000 Added – West Coast Challenge 1-Pocket Tournament
The 1-pocket event is quickly followed by the 'West Coast Challenge' 10-Ball event at the same venue. Both the one-pocket and 10-ball event's are 3 days, but the final day of the one pocket is also the first day of the 10-ball, so this will be a 5 day event. There will be a coupon code available at The Hilton Doubletree for $89 per night. This event has attracted greats like, Darren Appleton, Thorsten Hohmann, Shane VanBoening, Raj Hundal, Scott Frost, Francisco Bustamante, John Morra, Rodney Morris, Brandon Shuff, Manny Chau, Stan Tourangeau, Dan Louie and too many others to list here… The tournament directors were Janet Okamoto and Ken Schuman. You will neither be disappointed by the action that this event nor the amenities. Full Bar/Food and a ton of stuff to do while waiting in the hot seat.
Originally opened by Chet Itow in the 1990's, the newly re-opened California Billiards is now owned by Chris Swart and has been in business for over 20 years. It is a world-class entertainment venue. The 15,000 square foot upscale establishment is located near the intersection of I-880 and Stevenson Blvd.  They offer a full service restaurant, 15 HD TVs, 26 Brunswick Gold Crown III 9 foot pool tables configured for world class play.

---
Tournament #3: July 8th-10th @ California Billiards – Fremont, CA / (510) 668-1670
$10,000 Added – The West Coast Challenge 10-Ball Tournament
***MOSCONI POINTS AWARDED***
Piggy-backing the West Coast Challenge 1-Pocket event, the 2016 West Coast Challenge 10-Ball will be $10, 000 added and commence during the finals of the 1-pocket. 2013's past winner was Raj Hundal.
---
 

Tournament 

#4: July 15th-17th @ Hard Times Billiards – Bellflower, CA / (562) 867-7733 / 
$5,000 Added – 

The 7th Annual Hard Times 10-Ball Tournament
---
Tournament 

#5 and 6: July 22nd-29th @ The Rio All-Suite Hotel and Casino – Las Vegas, NV / 

(866) 746-7671
$30,000 Added – U.S. Open 8-Ball and 10-Ball Championships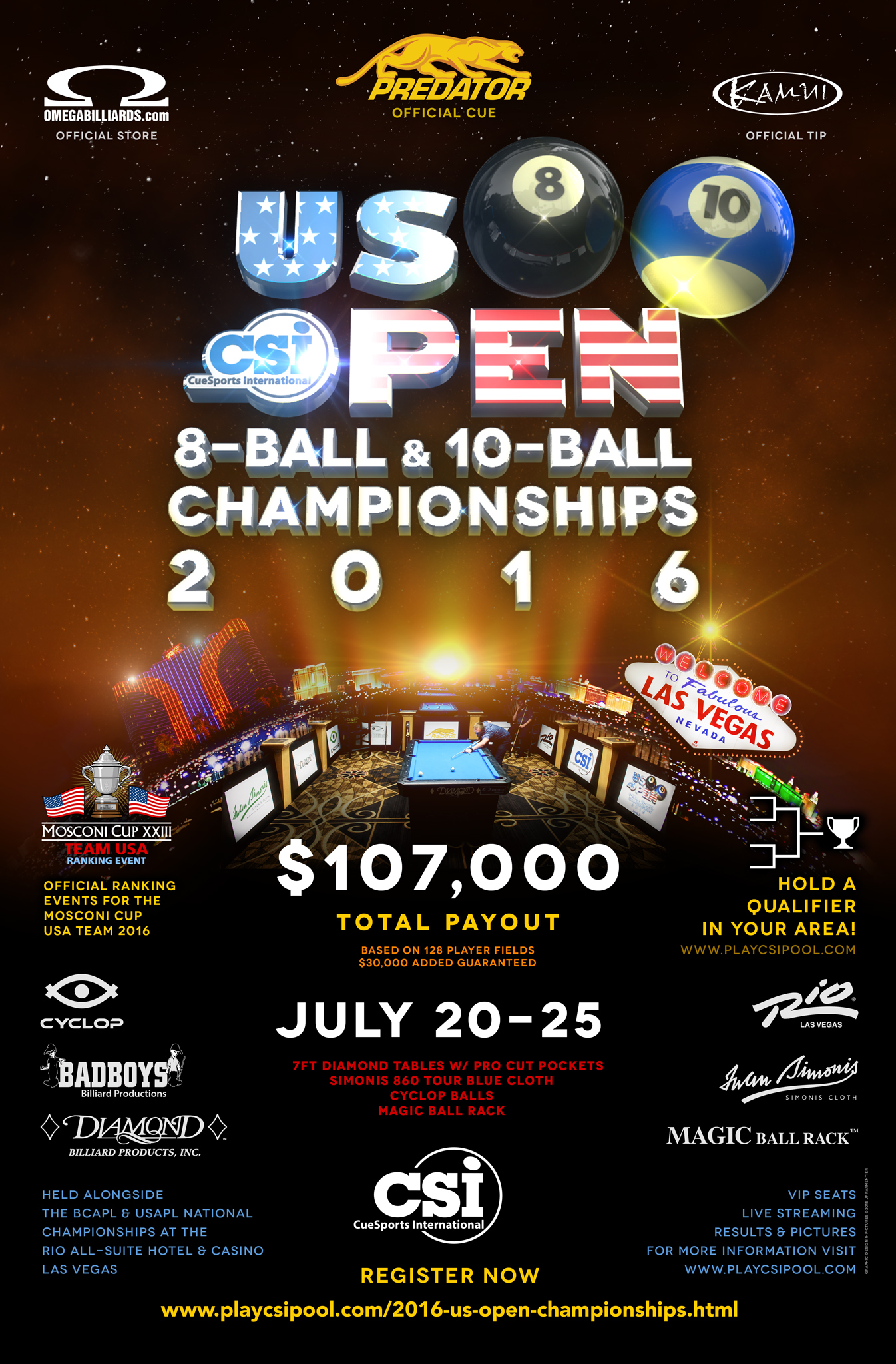 The US Open 10-Ball and US Open 8-Ball Championships will be USA Mosconi Cup Team points events! Players finishing in the top 32 will earn points on a sliding scale. The top three American players with the most points at the end of the year will be selected for the USA Mosconi Cup Team! To learn more, visit the Matchroom Pool website.
---