2016 USBA Nationals – Real Time News Feed
March 16-20, 2016
Million Dollar Billiards – North Hollywood, CA
Day 2 Schedule
Day 1 Results: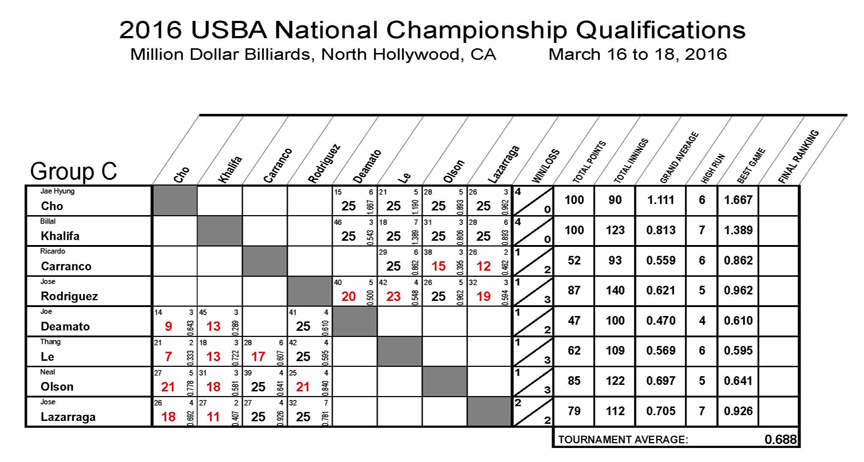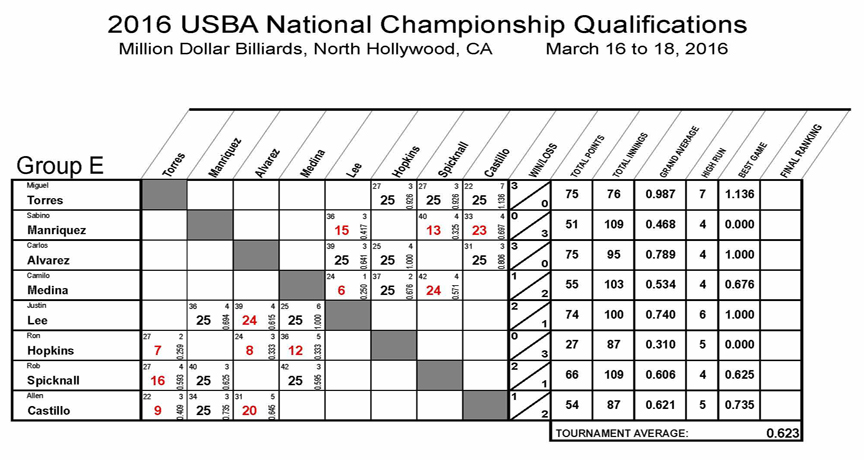 Player Flights:
Tournament Dates: March 16 – 20, 2016 Players' Meeting March 15, 7:00PM
(Tournament Start Times will be updated, as well as scheduled matches for each day)
Tournament Venue: Million Dollar Billiards – 12135 Victory Blvd, North Hollywood, California
Player List: (tentative; will be updated 03/17)
Pedro Piedrabuena
Young Gull Lee
Miguel Torres
Sonny Cho
Frank Torres
Jae Cho
Mazin Shooni
Hugo Patino
Rob Spinknall
Ertan Tarhan
Neal Olson
Joe Deamato
Eric Spencer
Ellis Lawrence
Mercedez Gonzalez
Eric Kwon
Michael Kang
Allen Castillo
Felipe Razon
Alfredo Sanchez
Than Lee
Olegario Gallo
Francisco Palafox
Ricardo Carranco
Vicke Pineda
Carlos Alvarez
Hillario Augustin
Billal Khalifa
Larry Hundley
Carlos Ramos
Camilo Medina
Ron Hopkins
Kyung S. Kim
Paul Feltman Sr.
Paul Feltman Jr.
Ray Raskin
Paul Frankel
USBA National Championship Eligibility and Entry Fee:
The tentative field is set for 48 players but we can accommodate more. Only U.S. Citizens and valid green card holders may participate. Eligibility will be verified electronically at the event. All players must be or become a USBA Member. The official entry fee for the event is $500.00.
Players who meet eligibility requirements as described below may enter for only $300.00.
Players will gain eligibility through a series of qualifying tournaments. Tournaments will be listed in the USBA Upcoming Tournaments Calendar with the designation "NATIONAL QUALIFIER". The top four players from the 2015 National Championship will automatically gain paid entry into the 2016 tournament along with all past US National Champions. In addition, all players who win a spot in one of the official qualifying events will gain paid entry. After all qualified entrants have been determined, additional placement into the event will be made available to USBA Members in the following order of priority:
1) Members who have played in a Qualifier. Entry fee is only $300.00 on a first paid/first served basis.
2) Members who have played in a USBA Tournament in 2015. Entry fee is $500.00 on a first paid/first served basis.
3) All other members. Entry fee is $500.00 on a first paid/first served basis.
National Qualifiers are being scheduled now.
For more information on scheduling a National Qualifier at your room contact Mazin Shooni.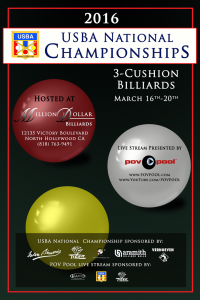 Tournament Format:
The qualifications format will be set once the number of entries has been determined.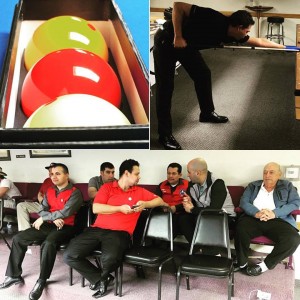 Semifinals/Finals Format
The semifinals/finals format will be set once the number of entries has been determined.
The number of prizes and the prize fund distribution will be set once the tournament format has been finalized.

Player List to be published when available…check back for updates!
This year's event will be available to the masses to watch FREE on POV Pool!  Five days of 3-Cushion Billiards of the United States' BEST!  The free stream is brought to you by the USBA and Tiger Products.
Thank You Mazin Shooni and the USBA, for allowing POV Pool to provide the exposure of 3-Cushion Billiards to the WORLD!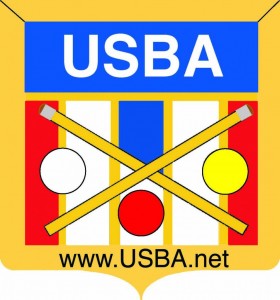 Special Thanks to Professor Q Ball, Paul Frankel for your continual support and promotion of all Cue Sports and POV Pool!

The United States Billiard Association is sponsored by:
The POV Pool Live Stream is sponsored by:
Live Streamed on POV Pool!

Broadcast live streaming video on POV Pool's YouTube Channel