The 'Mezz West State Tour' – Picks Up Steam!
July 30th, 2014
POV Pool

Headquarters – Los Angeles, CA

With less than  72 hours to register for its first event of 12 tour dates on the west coast of the U.S. – the newly formed Mezz/West State Billiard Tour has already reached a roster of 73 serious pool players, who have waited anxiously for over 3 years to compete in something other than just another independent, one-off event. The 8 month tour, which begins on August 9th at Hard Times Billiards in Bellflower, will make its way up and down the coast of of California at carefully considered host venues, with the addition of a tour stop in Phoenix, Arizona at the famed 'Bullshooters' venue in January, 2015. Some of the $2,000 added events of the The Mezz West State Tour will vary slightly, playing 10-Ball tournaments at the larger venues and 9-Ball tournaments at the smaller venues. The handicap format of 1 to 2 games on the wire are attracting both the 'pro players' who desire more competition and the 'amateurs' with a strong desire to take their game to the next level.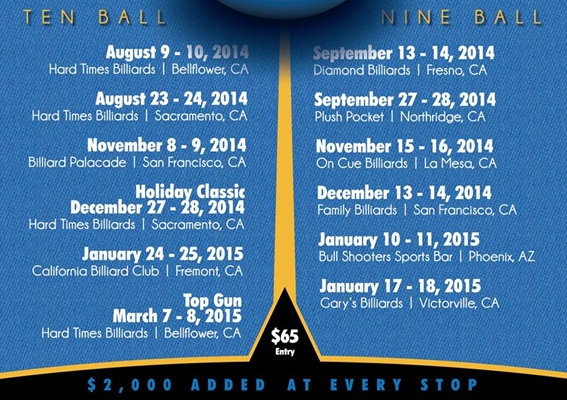 'Top Gun' Final Event in March, 2015
Registration for the tour consists of a one-time fee of $25, all of which will be used for funding the final, "Top Gun" event in March of 2015.  Based on simple math, this money would put a target of  300 tour registrants at $7,500 added and the additional $2,000 guaranteed added money at $9,500. The Top Gun will an invitational, based on the tour's top 16 players overall. A transparent points system similar to the Camel Tour points system from the late 90's, will be used to calculate who those final 16 players are.
Mezz West State Tour: A quick look!
With an optimistic group of established sponsors, the MezzWestStateTour came to into vision just 3 months ago by Oscar Dominguez, Desiree Rivera and Ra Hanna who currently own and operate the new entity. In the short time since its conception, the first season has been etched in stone, with confirmed tour dates, a comprehensive website, Facebook page, prize fund/s and what looks to be an early discussion of next season's schedule with venues vying for attention to be considered on the roster.
Oscar Dominguez states in an interview with POV Pool, "We had to cancel one date in Las Vegas because there wasn't enough time on the schedule to fit it in. If all goes well this season, we would hope to announce our second season to be extended to 10 months, in order to accommodate more stops and venues not just in California."
With an emphasis on bringing cue-sports in America to a higher standard of excellence and entertainment – Oscar, Desiree and Ra appear to have operations well thought out. This dedicated trio might be onto something good, by creating a format for pool players that are searching for higher ground or a sort of gateway into professional pool. All rules, formats, dates, times and all pertinent information is available online now at www.mezzweststatetour.com
Live-Streaming & Sponsors

Stop #1 – Live at 1100:am / PST
Live streaming has been scheduled for the first tour stop on August 9th and 10th, which will be free for all to watch on POV Pool's Ustream Channel or directly at www.povpool.com/action. Please be sure to check for times and stream schedules at on AZ Billiards, POV Pool's Ustream Schedule or on POV Pool or Mezz West State's Facebook page.
Sponsors on this tour so far include: Mezz Cues, West State Billiards, AZ Billiards, Focused Apparel, Xan Tips, Turtle Rack and Fast n Loose Designs.
In support or the tour, West State Billiards', Director of Marketing and Sales – Donny Wessels issued the said the following,  "West State Billiard Supply is excited to be part of competitive billiards. Oscar and Desiree will do a fantastic job with the Mezz West State Tour. Pool and Billiards is a beautiful game and we need more of it on the West Coast. We need more participation from players, sponsors and spectators, let's all do our part."

Hard Times Billiards – Bellflower, CA
Entries will still be taken on the day of the event!
Players Entered So Far! 
9 = PRO LEVEL
8 = Semi Pro LEVEL
7 = Amateur LEVEL
1.Ernesto Dominguez (9)
2.Oscar Dominguez (9)
3.Larry Bohn (7)
4.Tonee Allin (7)*
5.Steven Brandi Maxwell (7)
6.Howard Kennedy (7)
7.Brian Law (7)
8.Paul Silva (7)
9. Angela Ting (7)
10.Greg Harada (8)
11. Sy Nakashima (8)
12. Corey Harper (9)
13. Hiroko Makiyama (7)
14. Anthony Ortega (7)
15. Juan Ortega (7)
16. Michael Campos (7)
17. Ron Reisler (7)
18. Paul Santos (7)
19. David Martineau (7)*
20. Warren Gonzales (7)
21. Joe Delio (7)*
22. Ramin Bakhtiari (8)
23. Robert Laurie (7)
24. Steve Chaplin (7)
25. Barbara Lee (7)
26. Johnny Kang (8)
27. Randy Hatten (7) *
28. Paul Ewing (7)*
29. Ramon Mistica (9)
30. Jim Burt (7)
31. Beau Runningen (8)
32. Luke Mahan (7)
33. Zeke Morrison (8)
34. Stanton Oda (7)
35. Ken Gouso (7)
36. Chad Barber (7)
37. John Ferguson (7)
38. Ruben Bautista (9)
39. Frank Almanza (7)
40. Rudy Torres (7)
41. Attila Csorba (7)
42. Jerry Stuckart (7)
43. David Gorham (7)*
44. Melinda Huang (7)
45. Kevin May (7)*
46. Jaden Brock (7)
47. Walter Polk Jr. (7)*
48. Vicki Wade (7)
49. Rodney Wynn (7)*
50. Yvonne Asher (7)
51. Lee Brett (8)
52. Aaron Remijo (7)
53. Chris Fangre (8)
54. Art Garcia (7)
55. Mike Meeker (7)
56. Justin Logan (7)
57. Reid Fleming (7)
58. Fach Garcia (8)
59. Rich Hodge (7)
60. Tang hoa (8)
61. Santos Sambajon Jr. (9)
62. Jason Batin (7)
63. Ariel Garrido (7)
64. Chris Wedekind (7)
65. Mark Whitehead (7)
66. Andrew Park (7)
67. Tony Rodriguez (7)
68. Joey Chin (7)
69. Ismael Morro Paez (8)
70. Ross Fregoso (7)
71. Ken Johnson (7)
72. Vic Olam (7)
73. Kevin Collins (7)