Hard Times 10-Ball Pushed to Saturday
July 18th-19th
Doors open at 11am/Tournament Play begins at Noon
Have you ever drove through traffic in Los Angeles during rush hour?  Have you ever been stuck on your way from Las Vegas to LA in traffic because of an accident?  Ever gone to your favorite pool hall and the power was out?  Are you under the impression that the pool room will be hot?  How about, just not knowing that a tournament was happening?

These factors and many others have lead to the push of the Hard Times 10-Ball to Saturday.  It is unfortunate that these factors have all contributed to the delay of a great tournament, but we hope that this will not deter players from still coming out on Saturday to play in this $2,500 added tournament because it is a 32 man field.  The A/C is working GREAT, there won't be any traffic tomorrow morning, the power is up and running…and WE ARE STILL HAVING THE TOURNAMENT!
We, at POV Pool, would be disheartened if the last Hard Times 10-Ball fell at the 6th Annual because of a lack of player attendance.  POV Pool is pleading that our supporters come out tomorrow and play in this tournament.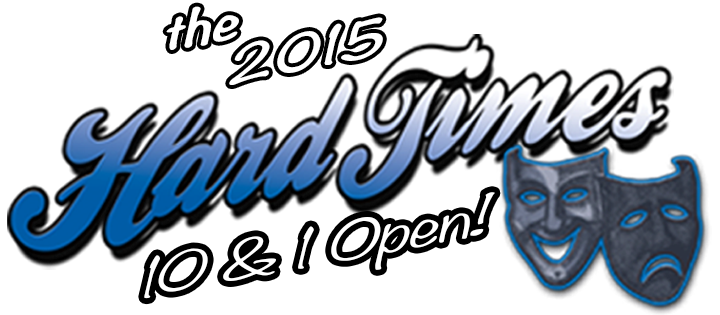 $2,500 Added Hard Times 10-Ball Open!
Saturday, July 18th-19th
Doors open/practice starts at 11am
Tournament begins at NOON
Open to 64 (we currently stand at 25 players)
$125 Entry – NO LATE FEE!!!
Race to 9W / 8L
Finals – Race to 11
'Thanks' to the Sponsors!
Our viewing audience, competing players and spectators owes a huge thanks to Andy Billiard Cloth, not only providing equipment but also a portion of the prize fund. 'Thank You' to The San Gabriel Valley APA , Pius Promotions and Products and to the Marty Carey Jump Q for additional event and prize fund sponsorship. POV Pool also owes gratitude to Tiger Products and Kamui Tips for making it possible for us to provide our broadcast on www.povpool.com. Also, an advance applause for our tournament directors, Dave Hemmah and Marie Lim, responsible for collecting entry fees, fielding inquiries and managing the tournament flow which will be powered by CompuSport and available to view online during the event. Let's not forget Hard Times' owner, Eddie Arreguin for hosting and also for being available to answer  many questions and address concerns we had this year, to make it happen. There have also been some A/C improvements in the building, a replacement table to stream instead of the Diamond table from last year and the return of Dan Hernandez to provide excellent counter and customer service.
POV Pool is also Powered by: 
Live Stream and Brackets
Point Of View Pool will live-stream the entire event, on www.povpool.com at 11:00 am PST from July 16th – 19th. Be sure also to follow the 'real-time feed' page for this event, which will become available once the event begins. Our real time feed will consist of: Live Brackets provided by CompuSport, real time news and action updates, photos, payouts, prize funds, player attendance and much, much more.
Your Questions and Inquiries: 
Tournament Info: Hard Times Billiards – (562) 867-7733

Entry Questions or Sign Ups: Dave Hemmah – (310) 892-0908 or call POV Pool (310) 923-6639