10 & 1 – Real Time Feed Page!
July 16th-19th, 2015
Hard Times Billiards, Bellflower, CA

Who will Jeffrey Play?
Oscar Dominguez vs. Santos Sambajon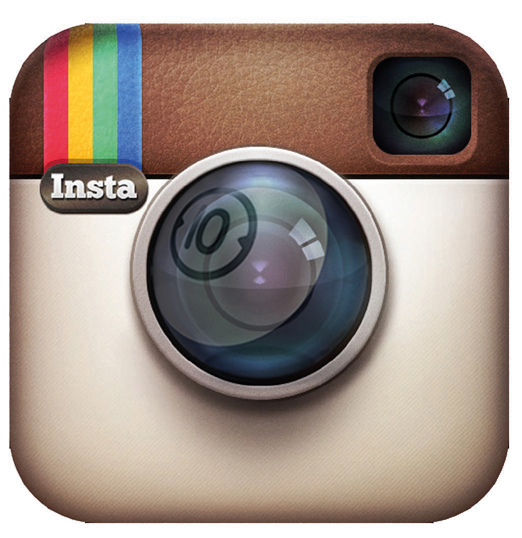 Hot Seat Match:
Santos Sambajon vs. Jeffrey Ignacio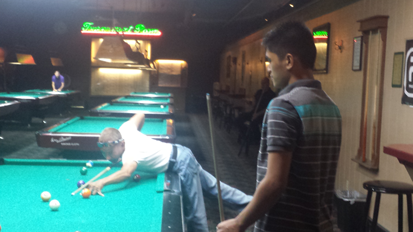 On the 1-loss side:
Oscar Dominguez vs. Rodney Morris
What's Happenin' at Hard Times…


Hard Times 10-Ball Open Pay-Outs
1st Place: $1,800
2nd Place: $1,350
3rd Place: $850
4th Place: $500
5th/6th Place: $250
7th/8th Place: $150

The second day of play brings back seven players. At the end of play yesterday there were two forfeitures, so instead of 8, there are only 7 coming back. Both John Schmidt and Randy Hatten, were unable to make Sunday. To Ernesto's advantage, he did not have to play a match to begin the day.
Players Returning on Sunday:
Winner's Side:
Brandon Shuff, Santos Sambajon, Oscar Dominguez, Jeffrey Ignacio
1-Loss Side:
Ernesto Dominguez, Rodney Morris, Vilmos Foldes
The 10-Ball Open started today with 28 players.  Although a small field, it is quite strong with players such as Jeffrey Ignacio, Rodney Morris, Vilmos Foldes, the Dominguez's, Brandon Shuff and others!
Player List
Jay B
Ramin Bakhtiari
Chris Robinson
John Schmidt
Oscar Dominguez
Ernesto Dominguez
Rodney Morris
Justin Logan
Brandon Shuff
Santos Sambajon
Rafael Martinez
Truman HW
Tang Hoa
Mark Chernin
Vilmos Foldes
Bob Deplacet
Robert Enrique
Fach Garcia
Danny Petraba
Jeffrey Ignacio
Randy Hatton
Johnny Kang
Mark Whitehead
Corey Harper
Victor Ignacio
Spencer Ladin
Luka Bulatovic
Jason Merry
The Hard Times 10-Ball Open is postponed one day…originally scheduled to begin Friday evening, there simply wasn't enough player entries to run the tournament.  The 10-Ball tournament is scheduled to begin Saturday at noon (doors open/practice begins at 11am).  As of Friday night, there are only 25 players signed up.  We are hoping to get at least 32 players, but more would be better.  We know Friday evening may make it difficult to play, so if you were on the fence before, you can show up tomorrow by noon and still play!
POV Pool Press Release with more information…
Full Size Bracket Available Here!
 Tournament Director, Dave Hemmah will be playing the tournament down to the last 6 players (4 from the winner's side and 2 from the 1-loss side).  
Winner's side: Santos Sambajon, Wayne Pullen, Rafael Martinez and Rodney Morris
1-Loss side: John Schmidt, Damian Alishan
Hard Times 1Pocket Pay-outs…
1st Place: $1,300
2nd Place: $850
3rd Place: $525
4th Place: $300
5/6th Place: $200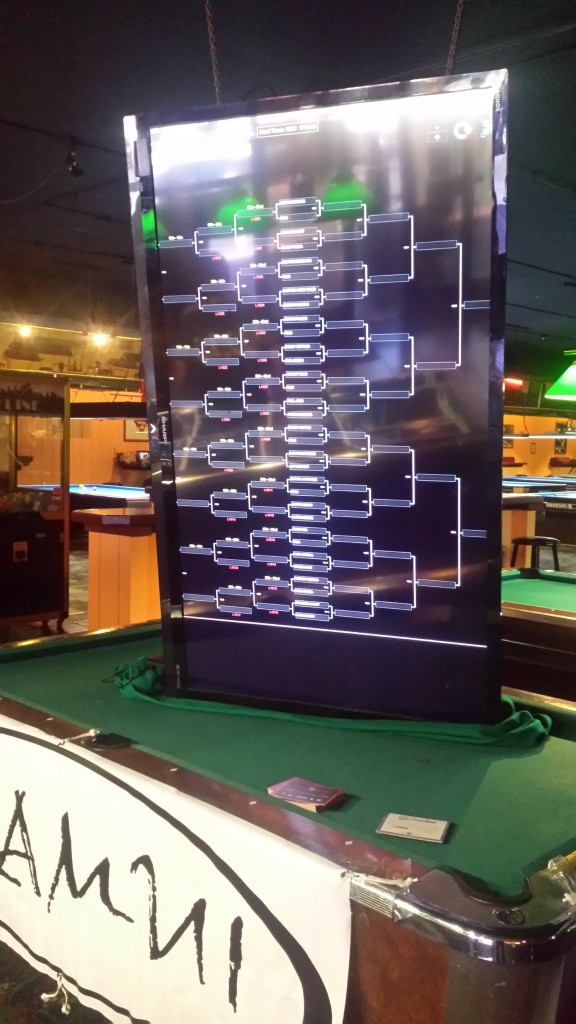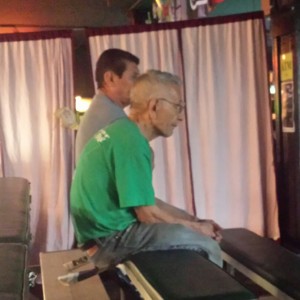 Thank you, CompuSport for providing the digital bracket & Automated-Entertainment for the monitor!
12:30 pm / PST – Venue has power and players are practicing Start Time 3:00pm / PST
We will have a complete list of players and a live bracket soon. 1st round begins at 3:00pm
No Late Fee charged to enter and there is still time to get in.
10:30 am / PST – One-Pocket tournament pushed Back to 3:00pm / PST
Due to unanticipated maintenance by SoCal Edison to the main power lines of this venue, today's tournament is delayed a couple of hours to 3:00 pm instead of 1:00 pm.
Questions from any players or Hard Times staff can call 310-923-6639. We are sorry for any inconvenience this may have caused.
– Daniel
As of 1:30 am – Thursday – July 16th, 2015
The One-Pocket Tournament
Due to some conflicting rumors on times/dates, late fees have been waived and signups will be taken until 12:30 pm PST, at which point there will be a short players meeting before the One-Pocket tournament begins at 1:00pm PST.
There are reports trickling in that most of the field will sign up at the last minute, including local players, players from Arizona, Las Vegas and Northern California.
We expect this field to be shorter than hoped, but I'm going to go out on a limb here and GUESS! I'll say that we get 29 players.
Complete Player List
Paul Joko
Rafael Martinez
Jerry Matchin
Randy Hatten
Isaac Pineda
Wayne Pullen
Mike Massey
Catfish
Santos Sambajon
Tang Hoa
John Schmidt
Truman HW
Phil Missin
Brandon Shuff
Justin Marks
Jay Helfert
Mark Whitehead
Fach Garcia
Justin Logan
Frank Almanza
Danny Petraba
Rodney Morris
Damian Alishan
Johnny Kang
Mark Barba
Tournament Director, Dave Hemmah's ACTUAL phone number:
310-892-0908

The Ten Ball Tournament
Starts on Friday, July 17th at 7:00 pm / PST
Signups until 6:30 pm / PST
One round will be played
Good luck to everyone! 
Brackets to follow on this post…
Thanks to: Hard Times Billiards, Andy Cloth, PiUS Product and Promotions San Gabriel Valley APA, Marty Carey Jump Q, Tiger Products, Kamui Tips, Party Bus King, ReaniMac, Automated Entertainment, CompuSport.