MZWST #10 – Another Victory for "Edgie" Geronimo!
Cover photo: Chris Santana
Story By: Desiree Rivera
Mezz West State Tour Stop #10
On Cue – La Mesa, California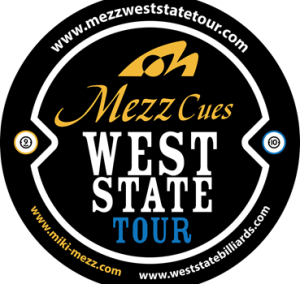 A Packed House at OnCue Billiards! 

The Mezz West State Tour was held in gorgeous La Mesa, California at its premier room, On Cue Billiards. The Nooris family welcomed 88 players including none other than "The Magician" himself, Mr. Efren Reyes. It was quite a treat for both, players and spectators to watch and interact with the legend himself during the two day event.
The top half of the bracket was packed with talent as it contained not only Rodrigo Geronimo, Ramin Bakhtiari, Vilmos Foldes, Johnny Kang, James Cabal, Dan Wallace, Dave Gorham, Rodney Wynn and Victor Castro but also Efren Reyes. Foldes and Reyes met up in the final 16 of the winner side in a TV table face off. Foldes fought hard, but was out matched by Reyes with a score of 9-4. Reyes' bracket got no easier, as Rodrigo Geronimo was waiting for him following his 9-3 victory over James Cabal. This Filipino match up went back and forth to the bitter end with Rodrigo pulling away a 9-7 victory and sending the Magician to the losers side. This win secured Geronimo's spot in the final 4 of the winners side where he would defeat Victor Castro, who had tough wins over Mark Whitehead, Ray Pajarillo and Dave Gorham. Geronimo would go on to defeat Castro 9-6 to find himself waiting to battle it out for the hot seat.
The bottom half of the bracket was no cake walk either as Oscar Dominguez, Attila Bezdan, Kenichi Uchigaki, Ruben Bautista, Sal Butera, Beau Runningen and Melissa Hernadon made up just a few of the great players that filled up this portion of the chart. Second round of the winners side found Beau Runningen taking on Toyko player, Kenichi Uchigaki. Beau made a heart filled effort but fell short, sending Uchigaki further into the winners brackets and himself to the losers side. Uchigaki proceeded to find wins over Branch Talley, Larry Bohn and Sal Butera all of which allowed him to face off against Oscar Dominguez in the final 4 winners. Dominguez made his way there with wins over Melissa Herndon, Amir Shoshan and Attila Bezdan. This was hard fought battle between the two international friends, but ended with Kenichi Uchigaki taking down Dominguez 9-6. This win ensured Uchigaki to face off with Geronimo for the hot seat. The match up one sided early on with Geronimo taking the win 9-5, putting him in the hot seat.
All Eyes OnCue!

Meanwhile, the action continued on the losers' side where team Hungary faced off. Vilmos Foldes defeated his best friend and road partner 9-4 knocking Attila out of the competition. Vilmos would then go on to beat Sal Butera in a hill-hill, nail bitter which came down to a safety battle on the 8 ball in the final game. However the hill-hill matches were not over for Foldes just yet, as Victor Castro played his heart out but fell short to Foldes in the following round. On the top side of the losers bracket, Oscar Dominguez found himself fighting back against Efren Reyes, who at one point led the match 8-2. Dominguez came with great out after great out, eventually tying the match at 8-8. In the case game, Reyes was up to break. Reyes broke in two balls and skillfully made an incredible out on Dominguez, forcing Oscar to settle for 5th/6th.
The 3rd/4th match found Foldes and Reyes once again. Foldes found his revenge on Reyes winning 9-6 and sending him to the losers side final against Uchigaki. Uchigaki, who was feeling ill and very jet lagged opted to allow Foldes to move onto the finals by forfeit. The finals between Vilmos Foldes and Rodrigo Geronimo was a match to be seen. In true double elimination format Foldes would have to defeat Geronimo twice to claim victory. Foldes easily handles Rodrigo winning the first set 9-3. The second set was much more of a grind with many break and runs, kicking and safety play. Rodrigo eventually grinded down Foldes and took his victory in a close 9-7 win. This win would make Rodrigo a three time tour stop winner this season. Also, a congrats to Melissa Herndon for being the top female finisher and receiving a $100 bonus.
The MWST would like to thank their sponsors for their continuous support of bringing pool back to the west coast. In addition, a very special thank you to Daniel Busch, Geraldine Thibodeau and POV POOL for their hard work providing the live streaming. Mezz Cues, West State Billiards Supply, ZAN Tips, Kurzweils Country Meats, AZbilliards.com, NYCGrind.com, POVPool.com, Marty Carey Jump Q, Virtual Pool 4, The Turtle Rack, and Fast&Loose designs.





MZWST – Stop #11 at Breaktime Billiards! 
Be sure to join POV Pool and Mezz West State Tour at BreakTime Billiards on January 24th, 25th for the final open event on the tour. It's the last chance for players to obtain a ranking in the TOP 32 for the upcoming TOP GUN event being held on March 7th/8th at Hard Times Billiards in Bellflower, CA!