POV Pool's September Summer Round-up
September 7th, 2015
Golden Cue Billiards – South El Monte, CA
Golden Cue Labor Day 9-Ball Bar Box Tournament!
Are you off from work on Labor Day Monday, but can't find a pool tournament?  There has been a void in the SoCal pool community when it comes to holiday events. In an answer to this, The Golden Cue, the San Gabriel Valley APA and POV Pool have come together to celebrate this Labor Day with a $500 added, one day 9-Ball tournament for bar table players and some mini's for the 9 foot junkies too.  The main, 'barbox' portion of the event is an APA format 9 ball tournament and with 48 players. And, since this field filled so quickly with a waiting list already 6 names in, it was decided to arrange for the overflow of players to participate in Mini Tournaments, to be held from 2pm to 8pm in The Golden Cue's 'Action Room' and open to 8 players at a time. Food will also be sold and made fresh by Joe Amezcua and the Amezcua Brother's Catering Company!
If you're interested in the minis, they are open to ALL, so here's the lowdown:
Tournament Director: Chad Beleber – $20 buy-in ($5 Green Fee/TD Fee), pays out 1st & 2nd place.  You cannot currently be still in the main tournament to play the mini's.  *Since only 4 tables will be used for mini's, there will still be 6 big tables available to rent.  At Golden Cue there's something for everyone! The Minis will also be using the modified APA format. If you do not have a rating, the TD will rate you on premises.
Have you ever played APA format?  Depending upon your skill level you race to different points.  Balls 1-8 are worth one point and the 9 ball is worth two points.  For the Labor Day tournament, we have modified the point races to accommodate the tournament being ran in only one day (similar to the mini tournaments that APA have at their national events).  Please refer to chart below for the modified races being used for this event.
| | |
| --- | --- |
| Skill Level | Points Needed |
| 1 | 12 |
| 2 | 16 |
| 3 | 22 |
| 4 | 27 |
| 5 | 33 |
| 6 | 40 |
| 7 | 48 |
| 8 | 57 |
| 9 | 66 |

Brackets and results for both the players and POV Pool audience are provided by CompuSport.  Tournament Director, Geraldine Thibodeau will be running the event entirely on the digital bracket.  The wonderful Ms. Thibodeau will also be able to update matches from anywhere in the building so that players can view all new updates from their smart device, from anywhere (including Iceland)!  Players, railbirds, even expectant mothers  can get 'push notifications' to a smart device when matches are updated from the free CompuSport App which you should basically download immediately to your iPhone or Android!  And, for those of you who are not local or just too silly to put some pants on and visit us at The Golden Cue personally, POV POOL will post a 'real-time' feed for the event that will be viewable on this website. It is sometimes a good idea to check this feed, because we also take photos… and photos are cool.
Prizes & Incentives!!!
Marc Ong, owner & operator of the San Gabriel Valley APA has offered to any new APA sign-ups during the event, he will waive the first year membership fee! Marc Ong is THE MAN!!!
All players in the main tournament are eligible for the door prizes!  Ken Hoshide, owner of the Golden Cue, has graciously provided the following things and stuff to giveaway:
2 – 1 month Golden Cue Basic Memberships

3 – Golden Cue t-shirts

1 Sneaky Pete Cue
POV Pool in connection with Tiger Products and Kamui Tips have also contributed the following expensive items and priceless swag:
1 – Tiger Mens T-shirt

2 – Tiger Womens tank tops

2 – Kamui T-Shirts

4 – Kamui tip voucher

2 – Kamui Chalk

2 – Kamui gloves
The top finishers of the tournament itself, will win respectively:
1st Place: 1 month Golden Cue Basic Membership, 1 Golden Cue Polo, trophy and $$$

2nd Place: 1 Golden Cue Polo, trophy and $$$

3rd Place: 1 Golden Cue Polo, trophy and $$$

Everyone left in the room will also do some clapping and cheering 
Look for the pay-outs on Monday's Real Time Feed Page!
Event Presented By:
 Just incase you prefer looking at pictures and you have trouble reading our editorial, here are the 'Cliff's Notes' or abbreviated version of the event:
$500 Added (with 32 player minimum)
September 7th
Open to 48 players
APA Format 9-Ball on 8 bar tables
$35 entry ($3 green fee, $2 TD fee)
APA Point Races

'Thanks' to the Sponsors!
Our viewing audience, competing players and spectators owes a huge thanks  The San Gabriel Valley APA , and Golden Cue Billiards  for additional event and prize fund sponsorship. Also, thank you Marc Ong and Ken Hoshide for all your help facilitating the necessary preparations and on-hand help during the event.  POV Pool also owes gratitude to Tiger Products and Kamui Tips  and Marty Carey Jump Q for making it possible for us to provide our broadcast on www.povpool.com.
Live Stream and Brackets
Point Of View Pool will live-stream the entire event, on www.povpool.com at 12:00 pm PST from September 7th.  Be sure also to follow the 'real-time feed' page for this event, which will become available once the event begins. Our real time feed will consist of: Live Brackets provided by CompuSport, real time news and action updates, photos, payouts, prize funds, player attendance and much, much more.

Your Questions and Inquiries: 
Tournament Info: Golden Cue Billiards – (626) 575-4821

Entry Questions or Sign Ups: Geraldine Thibodeau – (310) 889-4799

Advertising Space on Live Stream: Daniel Busch – (310) 923-6639

Anything else: [email protected]
Up Next for POV Pool…
If you think this will be fun, then you haven't even scratched the surface of enjoyment! Join us again, on September 19th, for our live-streamed coverage of SoCal TAP's, truly excellent, scotch doubles 8-Ball season ender, with players like, Tommy Gunn, Patrick Gibson, Britney, Paul, Steve, Derek and a whole bunch of other first names that I can't remember!
Save the date!
September 19th, 12:00 PM / PST on www.POVPOOL.com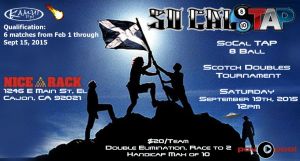 "KEEP LOVING POOL!"