TAP League's, 2014 – Rally Event, Streamed 'Live' from The Super Billiards Expo!
March 13th – 16th, 2014
Super Billiards Expo – New Jersey Expo Center – Edison, NJ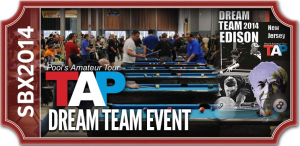 POV Pool to Live-Stream TAP, Pools Amateur Tour "Rally" in Edison 

Event!
TAP, Pools Amateur Tour will hold their largest tournament ever at this years' Rally in Edison, NJ in conjunction with Allen Hopkins' Productions Super Billiards Expo. Players Nationwide will converge upon The New Jersey Expo Center, which is hosting the largest consumer oriented billiards trade-show in the world. TAP will welcome over 2,000 members and their licensees to compete in the annual "Rally Dream Teams" events for both 8 and 9 Ball Formats.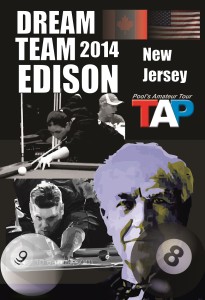 TAP has again contracted the services of Point Of View Pool (https://povpool.com) to produce the live-streaming of all featured matches of the 'Dream Team' and 'Singles Classic', Interview management and licensees, and promote this 18th Annual Rally event for the enjoyment of their players' families, their local leagues who could not make the event and potential amateur players.
The Schonter Family/Corporate Office, Events Director Kelly Nace and all TAP Tournament Staff which is comprised of Licensees work hard year after year to produce the highest quality billiard events for players across the country. This will be the largest event ever in TAPs 25 year history and is going to be quite a show.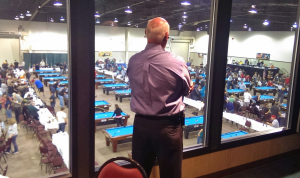 TAP, LLC., which was founded in 1989 by the late Loyd Schonter, is known as the fastest growing amateur pool league in the United States. TAP places a special focus on sportsmanship, etiquette and an attitude of living by the motto, "Always for the Player". Loyd was a pioneer in the amateur league arena. He was always looking for 'bigger and better'. 2014 brings a lot to TAP, its Licensees and Players that he was working on and planning for quite some time. Some of those plans will be revealed at the National Meeting that Corporate is having with it's Licensees on Thursday, March 13th. Loyd shared a vision that he wanted for not only TAP but also the billiard industry. Now his legacy and vision will be carried on as indicated by Kristen, Celeste & Chuck Schonter. TAP will move forward and we will make it all happen and in the timeframe he wanted in 2014. Also, TAP recently launched a new cell-phone scoring which is an industry first, ensuring all members a fun night out, generating less paperwork and producing updated stats with the click of a few buttons
TAP has the most common and widely accepted rules format in the industry, has a structure and format that provides more to the Amateur Player than any other league. Created in 2007 by Loyd, the 'POOL Net' database, which is used to manage the TAP handicap system, membership,  tournament management and player statistics. POOL Net will also be unveiling a upgrade in 2014. There is another major format about to be released in TAP X, which joins the other formats TAP hosts, Call pocket 8 Ball, 9 Ball and 10 Ball events across the country. In Team, Single, and Scotch Double Formats.
Loyd will always be remembered with a great deal of love and respect by all at TAP, and it will be interesting to see the roll out of all the new things he had in mind, as they become a reality in 2014. As he would always say and TAP will do – TAP ON and POV Pool will be in the epicenter, providing live coverage on POV Pool's Ustream Channel.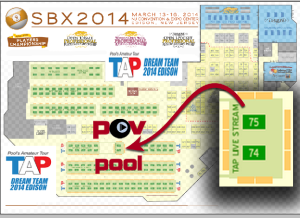 Live Stream Information – 4 Days of Action!
POV Pool will begin streaming the 2014, TAP 'Rally in Edison' events on March 13th at 5pm EST – 12am EST and will be looking forward to streaming morning events starting as early as 8am EST and all throughout the evening on the following days, until March 16th which will be the finals for the team events.
Licensees, team captains and/or team coaches are encouraged to make appearances and help out with commentary in the live stream area, as there will be long hours and hundreds of players to gain recognition on POV Pool on behalf of the league.
March 13th – 16th @ The Super Billiards Expo! 
 POV Pool is Proudly Sponsored by: