Attila Bezdan Becomes 2015's, "TOP GUN" Player!
By: Oscar Dominguez
March 8th, 2015
Hard Times Billiards – Bellflower, CA 


Mezz West State Tour: TOP GUN!
After 11 events on the Mezz West State Tour, a total of 32 invited players came to Hard Times Billiards in Bellflower, CA to compete in the year end event for its 12th and final event of Season 1. The invited players were chosen based off a points system based off the Camel Pro Tour rankings. The top players accumulated points based off their performances to play in a special year end event of $2000 added prize money plus the membership dues collected throughout the season which totaled to 5750 off of 231 total members. In addition, as a bonus, the top 16 ranked players did not pay an entry fee while the 17-32nd ranked players paid a standard $65 entry fee.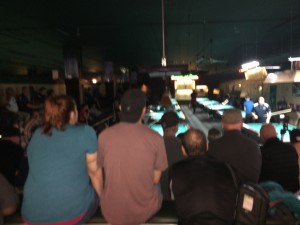 The top half of the board was led by co founder of the MWST, Oscar Dominguez with wins over the Filipino veteran, Ramon Mistica 9-4, followed by wins over Johnny Kang 9-4, Dave Hemmah 9-5, and Ernesto Dominguez 9-0, to lead up to the hot seat match. The bottom half of the bracket was dominated by Hungarian sharpshooter, Attila Bezdan, with wins over Phil Prentice 9-3, Ramin Bahktiari 9-3, Melissa Herndon 9-4, and road companion Vilmos Foldes 9-4. The hot seat match was one sided as Attila came out firing balls in from all angles putting pressure on Dominguez. After a few failed safeties, Attila ran away with the match with a 9-5 score.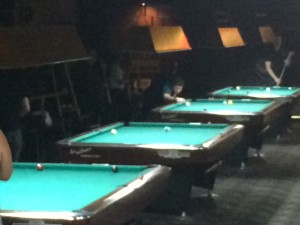 Meanwhile on the losers side, Rodrigo Geronimo who lost his first match to Tang Hoa 8-4, had grinded through seven matches against Kevin May 9-3, Beau Runningen 9-7, Chris Fangre 9-3, Melissa Herndon 9-5, Tang Hoa 9-4, Ernesto Domiguez 9-4 and Ruben Bautista 9-7 to reach the 3rd place match against Oscar Dominguez. Rodrigo looked hungry to reach the finals and took a quick 5-1 lead over Dominguez. It wasnt until Geronimo missed a crucial 2 ball in the side pocket to widen the lead to 6-1 that Dominguez had a chance to take control of the table. Winning that game and then the next 3, Dominguez was able to tie it up 5. The following 6 games were each nail biters, with each player playing inspirational kick, jump and safety shots. Dominguez fell behind once again 7-5, but in his true fashion, showed a lot of heart to come back and win the match 9-7 sending him back to the finals to seek revenge on Bezdan.
Find out where POV Pool will be next!
The finals was one to be seen. Bezdan played flawless, only missing two balls the entire set. He pocketed every ball on the table as if they had eyes and controlled the cue ball at a top notch level. His break was also in top gear, leaving Dominguez helpless. Attila Bezdan went on to easily win the set 8-2. His victory was well deserved, as he was the best player on this day. All of us on the Mezz West State Tour will surely miss him next season and would like to congratulate him on his very great accomplishment.

We would like to again thank all of the players and sponsors who make all of this possible: Mezz Cues, West State Billiards Supply, ZAN tips, Kurzweils Country Meats, AZbilliards.com, NYCGrind.com, POVPool.com, Marty Carey Jump Q, ontherailtv.com, Turtle Racks, and fast&loose designs.

Payouts:

1st- Attila Bezdan : $1600
2nd- Oscar Dominguez: $1250
3rd- Rodrigo Geronimo: $800
4th- Ruben Bautista: $500
5th/6th- Vilmos Foldes/ Ernesto Dominguez: $325 each
7th/8th- Tan Hoa/ Jason Williams: $250 each
9th-12th- Ramin Bahktiari/ Dave Hemmah/ Melissa Herndon/ Fach Garcia: $175 each
13th-16th Ramon Mistica/ Bob Jocz/ Chris Fangre/ Johnny Kang: $125 each
27th-24th- Paul Silva/ Rodney Wynn/ Santos Sambajon/ Jaden Brock/ Mark Whitehead/ Beau Runningen/ Phil Prentice/Jaynard Orque: $100 each
25th-32nd- Justin Logan/ Tony Ortega/ Reid Stenstrud/ Tommy Lipps/ Larry Bohn/ Kevin May/ Tim Daniel/ Frank Robutz: $75 each