Andy Mercer Live News Feed
25th Annual Andy Mercer Memorial Tournament at the Rum Runner Lounge in Las Vegas, NV
–
–
–
–
Streaming Live ON – March 19th – 22nd
Thursday – 6:00 pm – 11:00 pm PST
Friday – 10:30 am – ??? – PST
Saturday – 10:30 am – ??? – PST
Sunday – 11:00 am – ??? – PST

Watch the Live stream …Don't miss a minute of the action!
Real Time Reports: 
Full Screen Bracket viewable at http://challonge.com/Mercer2015
Andy Mercer Tournament 2014 Bracket (last year) http://challonge.com/RumRunner2014 
Prize Money
1st Place $ 5,000
Scott Frost

2nd Place $ 2,500
Joven Bustamante
3rd Place $ 1,600
Jason Klatt
4th Place $ 1,100
Mike Massey
5th & 6th Place $ 850
Sal Butera
Shane VanBoening
7th & 8th Place $ 600
Donnie Branson
Johnny Kang
9th – 12th Place $ 425
Dick Rice
Jeff Schilder
Max Eberle
Sean Lane
13th – 16th Place $ 300
Atilla Csorba
Brian Parks
Rodrigo Geronimo
Tom Butler
Sunday, March 22nd: Day 3
Day in Highlights:
With as many great players that were left in the tournament going into the final day, there were bound to be upsets!  Scott Frost knocked Mike Massey the first round of play in the day, to meet Joven Bustamente and defeat him.  In the second round of play on the winner's side, Sal Butera met up with Jason Klatt.  On the hill, Klatt breaks in the 9ball to put Butera to the one-loss side.  While on the one-loss side, Mike Massey took out Max Eberle, Johnny Kang and Sal Butera.  Upset came when Joven Bustamante took out Shane VanBoening from the tournament, relinquishing the opportunity for VanBoening to take his fifth title.
The Hot Seat match began with an early lead for Scott Frost against Jason Klatt with a 3 – 0 lead.  While the Hot Seat match takes place, Joven Bustamante also takes a 3 – 0 lead against Mike Massey.  Joven blanks Mike Massey to knock him out of the tournament, exiting Massey at 4th place and Scott Frost beats Jason Klatt 6 – 2.  Jason Klatt could hold it together long enough and loses to Joven Bustamante.
The Finals bring a tight match up between Scott Frost & Joven Bustamante for a true double elimination.  The first match up starts with 2 – 2, head-t0-head match up.  Scott Frost hits the Hill first, but Scott Frost misses the 9, allowing for Bustamante to make it to the Hill.
How long has Stefano Pelinga been with Tiger Billiard Products?
Saturday, March 21st: Day 2
Day in Highlights:
The day began with Ernesto Dominguez getting knocked to the one-loss side, with a loss to Jason Klatt.  Following the 11am matches, Mike Massey played Shane VanBoening.  Mr. Massey was down 5  – 3, to come back hill/hill.  VanBoening's break and he scratches, to give Massey ball in hand for the 1-9 combo.  Putting VanBoening to the one-loss side.  On the table next to that exciting match, Scott Frost was down 3 -1 to come back and beat Rodrigo "Edgie" Geronimo.  Tres Kane battled it out with Joven Bustamante, but lost to him and is now on the one-loss side.
Remaining at the end of Day 2: Winner's Side: Scott Frost, Mike Massey, Sean Lane, Jason Klatt, Joven Bustamente, Dick Rice, Sal Butera and Jeff Schilder
One-Loss Side: Max Eberle, Brian Parks, Atilla Csorba, Johnny Kang, Donnie Branson, Tom Butler, Shane VanBoening and Edgie Geronimo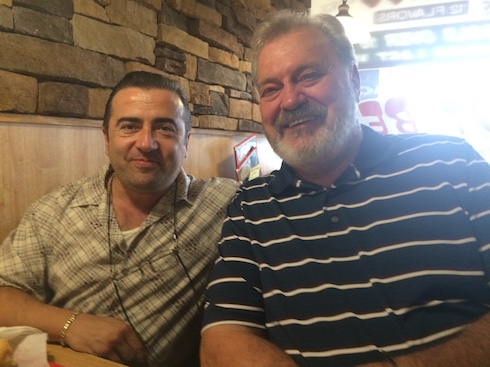 How many layers of leather are used on a Kamui Tip? 
Friday, March 20th: Day 1
Day in Highlights:
Early on in the day, Shane Harvey puts Walter Glass (5th place in the Mercer last year) to the one-loss side.  Sal Butera beat Southwest Cues' Al Lawrence.  Sal advances through the winner's side, also beating Ismael Paez.  Edgie Geronimo also advances through the winner's side to face Scott Frost tomorrow at 11:45am.  Shane VanBoening and Mike Massey make it past two rounds on the winner's side and meet up tomorrow, also at 11:45am.  Tres Kane did not have an easy way through the winner's side, but beat both Oscar Dominguez and Ray Skenadore.  And it won't get easier because he faces 4th place Bar Box 9-ball Champion, Joven Bustamante.  Joe Cannella advances tomorrow on the winner's side due to Max Eberle's forfeit/no-show to his evening match.  Everyone advances to tomorrow where the action will heat up!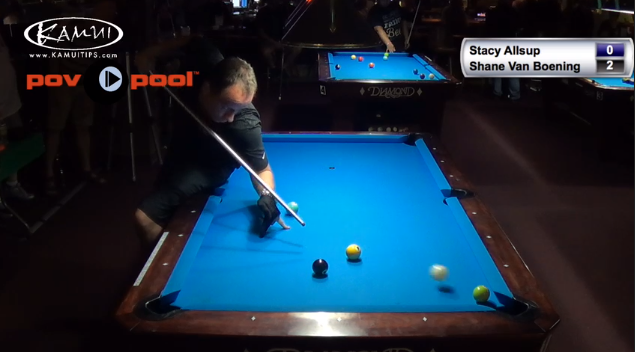 What cue does Edgie Geronimo play with? 
Did you know the inner plate of the Kamui Gator Grip is made of stainless steel?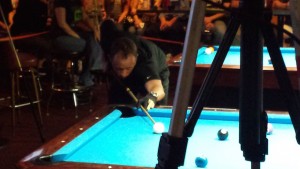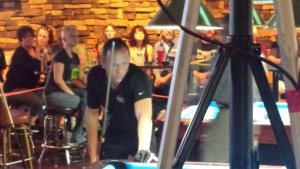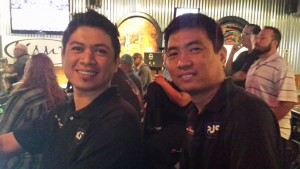 Thursday, March 19th
Players Entered – Field is FULL!
Aarens, Debra
Allsup, Stacy
Arbia, George
Auzenne, Joseph
Avila, Oscar
Balan, Jonathan
Barba, Butch
Barba, Chad
Boggs, Fred
Boone, Brent
Branson, Donnie
Bustamante, Joven
Butera, Sal
Butler, Tom
Cannella, Joseph
Cooper, Johnny
Corpuz, Joseph
Csorba, Atilla
Dattilo, David
DeBerg, Ryan
Decker, Jerry
Dominguez, Ernesto
Dominguez, Oscar
Eberle, Max
Estes, Mark
Frost, Scott
Phil Tatum
Geronimo, Rodrigo
Gilbert, Grant
Glass, Walter
Gray, Jeff
Harling, James
Harvey, Lee
Harvey, Shane
Jackson, Edgar
Juarez, Paul
Kane, Tres
Kang, Johnny
Klatt, Jason
Kutcher, John
Lalo, John
Lane, Sean
Lawrence, Al
Lipps, Tommy
Long, Brian
Lorcher, Derek
Massey, Mike
Mataya, Jimmy
Mc Clelland, Don
Miller, Brian
Osborn, Jason
Paez, Ismael
Parks, Brian
Quinores, Gina
Reynolds, Ozzy
Rice, Dick
Roberts, Adam
Schilder, Jeff
Skenadore, Ray
Speakman, Todd
Stuckart, Jerry
Sutherland, Ben
Valles, Elias
VanBoening, Shane
Brought to you by:
 Powered by:
Special Thanks to Jeff Gray & Ryan DeBerg, Jeff Cordi & Mike Meeker!
Music by:

Check out the Deep Sea Gypsies' YouTube page!