The 25th Annual – Andy Mercer Memorial Tournament
March 19-22, 2015
The Rum Runner Lounge – Las Vegas, NV
 
Since 1991 the Rum Runner Lounge in Las Vegas, Nevada has honored pool player and enthusiast, Andy Mercer, with an annual 9-ball bar box tournament.  For the past 25 years, this event has drawn the best pool players from across the country, and this year March 20th – 22nd is no different.  With 10 professional players entered this year and a full field, we wonder will Shane VanBoening win for the 5th year in a row?  Or will previous title holder Ismael Paez take it, or will newcomer Rodrigo "Edgie" Geronimo rob the field?   Other professional players include, the great Mike Massey, Ernesto and Oscar Dominguez, Max Eberle, Scott Frost and Jason Klatt.

This year's event will be available to the masses to watch FREE on POV Pool!  Three days of pros battling it out on bar boxes.  The free stream is brought to you by the Rum Runner Lounge, Pool Sharks in Las Vegas, Kamui Tips, Tiger Products and ReaniMac. POV Pool also owes a huge 'special thanks' to Jeff Gray and Ryan Deberg who pulled a lot of strings to make this broadcast happen.
Thank You to – Andy Mercer Tournament Staff:
Geno Hill
Gordi Hill
Jim Brakeman
Mike Ganz
 This year the Andy Mercer Tournament is brought to you by:
Players Entered – Field is FULL!
| | | | | | | |
| --- | --- | --- | --- | --- | --- | --- |
| 1 | Aarens | Debby | | 33 | Harvey | Lee |
| 2 | Allsup | Stacy | | 34 | Harvey | Shane |
| 3 | Alvarenga | Santos | | 35 | Jackson | Edgar |
| 4 | Auzenne | Joey | | 36 | Juarez | Paul |
| 5 | Avita | Oscar | | 37 | Kane | Tres |
| 6 | Bakhtiari | Ramin | | 38 | Kang | Johnny |
| 7 | Balan | Jonathan | | 39 | Klatt | Jason |
| 8 | Barba | Butch | | 40 | Kutcher | John |
| 9 | Barber | Chad | | 41 | Lalo | John |
| 10 | Boggs | Fred | | 42 | Lane | Sean |
| 11 | Boone | Brent | | 43 | Lipps | Tommy |
| 12 | Butera | Sal | | 44 | Long | Larry |
| 13 | Butler | Tom | | 45 | Lorcher | Derek |
| 14 | Cannella | Joe | | 46 | Massey | Mike |
| 15 | Carmona | Jim | | 47 | McClelland | Don |
| 16 | Cooper | Johnny | | 48 | Miller | Brian |
| 17 | Corpuz | Joey | | 49 | Osborn | Jason |
| 18 | Csorba | Attila | | 50 | Paez | Ismael |
| 19 | Dattilo | Dave | | 51 | Parks | Brian |
| 20 | Deberg | Ryan | | 52 | Quinones | Gina |
| 21 | Decker | Jerry | | 53 | Reynolds | Ozzy |
| 22 | Dominguez | Earnesto | | 54 | Rice | Dick |
| 23 | Dominguez | Oscar | | 55 | Roberts | Adam |
| 24 |  Eberle | Max | | 56 | Schilder | Jeff |
| 25 | Estes | Mark | | 57 | Skenandore | Ray |
| 26 | Frost | Scott | | 58 | Speakman | Todd |
| 27 | Garcia | Fach | | 59 | Stuckart | Jerry |
| 28 | Geronimo | Rodrigo | | 60 | Sutherland | Ben |
| 29 | Gilbert | Grant | | 61 | Tatum | Phil |
| 30 | Glass | Walter | | 62 | Valles | Elias |
| 31 | Gray | Jeff | | 63 | Van Boening | Shane |
| 32 | Harling | Dancer | | 64 | Weschsler | Lyn |
Check out also: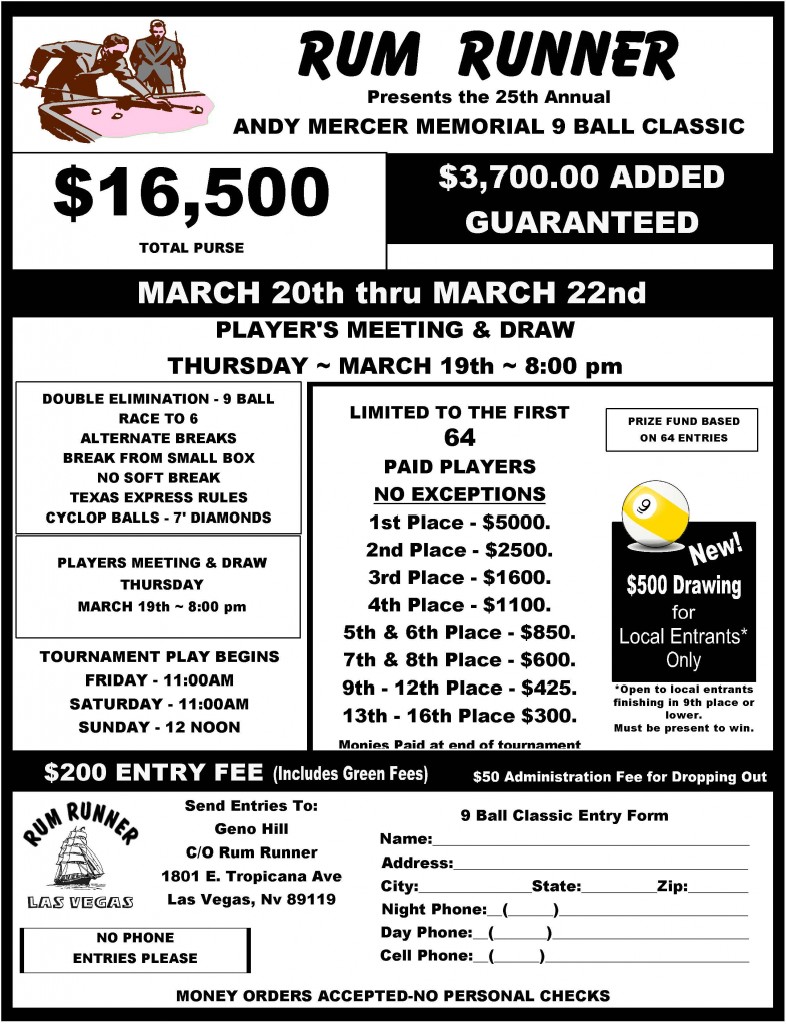 Live Streamed Embedded Window