Oscar and Amar Take a Late-Night Split At Palacade – MZWST #5
November 9th, 2014
Billiard Palacade – San Francisco, CA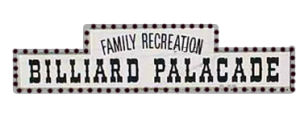 The Mezz West State Tour traveled to San Francisco, CA to the Billiard Palacade owned and operated by the enormously generous and kind, Frankie Murcia Jr. and family. A great field of 73 players came from all over California, Nevada, and even from Europe. The 5th stop of the tour was 10 ball to be played on the 13 beautiful AMF antique tables which Billiard Palacade had re-felted specifically for this event.
The top half of the bracket was dominated by World Cup of Pool team India member, Amar Kang. The Sacramento, California ace has had excellent results on the tour and for years on the west coast with elite players. Some of his victories included a strong win over Filipino champion, Rodrigo Geronimo, Deo Alpojara, Johnny Kang, and Oscar Dominguez for the hotseat. As previously mentioned, Oscar Dominguez came up short to Kang in the hotseat but not before disposing of several strong local talent and Romanian expat, only known as Babken on the bottom half of the bracket.
On the losers side, several upsets took place including the fairly early departure of tour points leader, Rodrigo Geronimo by Hungarian young gun, Attila Bezdan after defeating his best friend and road partner Vilmos Foldes. In addition, former junior national champion, Beau Runningen, fought valiantly on the losers side after a loss to Deo Alpojara. Beau went on to defeat the always tough Justin Logan, Johnny Kang, and Babken until he ran into Dominguez who stopped Beau, from going to the finals.
FINAL 8 Players – (Johnny Kang not Pictured)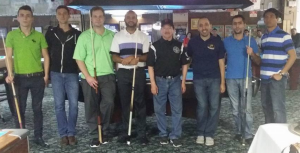 The finals between Amar and Oscar would be a true double elimination where Oscar needed to win twice for the victory while Amar needed to only win once. After a strong start by Kang to lead 7-2, Dominguez forged a comeback to win 9-7 and force a second and deciding set. The duo agreed to call it a night as it was 3 am and it would be safer for all parties driving home that night.
Also, the Mezz West State Tour would like to congratulate Emilyn Collado on her Top Female finish!
The Mezz West State Tour would like to thank their sponsors: Mezz Cues, West State Billiard Supply, Kurzweil's Country Meats, AZBilliards, NYCGrind, Fast&Loose Designs, ZAN tips, POVPool, and Turtle Rack. Also, a very special thank you to Francisco Murcia and his entire family for their warm hospitality and generosity to promote the sport we all love.
Payouts:
1st/2nd–
Oscar Dominguez, Amar Kang : $1,010 each
3rd–
Beau Runnigen: $570
4th–
Babken Melkonyan: $400
5th / 6th:
Attila Bezdan, Johnny Kang: $300 each
7th / 8th:
Justin Logan, Rodrigo Geronimo: $200 each
9th– 12th :
Paul Silva, Jaynard Orque, Deo Alpajora, Eric Scott: $140 each
13th– 16th :
Yoli Handoko , Vilmos Foldes, Ed Ramos, JohnMark Hernandez: $100 each
17th– 24th :
E. Dominguez, D. Gomez, F. Robutz, J. Williams, Jay Mulinbyan, Feras Qaddoura, Saul Aguilar: $75 each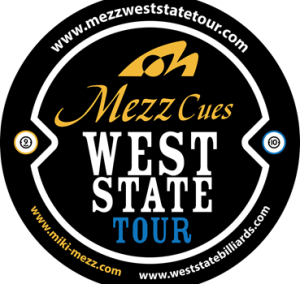 Streaming Live Next Week: Mezz West State Tour Stop #6 from On Cue Billiards in La Mesa, CA!
Next stop is at On Cue Billiards in La Mesa, CA. We hope to see you there and be sure to tune in to www.povpool.com to watch all the action live and free!