Mezz West State Tour Stop #5 at The Billiard Palacade!
By: Daniel Busch
November 8th/9th, 2014
Billiard Palacade – San Francisco, CA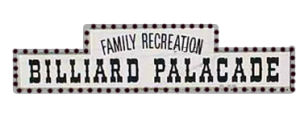 Mezz West State Tour's visit to a 'Theater Of Dreams'!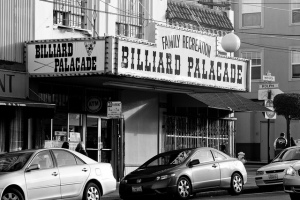 If it's good enough for Yelp, then I'm in! Nestled in the heart of the Mission District of San Francisco, The Mezz West State Tour get's ready to take the stage at The Billiard Palacade. Built in 1927, Palacade occupies one of the original 12 buildings that made up the theater district on Mission Blvd. It wasn't until 1972 that Frankie Murcia bought the building with plans to re-open as a bowling alley. It's not quite clear why billiards beat out the bowling plan but it did; and to this day, Mission District regulars and traveling pool-players can enjoy the ambiance of this well kept, soon to be historical landmark, that has been well preserved by the Murcia Family. The Billiard Palacade is now under the care of Frankie Murcia, Jr. and his three Sisters who took over after Frankie (Sr.) retired in 2008.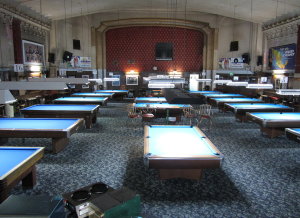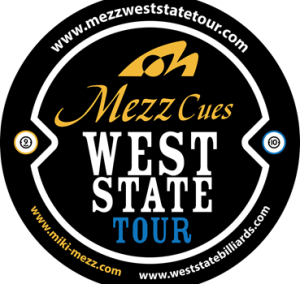 Stop #6: Playing 10-Ball!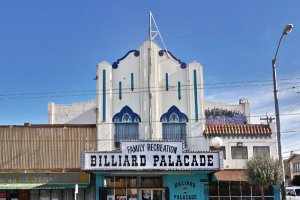 Besides their professional pool-playing status, Ernesto and Oscar Dominguez are widely known throughout the United States as two of the industry's best known table mechanics. And, The Mezz West State Tour's venues have become a virtual proving ground for them, as we see each stop's collection of various tables transformed for professional competition. So far, we've seen stops being played on Gold Crown's, Rebco's, Global's and now the Palacade's, 14 x 9 foot AMF Tables which date back to the 1950's. With materials and equipment supplied by West State Billiards, the Dominguez name has found its signature on all of these brand name tables at each venue. The upcoming stop will be a 10-Ball format, double elimination tournament with the usual $2,000 added prize fund. Signups are still being taken in advance through the Mezz West State Tour's Facebook Page or on the day of the event in person. Entry fee for the event is just $65… a small price to pay for quality action!
Do you like craft beer? Drink Up @ Billiard Palacade!
Spectators are also encouraged to attend, not just to catch some of the best action of the season but also to win cues and other giveaways provided by official sponsors: Mezz Cues, Billiard Palacade, Virtual Pool 4 and Marty Carey's Jump Q.
 
To Pick A Favorite!?
Because of the overwhelming response of this tour being attended by some of the world's strongest professionals and darkest of horses that the west coast has to offer, to pick a favorite for the upcoming 'Palacade Stop' is anyone's guess. Stop #5's attendance at Plush Pocket graced the tour with almost 20 new members for the season, including the 2 'Hall Of Fame' players, Efren 'Bata' Reyes and Francisco 'Django' Bustamante. With such world class attendance on this tour, we are finding that all of the promising young hopefuls are being pushed even harder to step up their game and rise to the next level. Due to the tour's slight handicap format, the world has witnessed a handful of surprise encounters by some of its bravest players, who are quickly earning a name for themselves amongst the 'pool gods' in attendance.  Jaynard Orque, Beau Runningen, Johnny Kang, Chris Wedekind, Jaden Brock, Reid Stensrud… These are just a handful of players who have delivered upsets to great players on the tour and earned cash along the way. We also find with it a host of women players entering the circuit to take on the field.


Live Stream?
Sorry folks, no live stream is being made available for this event. There will be plenty of Mezz West State Tour action to be had for all! Come on down. Play some pool, win some prizes and grab a few brew-skis, cuz this stop is gonna be old school excitement with the best in the west!

Tour Rankings and Top Gun!
After 4 stops of 12 total, the Mezz West State Tour has picked up a membership of 165 members, who's rankings are also updated with each new event. With a membership of 165 players and growing, this already means that the prize fund of the final 'Top Gun' event in March of 2015 has already grown to over $6,000. The 'Top Gun' event will be limited to those who's rankings are within the top 16 players of this season. There is however, the rule, that if any player within top 16 is unable to attend the Top Gun event, the next ranking player in line would be invited to play, henceforth putting ranking numbers 17-32 on a waiting list behind the top 16.

POV Pool Thanks…
Point of View Pool would like to thank: Oscar Dominguez, Desiree Rivera, Alison Fischer, NYC Grind, AZ Billiards, Geraldine Thibodeau, Mezz Cues and West State Billiards.
Resources and information:
Mezz West State Tour: www.MezzWestStateTour.com
MZWST on Facebook: http://www.facebook.com/MezzWestStateTour
Mezz Cues: http://miki-mezz.com
West State Billiards: http://www.weststatebilliards.com