California Billiards to host POV Pool's 6th Anniversary Event
Dec 1st-3rd
California Billiards – Fremont, CA
By Daniel Busch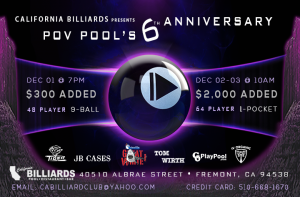 POV POOL's 6th Anniversary Tournaments!
Stay Tuned to this page for 'Real Time Updates' including brackets and results!
Chris Swart's, California Billiards in Fremont at it again hosting the action!  Join us live all weekend on POV Pool for live coverage of our 6th Anniversary Tournaments and Action. A mixed field of the best players from California, Nevada and even a few from Washington are anticipated so, don't miss this fun this weekend for a full weekend of 'free, live-streaming' on POV POOL's YouTube Channel.
Sponsored by:
Our Live Stream!
Tournament Schedule:
Dec 1, Friday – 6pm / PST – 9 Ball – Single Elimination!
Dec 2, Saturday – 11am / PST – Day 1 – One Pocket Tournament!
Dec 3, Sunday – 11am / PST – Day 2 – One Pocket Semis and Finals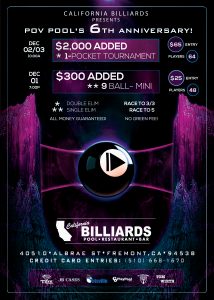 One Pocket Payouts:
1st: $1,600 ———- John Schmidt
2nd: $1,000 ———- Amar Kang
3rd: $700 ———- Steve Housh
4th: $400 ———- Reid Stensrud
5th/6th: $250 ——— Bryce Avila/Joey Barnes
7th/8th: $150 ——— Rylan Hartnett/Jerry Matchin
9th/12th: $75 ——— John Hernandez, Eric Krauss, Hugu Jeff Gregory
Congratulations and Thank You, to all who participated!