Live Stream Weekend on POV Pool: MZWST Stop #6

November 15th-16th, 2015
On Cue Billiards – La Mesa, CA


Find the Action at On Cue Billiards!
The Mezz West State Tour's show will travel a south this weekend to La Mesa, CA for Stop #6 at Clyde Nooris's, On Cue Billiards! Played on the beautifully maintained, Gold Crown III's, POV Pool will be there to cover the action for live broadcast on www.povpool.com Pool fans and followers are welcome to attend the venue at no charge. On Cue Billiards has plenty of parking, which also shares the same parking lot as Dave Whitsell's, Quality Billiards Pro Shop. The house is sure to be packed!


Sponsored by:
Mezz Cues, West State Billiards, Turtle Rack, Zan Tips, Virtual Pool 4, Marty Carey's Jump Cue, Fast n Loose Designs, POV Pool and Kurzweil's Country Meats

Opening on Friday night with an Artistic Exhibition!
Beginning at 8:00 PM on Friday, November 14th and free for spectators to enjoy, On Cue Billiards is hosting a special 'Artistic Pool and Trick-shot Exhibition' by two talented and innovative competitors on the artistic pool scene, Marty Carey (World Ranked #20) and Abram Diaz (World Ranked #4).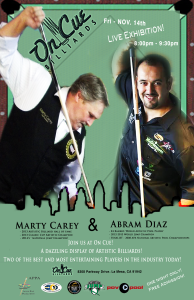 Mezz West State Tour Stop #6
9 – Ball / Double Elim / $65 Entry
Doors Open at 10:00 AM / PST
Entries taken until The day of the event
On Cue Billiards
8308 Parkway Dr La Mesa, CA 91942
(619) 463-8759
Entries so far…
1. Arturo Rivera
2. Attila Bezdan
3. Barbara Lee
4. Beau Runnigen
5. Brian Elwell
6. Brooke Thomason
7. Chris Robinson
8. Ernesto Dominguez
9. Fach Garcia
10. Frank Robutz
11. Hiroko Makiyama
12. Jaden Brock
13. Jason Ferroni
14. Jason Gilbert
15. Jenny Lee
16. John Ferguson
17. John Schmit
18. Johnny Kang
19. Josh Winkleman
20. Juice Rock!
21. Justin Logan
22. Kevin May
23. Lila Woodland
24. Louis Ulrich
25. Melissa Hernadon
26. Mike Adame
27. Mike Meeker
28. Oscar Dominguez
29. Phil Prentice
30. Ray Pajarillo
31. Rodrigo Geronimo
32. Rudy Yee
33. Steve Mansfield
34. Victor Ignacio
35. Vilmos Foldes