Rodrigo Takes Stop #4 – Mezz West State Tour!
Written by: Oscar Dominguez Photos by – POV Pool
September 30th, 2014
Plush Pocket Billiards – Northridge, CA

The Mezz West State Tour Event #4
The Mezz West State Tour completed stop #4 in beautiful Northridge, CA at Plush Pocket Billiards the weekend of September 27th and 28th with another excellent field of 91 players for our 9 ball event. Our gracious host, Steve Yi, opened his 20 pool table pool room and their staff worked tirelessly to accommodate the many players and fans in attendance.
The Mezz West State Tour has garnered a strong following and had several special guests in attendance. The legendary Efren Reyes and Francisco Bustamante came a few days early to the Los Angeles area before their departure to the Poplar Bluff, MO one pocket event and decided to give all the locals a treat with their amazing skills. In addition to the obvious world champions in attendance, several other world class players were in the field such as; Vilmos Foldes, Santos Sambajon, Ernesto and Oscar Dominguez, Ramon Mistica, John "Mr. 400" Schmidt along with WPBA pros Stacy Novak, Jenny Lee, and Melissa Herndon. The 91 player field was whittled down to 24 on Sunday morning and the crowd in attendance was in for a treat as high class 9 ball was demonstrated at a world class level. In a marquee match, Rodrigo Geronimo played a tough battle with Efren Reyes where a few uncharacteristic misses by Efren made the difference in the match. This led to Rodrigo playing Bustamante for the hotseat and Rodrigo kept his hot streak on the Mezz West State tour alive by once again being the man to beat on the tour.
Meanwhile on the one loss side, strong semi pro player Johnny Kang had another brilliant performance playing high caliber pool with his ultra aggressive style. It took both Efren and Bustamante to finally bring him down with a solid 4th place finish leaving the top 3 players all Filipino of Bustamante, Reyes, and Geronimo. Due to time constraints of catching an early morning flight to Missouri, the top three players played a shortened race leaving Reyes in 3rd, Bustamante in 2nd, and Rodrigo Geronimo again to win a Mezz West State Tour Stop. These classy professionals showed why they are some of the greatest players to ever live by playing at a level above the field. It was a pleasure seeing pool played at its finest and the fans were treated to a great show. Additionally, the Top Female $100 bonus was won by Melissa Herndon as she makes a comeback to the pool world and we could not be happier to have a champion person and player back in the mix with the guys.
The MWST would like to thank our sponsors for their continued support; Mezz Cues, West State Billiard Supply, POV Pool, AZBilliards, NYCGrind, Kurzweil's Country Meats, Fast&Loose Designs, Turtle Rack, and ZAN tips. Our next stop is November 8/9 at Billiard Palacade in San Francisco, CA. Please be sure to visit our website www.mezzweststatetour.com for any questions and the rest of our schedule.
Payouts:
1st- Rodrigo Geronimo: $1,550
2nd- Francisco Bustamante: $1,000
3rd- Efren Reyes: $700
4th- Johnny Kang: $450
5th/6th- Vilmos Foldes, Santos Sambajon: $300 each
7th/8th- Beau Runningen, Dave Hemmah: $225 each
9th-12th- Jason Ferroni, Oscar Dominguez, Ernesto Dominguez, James Cavallo :$155 each
13th-16th- Fach Garcia, Bob Jocz, Chris Wedekind, Mike Lin: $110 each
17th-24th- Dave Martineau, Jerry Lin, Rodney Wynn, Ramon Mistica, Jim Burt, Attila Bezdan, Nick Spano, John Schmidt: $80 each
Top Female- Melissa Herndon: $100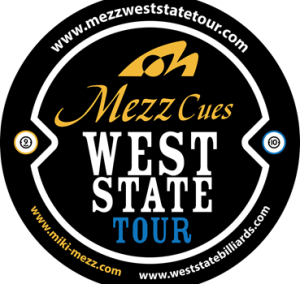 Additional Tools and Resources: