West State Billiards and POV Pool Present: 2017's "West Coast Swing!", July 1st – 16th
April 15th, 2017
POV POOL Headquarters – Los Angeles, CA
WCS inquiries: [email protected]
By: Daniel Busch
Join the "West Coast Swing" – Facebook Event Page! 
Daily Inspiration: "So often we become focused on the finish line, that we fail to enjoy the journey." – Dieter F. Uchtdorf
2017's 'West Coast Swing' Tournaments and Action! 
West State Billiards and POV Pool Present this year's 'West Coast Swing' tournaments and action; beginning on July 1st in San Francisco at Family Billiards for the 5th Annual Cole Dickson 9-Ball tournament, then on south to California Billiards in Fremont for the West Coast Challenge: 'Pro' 10-Ball, One-pocket and 9-ball tournaments and an additional 4-day, 'action match' between Tony Chohan and Dennis Orcollo; and south again on July 15th to Hard Times Billiards (Bellflower) for the $3,000 added Hard Times 9-Ball tournament. We have officially locked dates, formats and are taking entries for 2017's 'West Coast Swing'. The 'West Coast Swing' (WCS) is an annual string of high-powered tournaments in California, synchronized to appeal to the professional and top amateur pool player who seek to compete on 9 foot pool tables along our beautiful west coast. Now in its fifth year, The 2017 West Coast Swing events are held in high regard; always bringing in an eclectic mix of the world's most seasoned of professional talent with, some of the west coast's toughest bears who, are expected to come out of hibernation to prove that they too can win some of the honey.
Click and Download Entry Forms:
July 1st-2nd • Cole Dickson 9 Ball
July 4th • 16 Player 'Pro' 10-Ball **Please Call or Email for Entry**
July 5th-7th • West Coast Challenge: One Pocket
July 7th-9th • West Coast Challenge: 9-Ball
July 15th-16th • Hard Times 9-Ball
~ 2017's West Coast Swing Events ~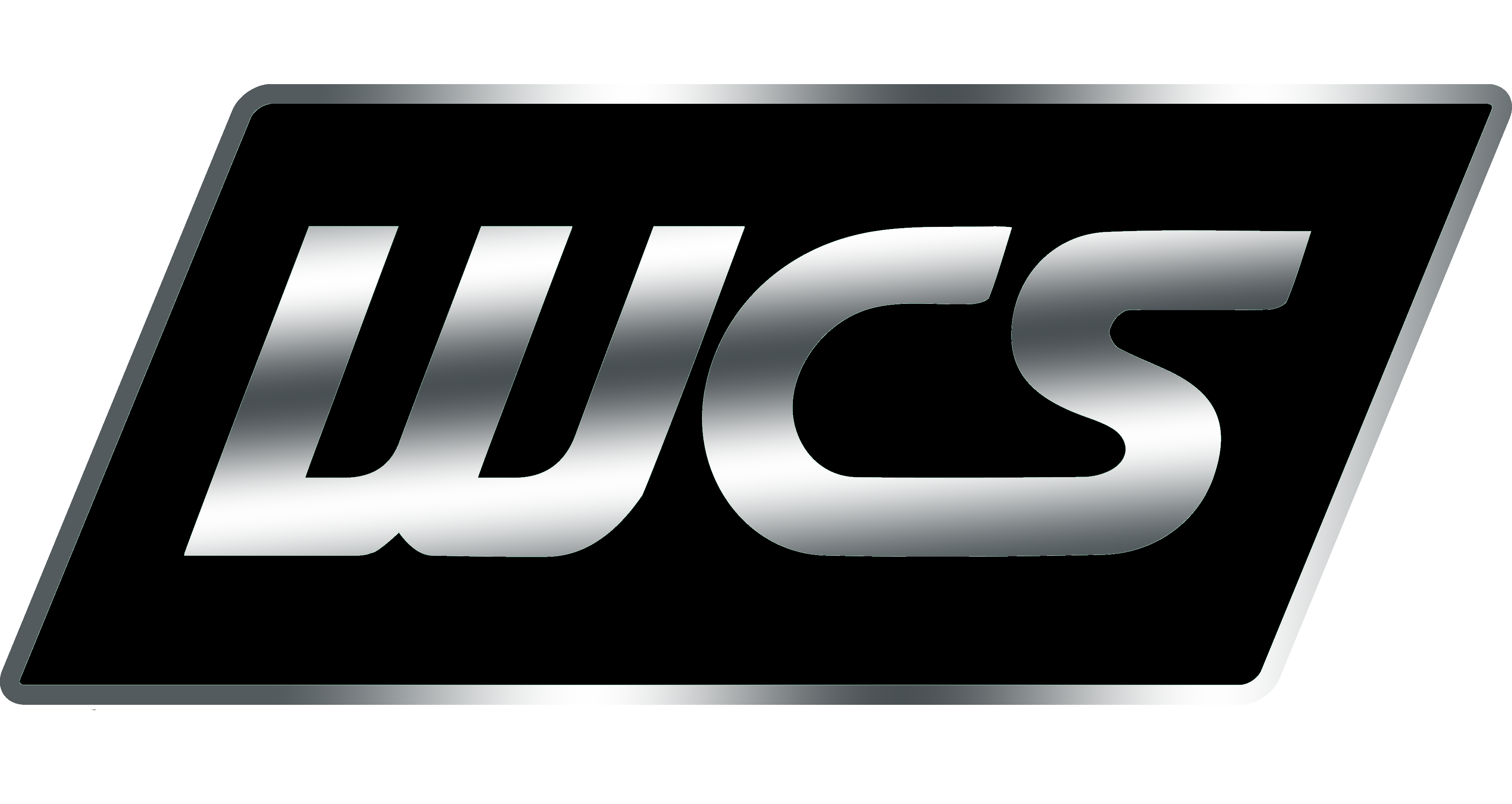 Brought to you by:

Hit the road and play pool! 
July 1-2: The 5th Annual Cole Dickson 9-Ball 8 •

$2,500 Added

July 4th: California Billiards Presents: The Pro 10-Ball Challenge (16 players)
July 5-7: The West Coast Challenge: One-Pocket •

$5,000 Added

July 7-9: The West Coast Challenge:  9-Ball •

$10,000 Added

July 11-14: Chohan vs Orcollo • "The Big One": 1-Pkt Action • Race to 40 for $100k
July 15-16: The Hard Times 9-Ball Tournament •

$3,000 Added
Sponsored by:
Tiger Products, JB Cases, Big Time Threads, Taom Tips, Carmeli Cues
What's new on the 'WCS' events?
Our sponsors! Thanks to West State Billiards, Tiger Products, JB Cases, Big Time Threads, Taom Tips and Carmeli Cues for supporting these great tournaments!
Sponsor Merchandise! Because of our sponsors, the venues will each receive a merchandise package to support the events.
9-Ball! The competition format is changed from 10-ball to 9-ball with a house rack to help give a few ball-bangers a fighting chance.
Tiered Entry Fees! The entry fees for the Cole Dickson and Hard Times 9-Ball are going to be higher for the pro player and less for the amateur player.
Side Pot Added! The Cole Dickson and Hard Times 9-Ball will have an optional 'side-pot' entry with a separate payout for anyone who buys into it.
Exhibitors! Come and visit our sponsors and exhibitors, West State Billiards, Carmeli Cues and JB Cases who, will be our exclusive product vendors at California Billiards on July 7th-9th. We are also working on Tiger Products to be there as well so, stay tuned for more info!
West Coast Swing T-Shirts! Big Time Threads in currently in the process of designing our 'WCS' t-shirts, so don't forget to get yours along the tournament trail!
Hilton Double Tree Promo Code: As of Monday, April 30th, when reserving your room for the 'West Coast Challenge at California Billiards, be sure to use the promo code: 'West State' for the special rate of just $99 per night. Click for reservations
Bonus Event on July 4th: Open to just 16 players, California Billiards is adding an additional event to its schedule (as of April 26th, 2017): Poster directly below: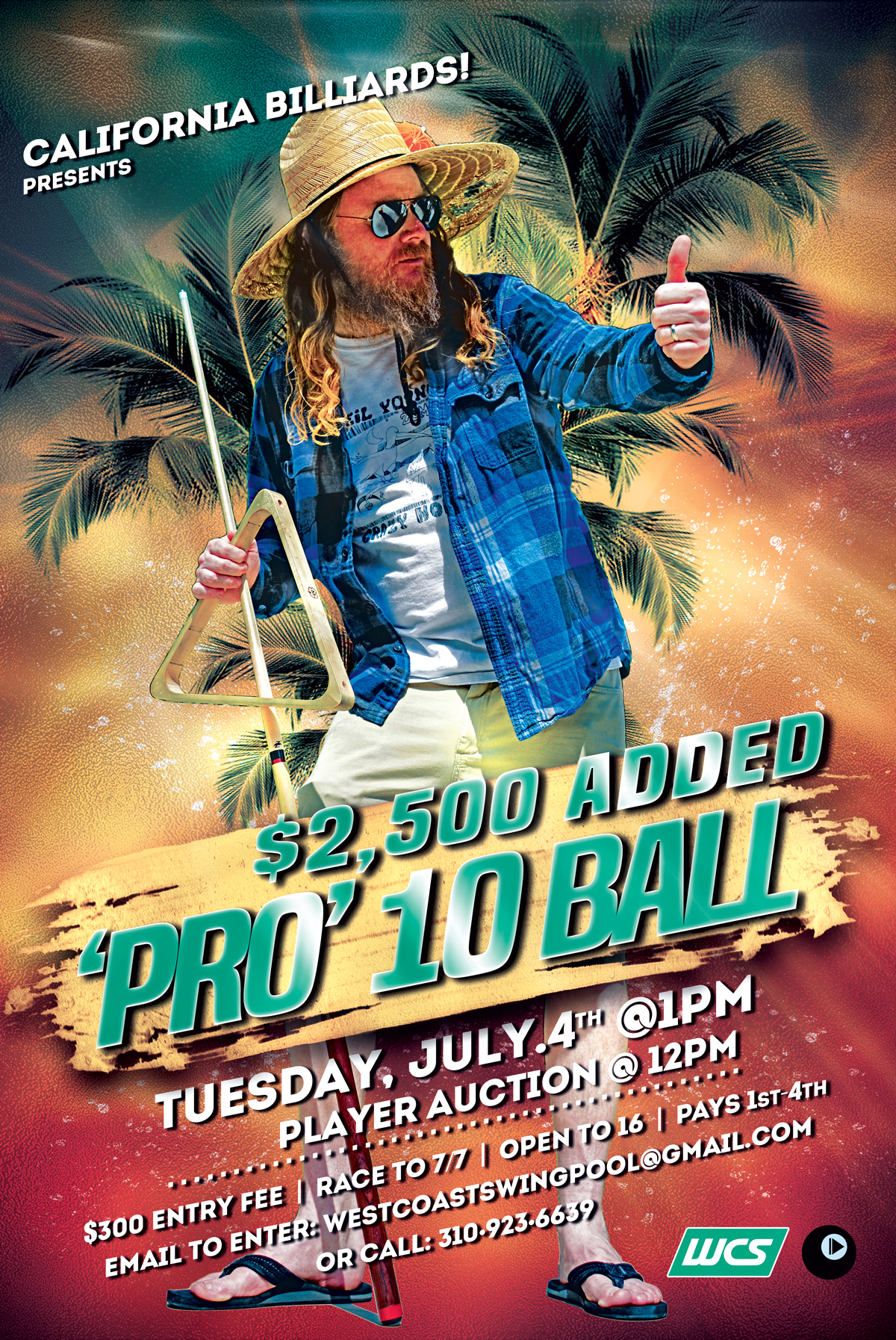 Which pool table do you prefer?
Thanks to GoPlayPool.com for promotional support!
Last year's winners! 
Dennis at the Dickson!
In 2016, it looked like the only thing hindering Dennis Orcollo's ability to sweep the whole WCS was that he missed the Hard Times, Bellflower event to fly early for his visa renewal. 'RoboCop' proved unbeatable at the 4th Annual Cole Dickson, finding only mild, thorny spots against Santos Sambajon, Jr and Rodney Morris. Dennis also proved too powerful for the swashbuckling, John Schmidt who got taken down a peg for the hot seat. Finally, Dennis administered an even stiffer lashing in the Final Match against the warrior himself, Francisco Bustamante with a final score of 11-2.
Watch the 2016 Cole Dickson Final: HERE
Dennis in Fremont, Ca! 
Then, it was off to California Billiards for the 'double header' West Coast Challenge $5k added one-pocket and $10k added 10-ball events. Attended by a field of accomplished pros and hardened shortstops, Dennis Orcollo found the one-loss side early in both events but, fought back to double-dip the final matches; Bob Hercheck in the 1-hole and Alex Pagulayan in the 10-ball. After five days at the 30,000 square foot CA Billiards venue, Dennis earned almost $15,000 in prize money which, was well earned against the likes of Thorsten Hohmann, E. and O. Dominguez, Jason Williams, Paul Marquez, Amar Kang, Ramin Bakhtiari, Bill Meachum, Alex Pagulayun, Santos Sambajon, Steve Linglebach, Bernie Pettiepiece, Bee Davison and John Schmidt; all who's tournament lives came pass by the stroke Dennis' hand.
Watch the One Pocket Finals: HERE
Watch the 10-Ball Finals: HERE
John Morra Takes Hard Times!
In the absence of Dennis Orcollo, it would be John Morra to reign supreme at 2016's Hard Times event in Bellflower, CA as players from California Billiards migrated south to the 'Home Of Champions' and a chance to take a piece of the $5k added event. Unbeknownst to us all, this was to be one of John's last title victories, before announcing his sudden retirement from pool to pursue his lifelong interest in music and arts. John was a bye in the first round, but hammered on the BCA Hall of Famer, Rodney Morris in his first match, winning 9-3. John went on, undefeated against Butch Barba, Giorgio Georgiev, Alex Pagulayan and finally, Francisco Bustamante in an epic 'Final Match'!
For additional sponsor inquiries during our live broadcast of this year's 'WCS' events, please feel free to contact us for information:
Keep Loving Pool!