It was after seeing 14 year old Matthew Webber execute a trick shot and comment "Haha, I barely scraped it," that I knew I had to interview this young man.
As I continued to peruse his Facebook page, I saw several quite entertaining snippets. One where his mother, Gizelle, recommended that maybe he should not use his dad's crystal glasses during his trick shots. Another where he commented that he had just invented a "very, very, very, very difficult" trick shot. I thought, "This young man knows his stuff!"
So began my correspondence to secure the interview with Matthew Webber, youngest player ever to be sponsored by the Wisconsin Artistic Pool Players Association, (WAPPA) which is an affiliate of the highly respected Jacoby Cues. In sponsoring Matthew, WAPPA will pay his entry fees into trick shot competitions, most of which do not have an age limit for entry. Seemingly, through this fabulous sponsorship, Matthew's future in trick shot artistry competitions will be secure—or at least secure for the near future.
Matthew's Father, Jesse, taught him to play eight and nine ball. At one point along the way, Jesse shared a trick shot video to his son's Facebook page. So began Matthew's interest in and love of trick shots.
Having never had any formal instruction, Matthew has learned 200 trick shots on his own. He has never met any famous players, but has talked and is friends with some via Facebook—one being Florian Kohler. Others he's gotten pointers or compliments from include Steve Markle and Andy Segal.
In addition—and this is pretty spectacular—Matthew was invited to China for an exhibition. Unfortunately, he cannot attend. Remember, he is only 14 years old. Though unable to attend, the invite itself is a tremendous honor.
Matthew plays nine ball occasionally, but does not compete in leagues or tournaments yet because there are not many in Indiana. However, the family will be moving to California, where he hopes to participate more often. He said "I really don't mind moving, because there is nothing pool related in Indiana for me." Matthew's cue stick of choice is a Mezz that weighs 21 oz. He practices on his Olhausen pool table in his basement.
One of three boys, he is the only one that performs trick shots. He leads a pretty typical life for a young man of his age—well, except for the trick shot artistry. Matthew is in eighth grade at Fisher's Junior High School, with science being his favorite subject because he can "always learn something new." His Science teacher has seen a video of Matthew's work on the pool table, and told him that there is science in what he's doing.
Miss Hartezelle, his gym teacher, is his favorite. Matthew is good at math, as well as just a good student in general. Family pets include two cats, Tom and Jade, and a part Collie dog, Pisco (pronounced piece-oh,) named after a city in his mother's native land, Peru.
If he could have any kind of pet, it would be a monkey. Imagine the great fun he might have with a monkey in the pool mix… It's not a far cry from Matthew taking his little brother down to the table as his guinea pig to create a new trick shot!
Other interests include soccer, for which he unfortuantely does not have time, and playing the drums. Playing drums as well as he does, Matthew participates in symphonic band. He may join marching band in high school, and has already had an invite to be part of it.
Invites seem to be his thing, and that speaks volumes. He knows his stuff, whatever that may be. In the summer, Matthew loves to skateboard. He says he is "pretty good," and can manually skate on two wheels.
When asked how he got to be so good at trick shots, Matthew said by "practicing daily." His routine includes practicing ten hours during the week and 5 to 6 hours per day on the weekends. He keeps practicing until he "masters the shots." Mom says homework and keeping up his grades are always completed, then chores. When mom was asked, "What if Matthew forgoes college?" she replied that "He's not going to be a bum. I am raising a gentleman, and he will be self-sufficient."

Steps toward self-sufficiency include cleaning his own bedroom, changing his sheets, and doing his own laundry. Qualities that Gizelle most admires in her son are that he is sociable—a clown even—who has a very good sense of humor that includes poking fun at his own short stature.
Jesse, Matthew's father, was unable to attend this interview due to house hunting in CA, but was interviewed at a later time. While Jesse is adamant about education, he hopes that Matthew will choose the path that makes him happy.
Dad described his son as a bright, energetic, "outdoorsy" and very ambitious kid who is a "magnet" in that "People are attracted to him." Matthew is a good student and does very well in school. Dad would like for him to pursue and stay with billiards for a while, and maybe even play in some pro tournaments like he did. Whatever Matthew chooses for his future, Dad and Mom will be by his side to support their "gentleman."
Matthew is open to friend requests on Facebook. His mother and father, after checking out the profiles of those requests, have the final say on whom Matthew may respond to. He does have videos on Facebook that his older brother has helped create. "Talent Palette" is one that can be found on YouTube. Other clips, including the ones mentioned earlier, can be found on his Facebook page.
Two thousand people follow him on Instagram; search BilliardShots to add yourself as a follower. All in all, Matthew's family provides a united front and a support system for his pool endeavors. This writer is confident that Matthew, with his outgoing disposition and diligence in wanting to master his hobby, surely will succeed in whatever he should choose to do. Periodically, you may want to check in with him to see where his adventures have taken him, not only in pool, but also in life.
Gizelle and Jesse, thank you for allowing this highly anticipated interview with your son! It was time well spent, and very much enjoyed. Matthew, keep doing what you're doing and you will go far in life.

---
About the Author –Missy Moran Capestrain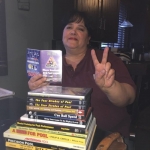 In her 35+ years of pool playing, Missy has been deeply involved with many aspects of the sport. She and her husband ran a BCA 8-Ball League for 15 years, as well as three person 9-Ball, Singles 8 & 9, and Scotch Doubles part of that time. She ran a Junior BCA/BEF Junior League—the largest and longest running in her area—for 13 years, with year end banquets and tournaments for all of the leagues. She has run tournaments for all ages and levels of play groups, and is a Certified BCA Instructor with concentration on children and females.Missy has played at local, regional and national venues. She even has a $6400 fundraiser tournament for Domestic Violence and Wheelchair Players under her belt. Many, many hours have been donated to the sport with 300+ in free lessons and clinics for juniors. She is happy to be writing articles for Sneaky Pete Mafia Magazine, presently. Missy has been, and will continue to be, a true ambassador of the sport.