Stix One-Pocket Tourney To Be Streamed Free!
October 12th & 13th
7985 Vineyard Ave.  Rancho Cucamonga, CA 91730 (909) 989-5020

Joe Martin's 3rd Annual One-Pocket Tournament!
$1,500 Added – 32 Players
The 3rd Annual, $1,500 Added Joe Martin One-Pocket Tournament happening this October 12th & 13th at Stix Billiards in Rancho Cucamonga, CA approaches! In the past 3 years in Southern California, Joe Martin Promotions has contributed over $10,000 in support of numerous women's 9-Ball and One-Pocket events. Earlier this year it came to my attention that Joe recently suffered a stroke and was forced to take some time out from promoting in order to recover. POV Pool has had the pleasure of working with Mr. Martin to live stream at least four of his events to audiences on www.povpool.com and will once again join forces with Joe and Stix's owner, Alex Laoingco to provide yet another free live stream! Wishing Joe the best of health and a full recovery, we look forward to this event which, despite the absence of a few due to the US Open 9-Ball event, should be an exciting field.
'One-Pocket' Rich – "I gotta hitch!" 
2-time consecutive champion, 'One-Pocket Rich' Grenier is expected to defend his title and in the past 20 years, Rich has played and beat them all for the cash; is arguably known as one of the top-20 best and most knowledgable one-pocket players in the United States. Ike Runnels from Chicago has never beat him, he's recently taken down Sylver Ochoa and Scott Frost in a slightly weighted game and is feared by all at his home pool room in Santa Monica where he's been playing for over 2 decades.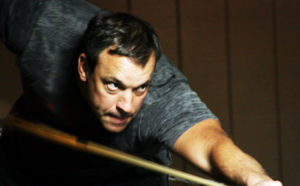 Although all eyes will be on Rich to beat the field in this year's event, his recent admission of a newly developed 'hitch' in his stroke is forcing him to resort to taking many of his shots by switching from right to left-handed play. Asked whether he thinks this will be an issue this year, he says, "It's a little embarrassing, but it's true. I can't shoot shots the way I used to because of this damn hitch. There are certain shots where I have to draw the cue ball about 3 or 4 inches and I have to switch to left-hand. It's affecting my confidence, which in turn affects the way I play overall."
Well players, there's a little irony to this tale for those of you that thinks you'll have an edge on Rich. He's also ambidextrous! Be warned not to take his knowledge of the game and his penchant for playing 'lefty' for granted! This could be one of the best 'stalls' from a champion I've seen in awhile.
Live Streaming Support From Kamui!
With the help and support of POV Pool's longtime sponsor Kamui Tips, we will be able to provide this live stream for FREE, with the added incentive for viewers to support POV Pool through donations instead of Pay Per View. This was initially slated as a PPV event, yet we also realize that it may be too risky to invest in a Pay Per View Broadcast who's final matches will coincide with the opening day of The US Open 9-Ball event taking place in Virginia on October 13th. A very small part of POV Pool's income is generated through donations from viewers, but for this stream Kamui is offering viewers a chance to receive any one of 5 Kamui Gator Grips in return for those donations to POV Pool which exceed $35. And, since there are only 5 Gator Grips being randomly drawn before the final match of the event, all other donations of $35 or more will receive a Kamui Tip Voucher as consolation. Either way, it is once again a win/win scenario provided by Kamui Products and POV Pool in an effort to continue providing live streams to those who can't afford it via Pay Per View and during times when events like this may be double booked with others.
POV Pool thanks John Bertone, Kamui and all of the viewers in advance for their generous support and encouragement to me for continuing my efforts and keeping POV Pool alive!
There is virtually nothing that I wouldn't do for the billiard community as long as there is an audience helping us move forward. I have not backed off my commitment to improving the broadcast quality or the presentation of this great game and I also feel that streaming pool is but the tip of the iceberg.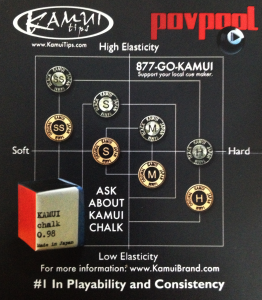 Spots Still Available! 
There are still spots open for this event. Entry fee is only $40 which, for a chance to match up with the likes of players like John Schmidt, Wayne Pullen, Frank 'Da Barber" Almanza, Fach Garcia, James Burden, Bernardo 'King Kong' Chavez and many other of SoCal's strongest, is a small price to pay. Format will be Double Eliminations, race to 2 on both sides. $1,500 Added based on full field!
To Register: Call Stix Owner – Alex Laoingco at (951) 662-8200
Please join the event page on Facebook!