The 2015 "Hard Times Ten 'n' One" event – This July!
July 16th-19th, 2015
Hard Times Billiards – Bellflower, CA
The 6th Annual Hard Times 10-Ball Open…
…Oh, and by the way, 1-Pocket, too! 
We know you've all been wondering about the annual 'Hard Times 10-Ball' event in Bellflower, CA. You remember right? Where Alex Pagulayun got whipped into shaped by Carlo Biado in 2013. Where Johnny Kang almost bested Ralf Souquet and take 5th place in 2014. Or the rise of Ruben Bautista's fame, losing to Dennis Orcullo in the finals of 2014. Well, it's back again this summer and our duty to report the official announcement of this year's event, which also includes a $1,500 added, 1-Pocket tournament thrown into the deal!
Time for some excitement!
Presented By:

 

Bellflower's, Hard Times Billiards and Andy Billiard Cloth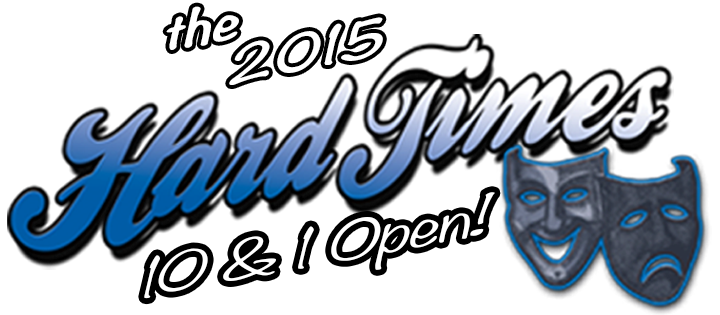 $1,500 Added 1-Pocket Open
July 16th-17th
Open to 64
'Grady Rule' – No more than 4 balls in 'kitchen'
$100 Entry – (Late Fee – $25 day of)
Race to 3W / 2L
Final Race to 4
$5,000 Added Hard Times 10-Ball Open!
July 17th-19th
Open to 128
$125 Entry – (Late Fee – $25 day of)
Race to 9W / 8L
Finals – Race to 11
Entries Now Being Taken!
Come one, come all, not only to The 6th Annual – $5,000 Added Hard Times 10 Ball Open Tournament, but also adding for the first time, a $1,500 added One-Pocket tournament, making this an action packed four-day event, with two chances to win. Send in your check or money order for each event directly to Hard Times Billiards right now, or call tournament director, Dave Hemmah to secure your spot on the list.
A note on the late fee:  $25 only, whether you sign for one or both events. Fee waived for early sign up of one event.
'Thanks' to the Sponsors!
Our viewing audience, competing players and spectators owes a huge thanks to Andy Billiard Cloth, not only providing equipment but also a portion of the prize fund. 'Thank You' to The San Gabriel Valley APA and to the Marty Carey Jump Q for additional event and prize fund sponsorship. POV Pool also owes gratitude to Tiger Products and Kamui Tips for making it possible for us to provide our broadcast on www.povpool.com. Also, an advance applause for our tournament directors, Dave Hemmah and Marie Lim, responsible for collecting entry fees, fielding inquiries and managing the tournament flow which will be powered by CompuSport and available to view online during the event. Let's not forget Hard Times' owner, Eddie Arreguin for hosting and also for being available to answer  many questions and address concerns we had this year, to make it happen. There have also been some A/C improvements in the building, a replacement table to stream instead of the Diamond table from last year and the return of Dan Hernandez to provide excellent counter and customer service.
Live Stream and Brackets
Point Of View Pool will live-stream the entire event, on www.povpool.com at 11:00 am PST from July 16th – 19th. Be sure also to follow the 'real-time feed' page for this event, which will become available once the event begins. Our real time feed will consist of: Live Brackets provided by CompuSport, real time news and action updates, photos, payouts, prize funds, player attendance and much, much more.

Your Questions and Inquiries: 
Tournament Info: Hard Times Billiards – (562) 867-7733

Entry Questions or Sign Ups: Dave Hemmah – (310) 892-0908

Advertising Space on Live Stream: Daniel Busch – (310) 923-6639

Anything else: [email protected]
Keep Loving Pool!
Read about pool!