Million Dollar Billiards', 3-Cushion Event to be Streamed, Live!
July 25th & 26th 
Million Dollar Billiards – 12135 Victory Blvd. North Hollywood, CA 91606
Entries Still Being Taken – Call (323) 490-8075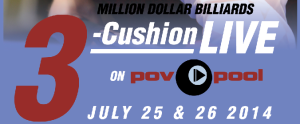 3-Cushion Billiards Gets A Boost in SoCal! 
The Billiard Community can thank, Hector Ocampo, owner of 'Million Dollar Billiards' in North Hollywood, CA who has been hard at work preparing for his biggest event since opening his doors in 2011, Frédéric Caudron, Pedro Piedrabuena and Kyung-Roul Kim are just a few of the huge names to look  for on July 25th and 26th, 2014. The event will be live streamed on POV Pool, With tournament direction and management by Ricky Carranco. Hector has made a point of bringing in some of the world's top billiards playing talent to compete in this, 1st and hopefully annual, 'Summer Tournament Of Champions'. With at least 40 participants expected, it's an open event with a slight handicap for top players and semi-pros, giving the less skilled players a real chance to come in the money. It will be played on 7, 'Paramount' – Verhoeven Tables which are maintained by Insoo Park, Hector's table mechanic of choice.
Live Streaming Scheduled on POV Pool!
POV Pool would like to thank Ricky Carranco for suggesting to Hector Ocampo to enlist our streaming service, which will commence at 9:00 AM / PST to feature the first day's 'round robin' format and carry on through the evening until we arrive at a final 16, single elimination bracket at 9:00 AM / PST the following morning.  The live stream will be free for all to enjoy.
POV Pool would also like to thank: Automated Entertainment, Kozoom, Hector Ocampo, OB Cues and Kamui Tips