Stop #4: Action Is Heating Up at MZWST!
September 27th & 28th, 2014
Plush Pocket – Northridge, CA

– by Daniel Busch
Mezz West State Tour #4 – Hosted at Plush Pocket Billiards! 
A huge 'THANKS' to Mezz Cues and West State Billiards for making this tour a reality! 
– Playing 9 Ball
– Official Entries and Draw Taken on Day of Event!
– Live Streamed – 'YES'
During this very 'Indian' summer in Southern California – On Saturday and Sunday: Sept 27th & 28th, 'Plush Pocket Billiards' in Northridge, CA will host the upcoming Mezz West State Tour Stop #4 on the list of 12 events total. The 12 events will culminate to a 'Top Gun" finale event which, will host the top 16 players of the entire season at Hard Times Billiards, Bellflower in March of 2015. With just over 150 players registered on the tour at $25 a season, the individual player rankings can be viewed on demand through MZWST's website. This 'rankings' list reflects a rise veterans players and new talent who are mixing it up at the tables and grabbing payouts. The upcoming stop at Plush already sees 43 players signed in with double that number anticipated during this weekend's event and live stream. While the "Top Gun" event's prize fund grows with each new member, each event is also $2,ooo added guaranteed. This means is that, before we are halfway through the tour, the Top Gun event is already guaranteed at just over $6,000 added.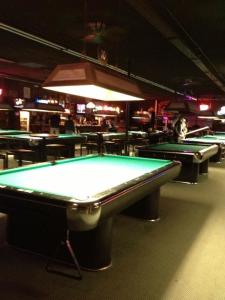 Plush Pocket Billiards' owner of 20 years, Steven Yi has 17 'Global' Brand tables that are well maintained by the  'E & O' Dominguez Family. The tables are playing great and ready for a big field. Plush Pocket's houseman, – 'Chewy' and his friendly staff have years of experience hosting weekly, monthly and annual league and independent events with and without streaming. Beer and soft drinks are served with Megatouch, jukebox and flatscreen sports. Locals spectators are welcome and free to attend. We also have Ra Hanna to thank for getting POV Pool archives played on the flat-screens there!

MZWST's Top 16 Today!
*POV Pool Hint – Remember some of these names if you don't already know them.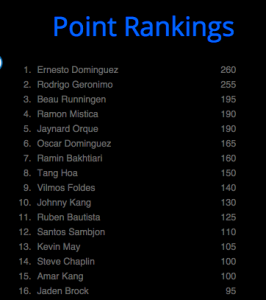 Celebrating at the top spot for 2 events running is Ernesto Dominguez of 'Team Mexico", who has been keeping his game on at tournaments and action between tour stops. Rodrigo Geronimo, who came from the Philippines in August, has held strong ranking at number 2 since winning the first MZWST event at Hard Times, Bellflower. Tour Stop #3's winner, Vilmos Földes enters the list at number 9, while Jaynard Orque's name slips from number 2 to number 5 on the rankings list. Beau Runningen's latest entry on the rankings is at 3rd, where he bested #1's Ernesto Dominguez, and #11's Ruben Bautista in Fresno to see the finals with Vilmos Földes. With intentions to play the U.S. open this year, Vilmos shows to be in a class by himself, giving us a live-streamed display of excellent mechanics and precision you could only want for your own game.
Virtually lost amongst an assortment of stars in the pool world today like, Shane VanBoening, Skyler Woodward, Justin Bergman and Jayson Shaw, The Mezz West State Tour is attracting a caliber of talent that could well give these names a run for their money. It has also been learned that veteran pro, Tang Hoa (#8) and young gun, Chris Robinson (#51) and are being bankrolled by West State Billiards to continue playing the tour. With new names adding to the tour at each stop, one can only guess at this point, who will remain at the 'Top 16″. Mika and Rodney, who have been traveling to other events are also expected at some point on the tour.
Free Live Stream on POV Pool!
The stop this weekend will be live-streamed on POV Pool with guest commentary by 'Box', Mike Meeker, Steve Chaplin, Marty Carey and a few other special guests. The Mezz West State Tour is owned and operated by Oscar Dominguez and Desiree Rivera and officially sponsored by Mezz Cues, West State Billiards, The Turtle Rack, Zan Tips, Virtual Pool 4, Marty Carey's Jump Q, Fast & Loose Designs, POV Pool and GoPlayPool. . Additional Promotional Support and Special Thanks goes out to NYC Grind, AZ Billiards, Professor Q Ball's National Pool and Billiards News, The Pool Scene, On The Break News andAutomated Entertainment.

The POV Pool brand was officially launched in December, 2011 and can be found on YouTube, Facebook, Twitter, LinkedIN,SoundCloud, Instagram, Ustream, Vimeo, and on popular billiard forums.
Live Stream Details: 
– Saturday, September 27th @ 10:00 am / PST – ??? on www.povpool.com
– Sunday, September 28th @ 11:00 am / PST – ??? on www.povpool.com
Live Stream with interactive chatroom: www.ustream.tv/channel/povpool
Congratulations to previous winners!
– photos and design by Chris Santana
Stop #1 – Hard Times – Bellflower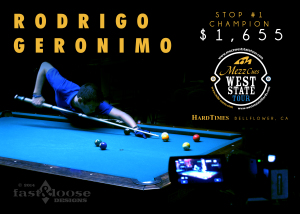 Stop #2 – Hard Times – Sacramento!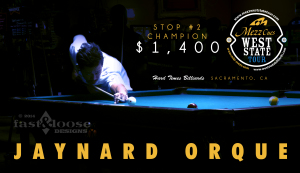 Stop #3 – Diamond Billiards – Fresno!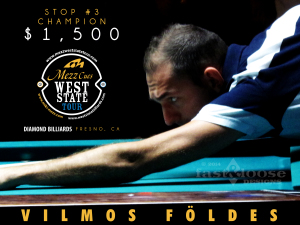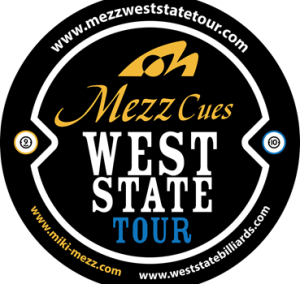 Additional Tools and Resources: