Mosconi Cup's Breaking News on ABR!
January 28th – 2014
American Billiard Radio – Breaking News Broadcast!
Mark Cantrill Interviews Luke Riches!
A breaking report today with Mark Cantrill on American Billiard Radio revealed some new developments regarding The Mosconi Cup. Mark spoke with Matchroom Sports', Media Director, Luke Riches to discuss a couple of breaking topics around this years' event, which is to be held in Blackpool this December.
Mark Wilson Named as U.S. Captain!
 
The first topic was the appointment of Mark Wilson, who will now 'Captain' the U.S., Mosconi Team this year. Mark, who has been a touring professional player since the 1980's has spent many years as an instructor with the BCA and CueSports International and is also an active recruiter to billiards youth as the 'head' of the billiards program at Lindenwood University in conjunction with the Billiard Education Foundation.
Matchroom Sports staff have embraced Mark Wilson, who is seen as a true professional to the billiard industry as a whole, and seems the most qualified candidate to strengthen and galvanize a new, U.S. Mosconi Team to a hopeful victory against Europe this year.
Remaining Mosconi Tickets To Go On Sale Jan. 29!  
The other breaking announcement by Mr. Riches in this interview was that Matchroom Pool has decided to put the remaining tickets for this year's Mosconi Event in Blackpool on sale, tomorrow, January 29th at 12 Noon GMT. This decision was made by Matchroom, after they experienced record-breaking sales of 400 'season' tickets which sold out within one hour last week on www.seetickets.com.
What is truly amazing about these tickets being sold out so quickly, is that the new U.S. Team has not even been announced yet, nor do we have any clue as to which team members are being considered. The selection process will be delegated to Mark Wilson, who is currently tied up at the Derby City Classic event and is unavailable to be interviewed.
Other Mosconi Developments Inevitable!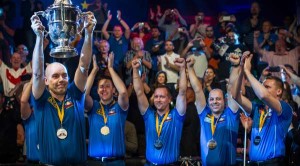 It seems rather likely that in the light of recent events, like the 'landslide' victory by Team Europe in Las Vegas and talk of many changes needing to be made we should expect to hear more 'breaking' news about The Mosconi Cup this year. The billiard forums are buzzing with suggestions, ranging from whether 10-ball should be played instead of 9-Ball, to what young new players would be better suited to represent the U.S. team.
In this case, only time will tell this story and we hope to hear from Mark Wilson very soon on future broadcasts of ABR (American Billiard Radio).  Be that as it may, if you are intending to purchase Mosconi Tickets this year, they will most likely be sold out by the end of February! Purchase them on January 29th at 12 Noon, GMT at the following link,  www.seetickets.com.