Virtual Pool 4 Officially Releases 'Online'!

A Free, 'Online' Pool Game with an Event-Oriented Social Network!
Celeris has released Virtual Pool 4 Online, a free, 3D online pool game and an event-oriented social network with tournaments, ladders, a calendar of events, and a pool lobby where you can chat with your friends. The gaming platform lets you play 28 games including 8-Ball, 9-Ball, Snooker, Billiards, and Pub Pool.

The games let players compete in tournaments or play with friends. Tournaments run continuously, and include single- and double-elimination formats. To ensure a high level of competition for all players from novice to champion, some tournaments are restricted to players of a certain skill rating, and others have handicapping.
The Virtual Pool 4 Online website is a social network that keeps players connected with friends and events. In addition to player profiles, friends lists, tournament sign-ups, a calendar of upcoming events, rankings, and statistics information, players can also view tournament brackets and real-time match scores. Players can find friends and enter their pool rooms with a single click. Players can even upload great shots to share with other players.
Virtual Pool 4 Online's lobby is the main meeting and chatting place for players. It's easy to find opponents there, or just hang out and enjoy the conversations with other pool enthusiasts. It's simple to set up a private chat and hold a personal conversation. Players can create Match or Challenge rooms and optionally password protect them to make them private. In Match rooms, players can play any game, to any score, on any table, in any venue, with players chosen by the game master. There is even team play. Challenge rooms are "King of the Hill" events in which the winner stays on, and other players queue to try to beat the king.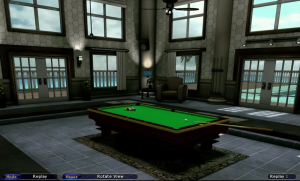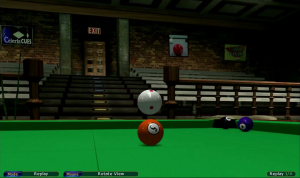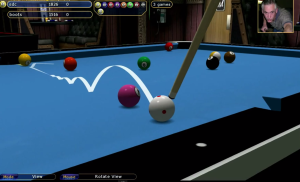 At no cost, players have unlimited access to 8-Ball, 9-Ball, and 6-Ball on a bar pool table. Players can upgrade to Premium service for an annual $9.95(US) purchase of V$ 1000 of virtual currency that can be used to enter tournaments. Top tournament finishers win virtual currency prizes. Players can also use virtual currency to buy break cues, jump cues, after-market playing shafts that lower cue deflection and make shooting more accurate, and fancy cues with ivory and precious stone inlays.
Players can enjoy Virtual Pool 4 Online on any modern Windows computer. For more information, or to start playing immediately, visit http://vponline.celeris.com/vp4onprod?ref=povpoolrelease