The One Pocket Challenge with Efren 'Bata' Reyes: May 21-23 at Hard Times Billiards!
May 11th, 2016
POV Pool Headquarters, Los Angeles CA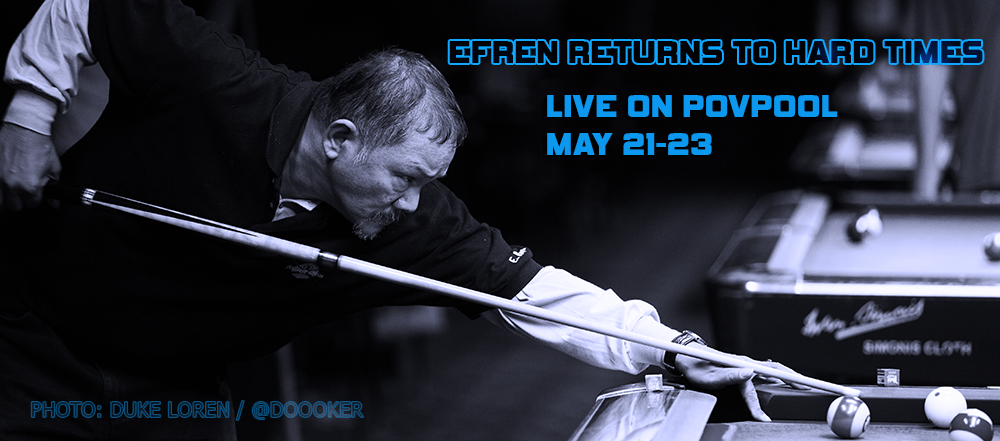 Hard Times Billiards will be 'The Home of Efren'! 
Well, for one weekend in May at least…
Coming to us from the Philippines on May 21st and staying for just 3 days only, pool fanatics in Southern California will  have the honor of receiving an earlier than expected visit from the BCA 'Hall Of Famer' and arguably the best 'all around' pool player that ever lived, Efren Bata Reyes.  Efren's schedule over the next two months is virtually packed with high-end, One-Pocket events each being showcased at different parts of the country. This coming Saturday… "Efren is stopping at Hard Times Billiards for just 3 days and then, on his way to Louisiana for the 'Professional' One-Pocket event on May 25th at Buffalo Billiards.", states Efren's 'west coast' manager, Brook Thomason. "Efren is ONLY playing 1-pocket at this time, as he wants to be wholly prepared."  The upcoming Louisiana event, which has a $2,000 entry fee and consists of 16 players, boasts a first place prize of $16,000. Immediately following this on June 2nd, he stops in Edison, New Jersey to play the Accu-Stats, 'Make it Happen' event which, features 5 of the toughest One-Pocket players on the planet, playing a round-robin style tournament. Efren also has an even bigger match approaching in July against Scott "The Freezer" Frost in Arizona.
Challenge Efren Reyes!
Giving most players a handicap of 10/7 and playing 1-Pocket, right now is your chance to book your very own 'challenge' match with Efren Reyes! Point Of View Pool Media will be on premises to provide live coverage of everything that unfolds during his stay at Hard Times. In January of this year, POV Pool provided coverage of Efren's previous challenge matches with John Lassek, George Teyachea, Fach Garcia and several others.

One-Pocket ONLY – Book it Now – First Come, First Served!
As we book names we will update this page.
Contact us for a challenge with Efren Reyes / Time slots listed below:
EMAIL • daniel@povpool  / PHONE • 310-923-6639
SATURDAY, MAY 21st
SUNDAY, MAY 22nd
12:00pm – Efren VS ???
4:00pm -Efren VS Bradley Fleming (Dallas, TX)
8:00pm – Efren VS ???
MONDY, MAY 23rd
12:00pm – Efren VS ???
4:00pm – Efren VS ???
8:00pm – Efren VS ???
The requirements of 'Efren's Challenge' is to play him a minimum of 3 sets of One-Pocket at a minimum of a $100 wager per set (Race to 3). Wagering higher and playing for longer will also be considered and since his upcoming event in Louisiana will be races to 5,  I would personally love to see someone step up and play Efren a race to 5 for $500 or $1,000 minimum. All matches are uploaded to YouTube for on-demand viewing; a chance for some of you one-pocket players to get a good match in with expert commentary and visual feedback of your technical prowess.
Disclaimer: Due to the nature of the game of One-Pocket, all challenge TIMES are booked as tentative. Each challenger reserves the right to challenge a 4th set only. This means that the next challenger in line may start later than originally scheduled. A 'split table time' policy is enforced. Table times are the responsibility of each player. 
POV POOL is sponsored by