POV Pool – 2015 Kickoff Stream!
January 3rd/4th, 2015
Hard Times Bellflower, CA
Live-Streaming 2015's, 1st Annual Tournaments 
Please join POV Pool for a 2-day celebration of the New Year from Hard Times Billiards in Bellflower, with its usual list of exciting characters and live action. Holding the 1st Saturday/Sunday tournaments, Hard Times Billiards is always sure to host its local champs and traveling pros. Viewers can tune to www.povpool.com or Ustream at on Saturday and Sunday at 12:oo pm PST to catch pre-show announcements and updates.
Day #1
1st Saturday One-Pocket!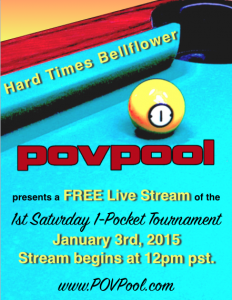 Day #2
1st Sunday 9-Ball!