90-Day Live Stream Schedule on POV Pool!

Become a strategic partner with POV Pool! Contact us! 
Before we begin, POV Pool expresses deep love and sympathy for all victims of 'Typhoon Haiyan' in the Philippines! If you would like to help the relief efforts of this disaster, please

click here!

 
November 11th, 2013 
Los Angeles, CA 
LIve Stream Dates So Far On POV! 
Dates and times are subject to change (Times reflect Pacific Standard Time): 
December 7th, 2013 @ 11am – Riverside TAP  Pitstop Pub / CONFIRMED
December 8th, 2013 @ 12pm – Manila Billiards, WorldPPA  Shootout! / CONFIRMED
January 5th, 2014 @ 12pm – Hard Times 1st Sunday 9-Ball / CONFIRMED
February 2nd, 2014 @ 12pm – Hard Times 1st Sunday 9-Ball / CONFIRMED
February 15th & 16th, 2014 @ 10am – Jay Swanson Memorial 9-Ball / CONFIRMED
Events & Details
December 7th  – TAP League – Season Ending – Scotch Doubles 10-Ball Tournament!  
11:00 AM PST – 8:00PM PST / The Pitstop Pub 
And introducing POV Pool's first LIVE STREAM on YouTube! 
Join POV Pool on YouTube – as we visit Menifee, CA to cover TAP League's, Ian Brock and his feisty crew of heartfelt pool players from the Inland Empire! Played on Pitstop Pub's, 5 beautiful Barbox Diamond Tables, it should be a riotous afternoon which should lead us into the evening hours (As long as we don't get scooted out for another Disco Party! ;-). More more details and information on how you can join the Riverside TAP or The TAP League, please visit their pages.
December 8th, 2013 – WorldPPA  9-Ball Shootout! "The Final 16 Players!" 
 12:00 PM / PST @ Manila Billiards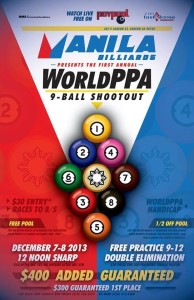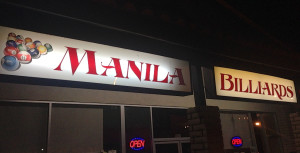 Visiting, Dante Encarnation's, Manila Billiards for the first time will  be a blast, as we cover the final day of their inaugural 'World PPA 9-Ball Shootout Tournament' and Christmas Party! There are still spots open for this event folks, which will be adjusted using Bob Bob Beaulieu's, WorldPPA Format ~ Races to 8!
This is a 2-day event so be sure and sign up now!
POV Pool will be there to cover the best of this 2 day event, arriving on the final day to cover the 'Final 16 Players'! Please join us at 12:00 PM PST!
Manila Billiards, event T-Shirts will also be available for sale!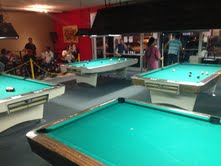 January 5th, 2014 – Hard Times 1st Sunday (Of The Year!) 9-Ball
Hard Times Billiards, Bellflower, CA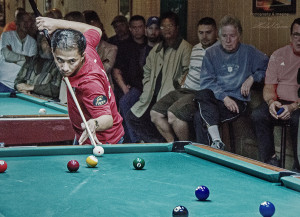 Back at Hard Times for the 1st Sunday of The Year! This will make it the 3rd time that POV Pool has covered the 1st Sunday of the year and we are working hard to create some additional promotions to make this particular tournament a great, kick-off event for 2014!
POV Pool has covered some of the most exciting matches on 'The Devil Table!" at Hard Times Billiards. Be sure to catch the action, LIVE on POV Pool as we don it again!
February 2nd, 2014 – Hard Times 1st Sunday 9-Ball
12:00 PM @ Hard Times Billiards, Bellflower, CA
 
Why stop now! With so much action in Southern California it's hard to stop streaming! Hard Times' 1st Sunday 9-Ball Tournament is one of the toughest pool workouts for any player looking to enter the pro circuit or even just to improve their skills!
Join us for yet another free live stream on POV Pool!
February 15th & 16th, 2014 – The 18th Annual Jay Swanson Memorial 9-Ball Tournament! 
10:00 AM @ Hard Times Billiards, Bellflower, CA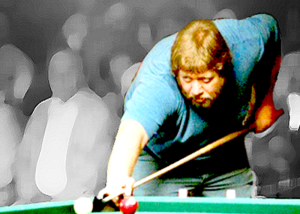 Entries will go fast for this one!!!
Here we are again, folks! Not just at Hard Times, but at Southern California's most prestigious memorial event for the late, great Jay Swanson, who played and beat them all with his swan-like smooth stroke. We've seen some historical matches take place during this event! Alex Pagulayan his sustained injuries here, Dennis Orcullo has run a six-pack in the finals and we've captured some of pool's finest moments to date.
Brought to you by Mark Griffin of Cue-Sports International, this will once again be a packed house of 192 players hoping to take down this event.
Sponsorship opportunities are most welcome on POV Pool's live streamed coverage of this 2-Day event which will be delivered to viewers absolutely free! Please contact POV Pool for details and sponsorship packages.
If you would like to work with Point Of View Pool to bring action from your venue, promote your organization or event, please feel free to contact POV Pool through our contact page. POV Pool is working hard to continue promoting the great game of cue-sports and other related activities & organizations. POV Pool is a publicly funded organization which would not be possible without your help. Please support these live streams by donating to POV Pool via PayPal. Any donation of $30 or more will receive a Kamui Tip Voucher, redeemable at any 'Certified Kamui Tip Installer'.