48th Annual Terry Stonier 9-Ball / Real Time Feed Page
March 19th, 2017
POV Pool Headquarters • Los Angeles, CA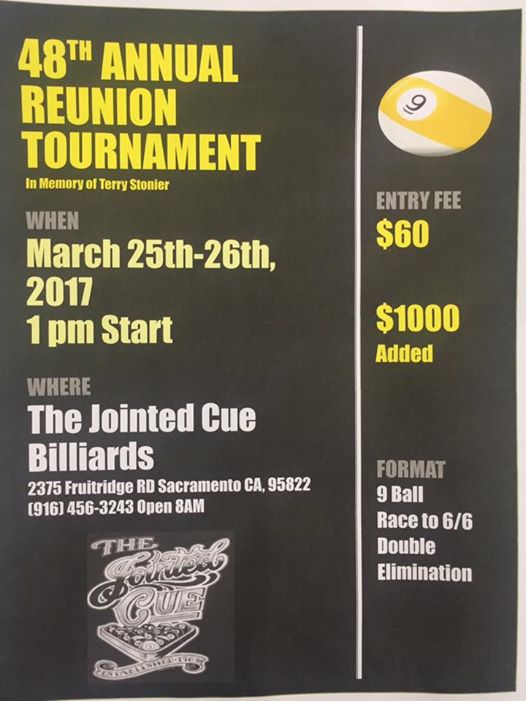 Day 2 FINAL 8 Players
Amar Kang
Andy Lacey
Rodney Wynn
Tommy Soria
Jaynard Orque
Daniel Delagnes
Shawn Roy
Vilmos Foldes
2017 Final Results:
1st Place / $1,600: Vilmos Foldes
2nd Place / $1000: Tommy Soria
3rd Place / $600: Amar Kang
4th Place / $500: Shawn Roy
5th-6th / $300: Jaynard Orque
5th-6th / $300: Rodney Wynn
7th-8th / $220: Daniel Delagnes
7th-8th / $220: Andy Lacey
9th-12th / $120: Victor Elacion
9th-12th / $120: George Pagulayun
9th-12th / $120: Zoltan
9th-12th / $120: Robbie Lyng
13th-16th / $80: Ralph Daloian
13th-16th / $80: Francis Rita Rita
13th-16th / $80: Chic Melson
13th-16th / $80: John Henderson
Final 2…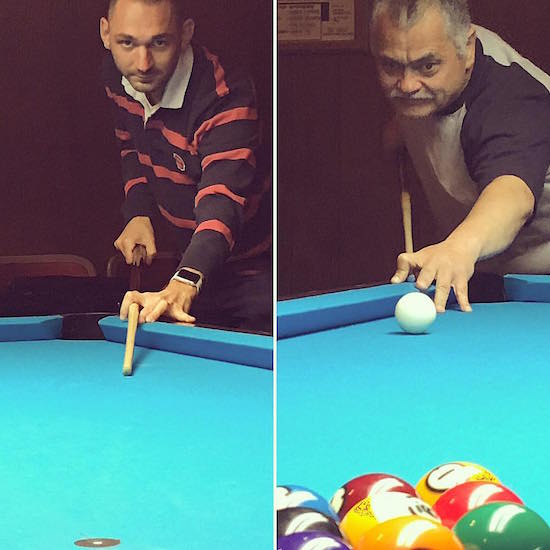 The Terry Stonier – Real Time Feed and Updates!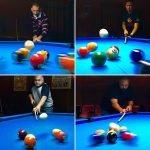 The Jointed Cue Billiards
2375 Fruitridge Rd
Sacramento, CA 95822
PHONE: 916-456-3243
The 48th Annual Reunion Tournament: March 25th/26th
Entries still being taken! Call 916-456-3243.
$60 Entry
Race to 6/6
$1,000 Added
Player Auction for main event
Mini Tournament on Friday Night
Cues and Repairs: MT Cue Repair
Welcome to California's Longest Running Annual Pool Tournament!
We are just less than a week away before the action begins at The Jointed Cue Billiards in Sacramento, CA; the Terry Stonier reunion event, in its 48th year always delivers a great competition, with a 2017 roster that should prove no different than others. Some of California's best pool players are expected to compete such as, Amar Kang, Jason Williams, Jaynard Orque, Rudy Estoque, Deo Alpajora and of course, this year's defending champ, Vilmos Foldes. Vilmos arrived here in California from Hungary almost 3 years ago. Vilmos, a 2006 Junior World Champion (for Hungary at the time) has consistently obtained status as one of California's 'Top Tier' talents in pool, racking up 3 seasons worth of wins on the Mezz West State Tour, wins on the newly formed, 'NorCal Pool Tour'; Vilmos has a gig at Diamond Billiards in Fresno as their 'House-Pro'.
2017 Stonier Players
Bill Pence
Chick Nelson
Rodney Wynn
Brian Hararmeybr
Jason Jennings
Ralph Daloian
Dan Olsen
Daniel Aguilar
Tyler Lambert
Zoltam Kojsza
Daniel Delagnes
Evan Sanchez
Mark Warsing
Nick Cano
Oscar Lopez
Shan Roy Roy
Auinash Pandy
Vilmos Foldes
Cory Buchanan
Eric Scott
Don Olsen
Daryl Wallace
David McParand
Victor Elacion
John Avalos
Paul Silva
Shan Damani
Andy Lacey
John Lim
Tommy Burnes
Rudy Estoque
Dustin Baisch
Phillip Prentice
Mark Moser
Don Murphy
Mike Gilmore
John Porter
Doug Whaley
Jay Jay
Michael Langarica
Eric Glasser
John Henderson
Manuel Miranba
Tommy Soria
Tim Reese
Cheekang
Holiday Doc Eldon
Matt Overturf
Tanner Roo
Jason Williams
Janna Nelson
Omar Alhasi
Amar Kang
Rod Yoder
Francis RitaRita
Chris Davis
Dave Jones
Michael Glass
Anthony Proznick
Duane Grimes
Jaynard Orque
Daniel Duran
Angelo Inness
George Pagulayan
Buck Porter
Jason Paulo
Beto Franco
Kevin Mclaughlin
Z. Rozaluna
Last Year's Terry Stonier: Vilmos Foldes vs Danny Gohkul
Real Time Updates for this event:
Please check with this page periodically for scores, updates, news and pictures regarding this year's Terry Stonier Tournament. You can also watch our free live coverage on POVPOOL on YouTube at http://www.youtube.com/povpool/live