3-Cushion Champions to Descend on Southern California!
June 17th – 21st, 2015
Los Angeles, CA
by: Daniel Busch
*Full Schedule Below*
Will there be a 'Real Time Feed Page'? – YES
Before we start this off, I'd first like to thank Ricky Carranco, Hector Ocampo, Gilbert Najm and Carlos Elias for their tireless efforts to make these historical events possible on our beautiful west coast of the United States. Also a special thanks to POV Pool's sponsors, Tiger Products, Kamui Tips and Kamui Brand for supporting our efforts to provide coverage – let us also not forget the Simonis Cloth, Verhoeven Billiard Tables, United States Billiards Association, UMCB (Union Mexicana Campeones de Billar) and also Paul Frankel and Professor Q Ball's National Pool and 3 Cushion News.
A Busy Week for the World's Greatest Players!
This June, as the final stages of planning are underway for the prestigious, 2015 Verhoeven Open event at The Carom Cafe in New York this coming July, the 3-cushion community will be treated to some of this year's most anticipated exposure with the arrival of Torbjörn Blomdahl and Sir Raymond Ceulemans to the western coast of the United States and Mexico for an action packed itinerary of events at several billiard venues.

The Homage to Ray Ceulemans in Mexico!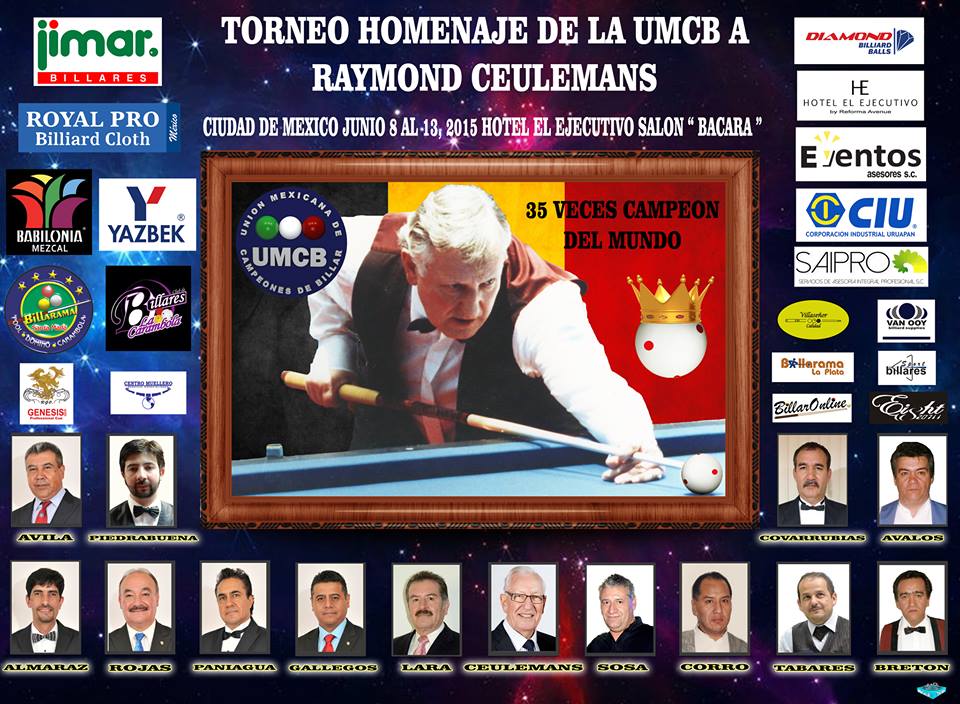 On June 8th-12th, the UMCB (Union Mexicana Campeones de Billar) held a tournament in Mexico City that was hosted at The Hotel Ejecutivo. With a filled room of spectators, there were a handful of US and Pan-American champions present, including Guillermo Sosa, Jose Luis Avila and Pedro Piedrabuena. In addition to scores of photo ops, autographing sessions, matches and awards presentations, everyone present was also treated to a presentation by Gabriel Miguel Fernandez, who sang a rendition of "Que Seas Feliz" by Consuelito Velázquez as an honorary serenade to the guest of honor.

A Special Exhibition – Raymond and Torbjörn in Los Angeles!
Wednesday, June 17th @ 3:30 pm – 8:30 pm
– West L.A. 
*Looking for the the last ticket? Call Ricky Carranco at 323-490-8075
When we say special, we mean it! Tickets for this private exhibition are $100 each and there are just 3 or 4 seats left at this intimate setting for only 23 spectators. 5 lucky spectators of this event will win a chance to play their own personal match against Torbjorn Blomdahl to 25 points.  Raymond Ceulemans is scheduled to arrive by 7:30 pm for an exhibition match and Grand Finale with Torbjörn Blomdahl, racing to 40 points.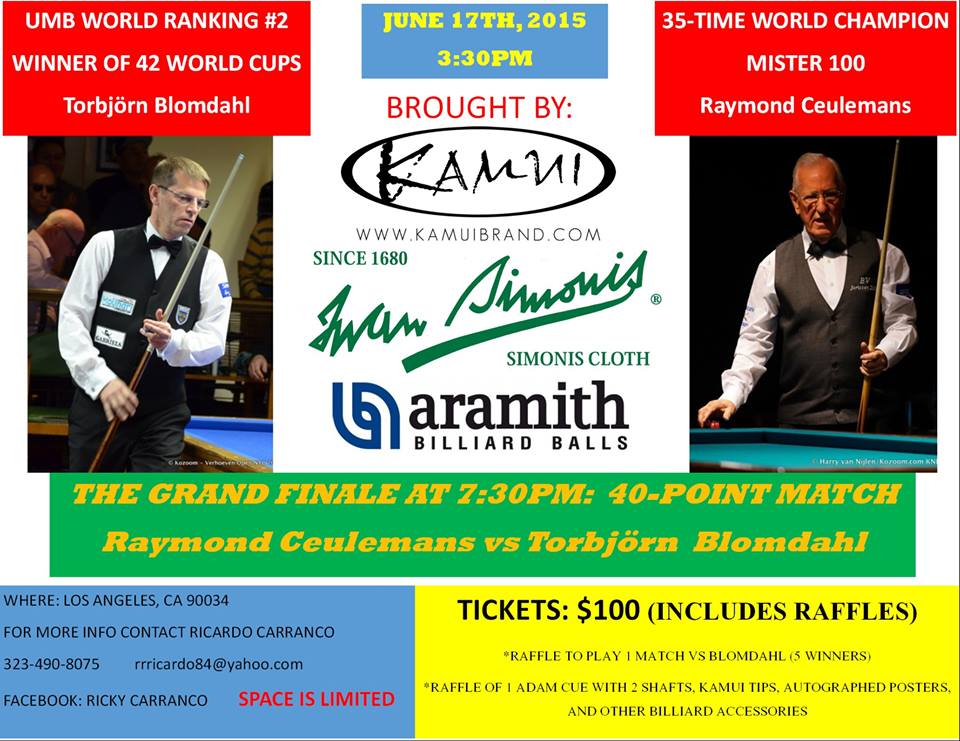 Did you know that Torbjörn Blomdahl is the #1 world ranked player? 
A Full Day of Clinics and Seminars! 
Thursday, June 18th @ 10:00 am – 5:00 pm – Two Locations
Having to choose between the worlds best and the all-time worlds greatest could be a challenge for some, but for other 3C fans out there who want to work on their game, you've definitely got the best of both worlds coming to you.
At two locations, each player is splitting off to hold separate clinic days at separate venues! the 'Blomdahl' school will be scheduled at a private location in West Los Angeles for 2 hour sessions in groups of 4 and the 'Ceulemans' school will be scheduled in North Hollywood at Hector Ocampo's – Million Dollar Billiards for 2 sessions only.
Which Clinic Would You Choose?
Or how about both clinics?
For Blomdahl call Ricky Carranco at 323-490-8075
For Ceulemans call Hector Ocampo at 323-304-3156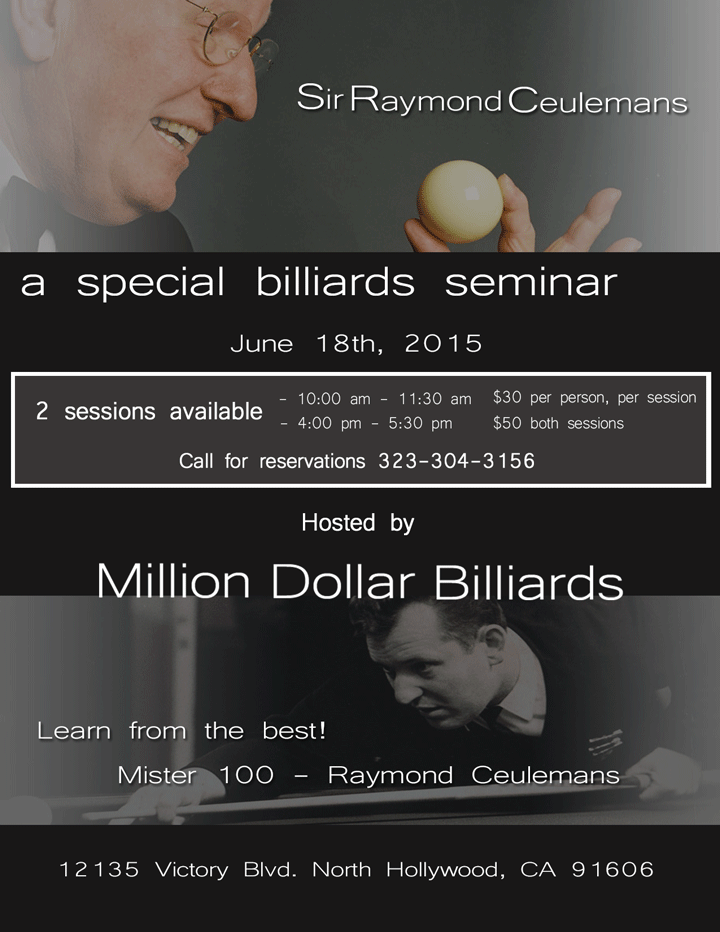 The USBA International Open Tournament! 
Friday – Sunday – June 19th-21st @ Million Dollar Billiards
And finally, to round things off with a huge bang and beginning this Friday, June 19th at Hector Ocampo's, Million Dollar Billiards venue in North Hollywood, CA; there will be a USBA, open 3-cushion event with over 55 players registered and featuring U.S., Pan-American, Latin-American and European champions converging to compete for a prize purse that is over $18,000.
Watch Last Year's Final Match from Million Dollar Billiards!
Spectators to this event are welcome to attend with the appropriate cover charge. The honorable, Hector Ocampo has spared no expense to provide ample seating and bleacher sections, providing for easy viewing of all tables in progress. POV Pool will provide live-streaming services to the international community wishing to view matches and track progress over this 3-day event. Streaming or not, I personally recommend that if you are local to the area NOT to miss out on attending this event in person. Million Dollar Billiards always makes sure that your experience there will be remembered as one of your best.
For more information tickets, entries or to attend
Hector Ocampo and Million Dollar Billiards at: 323-304-3156

Tournament entries still being taken: Call Ricky Carranco at 323-490-8075

Live Stream questions? [email protected]