2015 Chuck Markulis – Real Time One-Pocket!
Please check in with this page periodically for real time updates! 
All Times Are Pacific Standard Time! 
Wednesday, February 11th
– 12:50 pm, Daniel Busch
I just got off the phone with Karen Markulis who tells me the One-Pocket has pulled in 39 players and 

will be $2,000 Added.

The 9-Ball will be on Friday and is $5,000 Added.
The CBS Interview with Shane Van Boening will be archived on CBS Sacramento's website sometime later today.
Player list and bracket coming soon.
Player Practice happening now!
– 1:21 pm – Daniel Busch
Player sighting – Edgie Geronimo
This will actually be Edgie Geronimo's first ever one-pocket tournament. Jeff Gregory is currently giving him a few lessons and tips.
– 1:32 PM –  Daniel Busch
One-Pocket Player List texted from Karen Markulis!
40 Players total!
POV Pool's TOP 10 – player picks and favorites: Shane Van Boening, Corey Deuel, Oscar Dominguez, John Henderson, Joven Bustamante, Edgie Geronimo, Amar Kang, Billy Silveira and Jeff Gregory, Bryce Avila.
– 1:43 pm – Daniel Busch
Player update: There are now 41 players in the event. Ed Aames has been added to the roster. No worries folks, he is not one of my top 10 picks. 🙂
– 1:45  Daniel Busch
Tournament Director, Brian LaFlamme holding a player meeting and announcements.
– 1:50pm Daniel Busch
Double Elimination  – Race to 3/2
1st Streamed Match – Bart Mahoney vs Ed Aames
42nd player, Frank Robutz added to the roster.
42 players total
– 2:31 pm – Daniel Busch
Brackets sent it by Brian LaFlamme!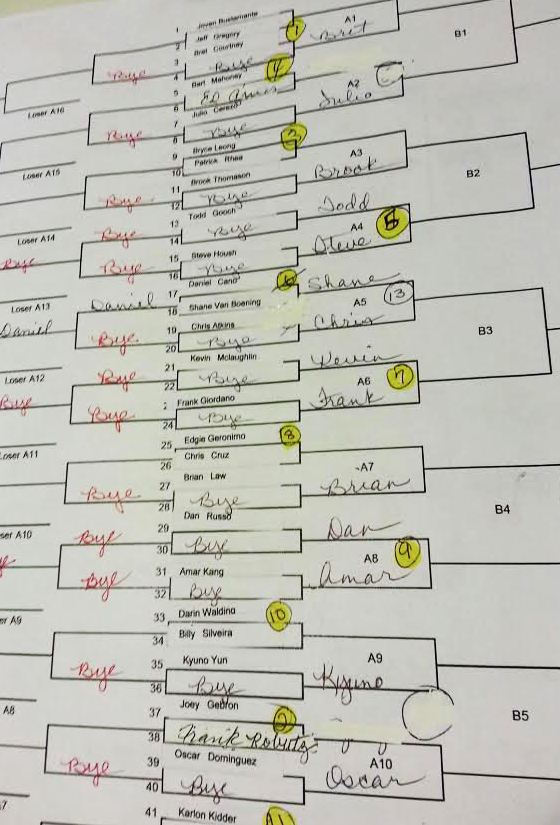 – 3:06 pm 
Ed Aames vs Bart Mahoney
Game Score: 2-0 Ed Aames –  in a race to 3
 – 3:45 pm 
2-1 Ed Aames and they are taking a quick break! 
 – 3:51 pm 
Scoreboard added to live stream! Thank God for technology! Or is that, thank Man for Technology, Thank God for Man? 
– 4:15 pm 
Brook Thomason informs me, via text that Edgie has already won 2 matches and this one is still playing…LOL.
– 4:31 pm
Bart Mahoney ties it up! 
2 – 2, Ed Aames to break! 
 – 4:39 pm
It has just occurred to me that Shane and Geronimo are under the same roof this weekend. Let the WOOFING begin!!!
– 5:07 pm
Bart Mahoney defeats Ed Aames – 3-2 
– 5:15 pm
Oscar Dominguez vs Darin Walding 
 – 6:07 pm
Oscar wins! 3-1

Now Streaming! Shane Van Boening vs Amar Kang – Race to 3!
 Thursday 1:51 am 
What happened? I just got back from my Wednesday night tournament. I hear the One-Pocket is down to the final 12 players. Cool! Sorry I wasn't around to keep up with the stream. 

Today will be better! 
– 10:45 am
Good Morning Pool Lovers – we are down to the final 12 of the one-pocket event matches start 12pm:
Winner's Side: 
Patrick Rhea vs Amar Kang
Oscar Dominguez vs Jim Fabionar
One Loss Side
Corey Deuel vs Jeff Gregory
Shane VanBoening vs Dave Walding
Joven Bustamante vs Tommy Lipps
John Gebron  vs Bryce Avila
 -12:00 pm
On the live stream table – Oscar Dominguez vs Jim Fabionar

Race to 3 – Jim gets the first break!

Oscar Defeats Jim 3-2
– 3:00 pm
Jim sent to One Loss side
Jim to play Shane VanBoening / Race to 2
– 4:12pm
Jim is defeated by Shane / 2 games to 1
– 4:17pm
Streaming now / Shane VanBoening vs Joey Gebron
Race to 2
Live commentary added to the stream, thanks to Brian LaFlamme and Hard Times Billiards Staff!
 – 6:17 pm
Shane defeats Joey Gebron to 4th place 2-1
Shane has another extremely tough match with Amar Kang for guaranteed 3rd place and is defeated by Amar – 2 games to 1.
Streaming Now! Final Match!
Oscar Dominguez vs Amar Kang
One Race to 4 for 1st Place!
Commentator John Henderson!
PAYOUTS!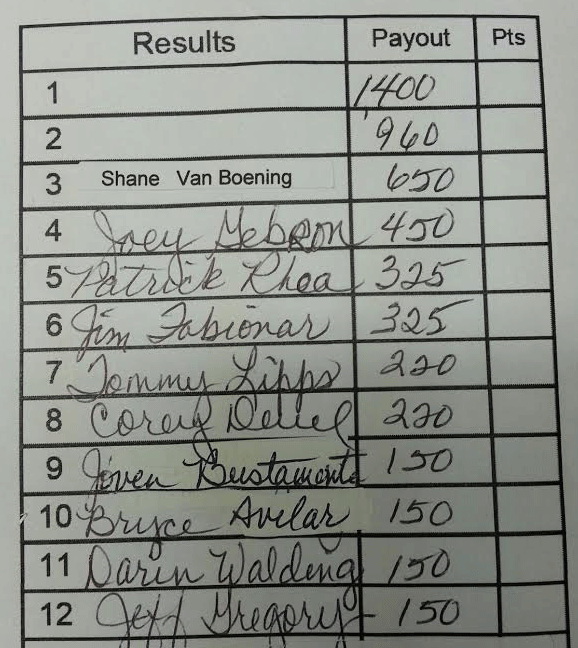 Congrats to Oscar Dominguez and Amar Kang!

Oscar comes back from behind and defeats Amar Kang 4 games to 3! 

1st Place Oscar Dominguez! 
FINAL MATCH RECORDED! 


Broadcast live streaming video on Ustream
Send us a donation!